Sweden Lehár, The Merry Widow: Soloists, Chorus and Orchestra of the Royal Swedish Opera / Joakim Unander (conductor), Royal Swedish Opera, Stockholm. 21.1.2017. (GF)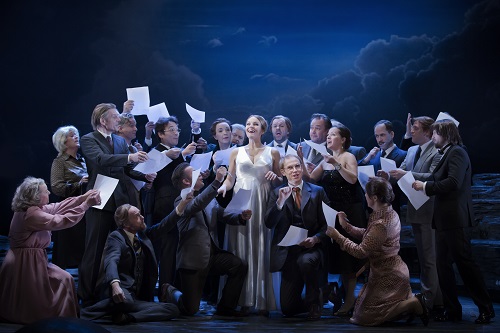 Cast:
Hanna Glawari – Elin Rombo
Danilo Danilovitsch – Jeremy Carpenter
Benny Zetterberg, Managing Director of the Royal Opera – Henrik Dorsin
Veronica, his wife – Marianne Hellgren-Staykov
Catharina Njegus – Miriam Treichl
Leif "Fisken" Hermansson – Klas Hedlund
Søren Rugbrød – Pierre Gylbert
Carl Å Adamsson – Joel Annmo
Siegfried – Simon Petersson
Speaker's voice – Emma Peters
Production:
Direction – Ola Anders Tandberg
Sets – Erlend Birkeland
Choreography – Roine Söderlundh
Costumes and masks – Maria Geber
Lighting design – Ellen Ruge
Dramaturge – Katarina Aronsson
Die lustige Witwe (in Swedish Glada Änkan) was first staged in Sweden at the Oscarsteatern in Stockholm in 1907, only two years after the world premiere in Vienna. Later it was staged in various productions and in 1954 Ingmar Bergman directed it in Malmö. He even had plans to make a film with English-speaking actors and Barbara Streisand in the title role. This project came to naught, but it would have been an interesting idea. At the Royal Opera it was produced in the spring of 1939 and subsequently reprised several times, but since 1948 it has not been seen there. When the idea popped up several years ago, those responsible thought it would be impossible to present it in the original version. The conventions and attitudes to equality and other aspects of society more than a century ago were deemed to be dust-laden. Therefore, the witty revue-actor and comedian Henrik Dorsin was commissioned to write an entirely new plot rooted in the society of today. Being an inveterate operetta lover, however, he insisted that the music remain unaltered.
Being an inveterate operetta lover myself, I can understand the calls for modernisation but at the same time I must question this decision for one specific reason: if modernisation is really necessary, most of our standard operatic repertoire would have to be rewritten in order to adjust it to the prevailing present-day circumstances. Without picking specific titles I believe most readers could make their own lists of standard works in need of rewriting. Time ravel would seem to be the rule at present, but here Dorsin has created an entirely new story, in which Hanna Glawari is an prima donna opera singer and Danilo is a stage director of the demonic type who is engaged by the Royal Swedish Opera to stage The Merry Widow with Hanna Glawari in the title role. The basic relationship between the two is retained, and in the final scene Danilo gives in and says his 'I love you'. During the course of the three-hour-plus performance Dorsin, who himself is the manager of the opera, has ample opportunities to satirize phenomena which are readily recognizable for today's audiences. He does so elegantly, wittily and with completely new song texts and virtuoso rhymes. In symbiosis with director Ole Anders Tandberg, he has also created a show-cum-revue-cum-operetta that oozes with life, with slapstick, with madness. It tends to be unnecessarily long and some of the jokes are a bit over the top, but as a light-hearted and often quite vitriolic comedy it offers entertainment of a kind you rarely meet in the opera house.
True operetta lovers who long have assimilated Léon and Stein's original libretto will probably feel short-changed but can feel some confidence in the fact that all the original music – even the little duet 'Das ist der Zauber der stillen Häuslichkeit' – is included, in addition from some borrowed from other Lehár operettas: 'Meine Lippen sie küssen so heiss' and 'Dein ist mein ganzes Herz', and, at the beginning of the operetta, a glimpse of Wagner's Siegfried. The whole cast seems enthusiastic from head to toe, there is some hilarious acting and the singing is classy. Elin Rombo, who has won triumphs in a number of important roles of late, is a marvellous Hanna Glawari, Jeremy Carpenter's high baritone is both seductively smooth and spitefully venomous. Marianne Hellgren-Staykov is a brilliant Valencienne (well, here her name is Veronica) who runs about in full Walküre outfit, including helmet, spear and shield, and Klas Hedlund is in his element as the entrepreneur 'Fisken' Hermansson. Miriam Treichl is a female Njegus, here an assistant to Henrik Dorsin's opera manager. Ms Treichl steals the show whenever she is on stage and delivers a lustful 'Meine Lippen'. Joakim Unander draws enticing Viennese sweetness from the Royal Orchestra and the chorus has a lot to do in various disguises. Henrik Dorsin is a brilliant entertainer and he even sings pleasantly and with accurate pitch.
Those who went to the Royal Opera expecting an entertaining evening were richly rewarded. The few old fogeys who went there to savour the original story felt a bit cheated. What comes next? Parsifal as drag-show? By all means see this Glada Änkan. The show is worth it – as shows go.
Göran Forsling