United Kingdom Puccini, La bohème:  (Production Revival) Soloists, Chorus and Orchestra of Welsh National Opera / Manlio Benzi (conductor), Wales Millennium Centre, Cardiff, 28.1.2017. (GPu)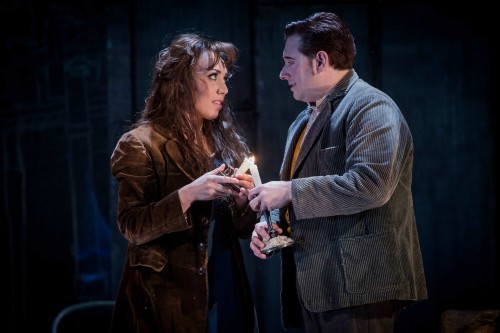 Cast:
Mimì – Marina Costa-Jackson
Rodolfo – Dominick Chenes
Musetta – Lauren Fagan
Marcello – Gary Griffiths
Colline – Jihoon Kim
Schaunard – Gareth Brynmor John
Benoit – Howard Kirk
Alcindoro – Martin Lloyd
Parpignol – Michael Clifton-Thompson
Customs Official – Laurence Cole
Customs Sergeant – Alastair Moore
Production:
Original Director – Annabel Arden
Revival Director – Caroline Chaney
Designer – Stephen Brimson Lewis
Lighting Designer – Tim Mitchell
Video Designer – Nina Dunn
Chorus Master – Stephen Harris
This is the third time I have seen Annabelle Arden's production of La bohème. I find myself liking it more on each occasion; perhaps because, as I also see more and more examples of Regietheater, I have more and more patience with an essentially traditional production such as this, which 'respects' the original and doesn't start from the assumption that the director knows better than the librettist and the composer what the work 'means' and which is still imaginative. Here, for example, the use of projections, notably in some star-filled skies and some properly bleak flurries of snow, adds to the text, rather than distracting from it. that is to say that the production's 'effects' have clear 'causes' in the text and music of the opera, and are not superimposed thereon by the director. As such they enhance, rather than obstruct or inhibit, the main musical and dramatic thrusts of the opera.
Vocally the performance was at least as assured and successful as the previous incarnations of the production. In one sense the success was a matter of team work, of plausible interplay between characters – whether between Rodolfo and Mimì, or the 'laddish' bohemians of Act I, sustained by accomplished singers. Individually, my ear and mind were most taken by Marina Costa-Jackson's Mimì. She stood out, to a degree, with an interpretation of the role that had a persuasive inner psychological consistency which made Mimì a thoroughly plausible figure, whether in the coquettishness of Act I, her troubled emotional pain in Act III or in her genuinely affecting death scene. As well as the inner continuity she achieved, her interpretation of the character was sustained by the precision of her vocal control, especially her aptly varied dynamics, and by her range of tone. Another factor was her evident command of Italian, which made for emotionally convincing inflections and emphases. A look at her website reveals that, although born in the USA, she spent her "formative years" with an aunt in Palermo and grew up speaking Italian. Her singing of Italian opera, on this evidence, is richer for that experience. This was Ms Costa-Jackson's WNO debut and, as far as I have been able to discover, her British debut too. I trust that it won't be too long before British audiences see and hear her again.
As Rodolfo, Dominick Chenes, another American making his WNO debut, was vocally impressive, a young lyric tenor of real promise, displaying an impressive range and some moments of real power; he didn't, however, quite inhabit his character with the absoluteness that Marina Costa-Jackson did. Of the other 'bohemians', Lauren Fagan's Musetta had an engaging brassiness of voice and manner in the Café Momus scene (which was well realized theatrically) and a very different, but equally engaging, capacity for deeper emotional involvement in Acts III and (especially) IV. More than some more famous singers in this role, she made one believe in the character's generosity of spirit in the last Act. As Marcello Gary Griffiths made the most of his attractively warm voice which, as yet, remains more convincing than his acting, though there were moments in his exchanges with Fagan's Musetta which suggested that the two, his singing and his acting, are starting to come together with a new force and conviction. Jihoon Kim's Colline was very well sung: he looks ready for bigger roles; Gareth Brynmor John (like Kim, yet another making his WNO debut) did enough, with assurance and clarity, to suggest that he will be back on this stage.
Manlio Benzi conducted with considerable panache, in a sometimes boisterous reading of the score, in which the balance between orchestra and singers was not always perfect, but never so as to be a serious or continued problem.
Colin Graham once reported a conversation between Benjamin Britten and Dmitri Shostakovich which went as follows:
"DS:  What do you think of Puccini?
BB:  I think his operas are dreadful.
DS:  No, Ben, you are wrong. He wrote marvelous operas, but dreadful music."
It is easy to be snooty about Puccini, as in Joseph Kerman's (in)famous dismissal of Tosca as "a shabby little shocker". But a production such as this, which starts by taking Puccini seriously (but not too solemnly), that is, on his own terms, which isn't afraid of 'Italian' emotionalism and which finds a cast of good young singers can make a pretty convincing case for believing that neither the music nor the opera is 'dreadful'. Save for those who want always to be shocked and challenged in the opera house, this La bohème will surely be enjoyed by the vast majority of those who see it.
Glyn Pursglove