Argentina Cilea, Adriana Lecouvreur: Soloists, Chorus and Orchestra / Mario Perusso (conductor), Teatro Colón, Buenos Aires, 21.3.2017. (JSJ)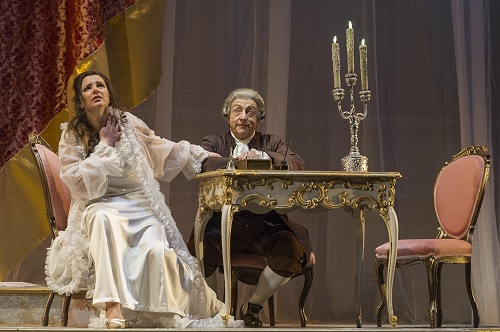 Cast:
Adriana Lecouvreur – Virginia Tola
Maurizio – Leonardo Caimi
Michonnet – Alessandro Corbelli
Princess de Boullion – Nadia Krasteva
Prince de Boullion – Fernando Radó
Abbé De Chazeuil – Sergio Spina
Quinault – Fernando Grassi
Poisson –Patricio Oliveira
Mlle. Jouvenot – Oriana Favaro
Mlle. Dangeville – Florencia Machado
Majordomo – Sebastián Russo
Production:
Direction/costumes – Aníbal Lápiz
Sets – Christian Prego
Lighting – Rubén Conde
Chorus – Miguel Martínez
Buenos Aires opera season opened to a mixed start – disappointment at the withdrawal by Angela Gheorghiu from what should have been her long and eagerly awaited Colón opera debut (she appeared in a 2012 concert with Roberto Alagna), but satisfaction with what was otherwise a fine production of Adriana Lecouvreur.
According to the Colón press statement, Ms Gheorghiu's withdrawal, which took place shortly after her arrival in Buenos Aires, was "for exclusively artistic reasons". She for her part, on a posting on her Facebook page, was critical of certain contractual issues.
Rumblings of issues at management level have been around for a while. But in any event there is also a change there, with the resignation early in February of Darío Lopérfido from the apparently self-appointed position of artistic director – and thus responsible for the programming – to take up a newly created cultural attaché post in Berlin. The position, under the slightly modified title of 'director general, artistic and production', has been filled by Enrique Arturo Diemecke, who has had a long association with the Colón as musical director of the Orquesta Filarmónica since 2007.
So back to the production of what is the only opera of Cilea's that is performed with any degree of regularity – and which also saw the withdrawal for reasons of force majeure, of conductor Francesco Iván Ciampa
Stepping into Ms Gheorghiu's shoes was Virginia Tola, who had been billed for the second cast (and whose place in turn was filled by Sabrina Cirera). Apart from a slightly uncertain start, she filled the role with aplomb, dramatic when needed and with a fine presence. Opposite her, Leonardo Caimi made for an ardent Maurizio, singing with freshness and clarity and clearly more at ease with Adriana than with his former lover the Princess de Boullion.
And she, certainly as played by the Bulgarian mezzo Nadia Krasteva, powerful and commanding and comfortable across the range, was not someone one would want to cross …
Veteran baritone Alessandro Corbelli was a thoroughly professional Michonnet, showing his years of experience as a singer and actor. Fernando Radó as the Prince de Boullion also provided a powerful performance, while Sergio Spina was notable as the Abbé and there were good performances from the other members of the cast.
Stepping into the conductor's role, Mario Perusso, despite his 80 years, showed no lack of energy or power in eliciting anything other than the best from the orchestra. With stylish phrasing and correct tempi the wonderfully melodic music could be savoured.
The production itself also was a highlight and the settings and costumes were rich but tasteful and appropriate to the time of Louis XV in which the work is set. Attractive projections, such as a theatre setting opposite to the audience – almost mirroring the Colón auditorium – contributed to overcoming the challenge of a 'play within a play'. And using the full expanse of the stage ensured it was never too crowded.
Jonathan Spencer Jones