Germany Janáček, The Cunning Little Vixen: Sächsische Staatskapelle Dresden / Tomas Netopil (conductor), Semperoper, Dresden, 28.2.2017. (JMI)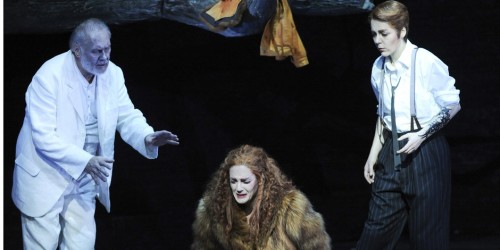 Cast:
Vixen – Vanessa Goikoetxea
Fox – Jelena Kordic
Forester- Jukka Rasilainen
Harasta – Matthias Henneberg
Schoolmaster – Jürgen Müller
Parson/Badger – Michael Tews
Cock – Birgit Fandrey
Forester's wife/Owl – Lucie Ceralova
Innkeeper – Gerald Hupach
Hen – Roxana Incontrera
Dog – Angela Liebold
Woodpecker – Elisabeth Wilke
Production:
Director – Frank Hilbrich
Sets – Volker Thiele
Costumes – Gabriele Rupprecht
Lighting – Fabio Antoci
A month ago, I had planned to visit Dresden to attend a performance of Siegfried under Christian Thielemann, but had to cancel. I'm here now to see Thielemann conduct Otello, with Leoš Janáček's The Cunning Little Vixen as a complement. This is one of three operas by the mature Janáček. With its forest setting and various animals, the work has become, especially in Central Europe, a way to attract children to the opera. It is not uncommon for it to be performed around Christmas or during school holidays.
Dresden decided some years ago to retire the Johannes Erath production, which for many years had offered the opera in the form of a fairy tale that was perfectly suited to children. This has now been replaced with a new production by Frank Hilbrich, who has decided to follow a different path with debatable results.
The opera is presented as the memories of the Forester, who found the little Vixen and ended up having a very strange obsession with her. There is a single set enclosed by walls, with doors at the sides to facilitate the characters' access; at the back are images of the forest. The animals are more violent than is usual in this opera, particularly in the scene where the Vixen kills the hens. Mr. Hilbrich has made the Forester the chief protagonist of the opera, and he is always present on stage. One of the oddest variations is the use of cardboard heads for the Forester's friends in the tavern scene. All in all, it is a rather bizarre production, not well-suited for children, and one that offers more questions than answers.
The best part of the performance was the musical direction by Tomas Netopil. It has been nine years since Helga Schmidt brought him to Valencia to conduct Le nozze di Figaro, and he has evolved into an excellent conductor, especially in Janáček. The Aalto Theatre in Essen made a good decision when they appointed him as music director, replacing Stefan Soltesz who had been the director for 16 years. Under Maestro Netopil's baton was the superb Sächsische Staatskapelle Dresden.
The main protagonist of the opera, even if Frank Hilbrich thinks otherwise, is the Vixen, Bystrouska, played here by Vanessa Goikoetxea, who gave a totally convincing vocal and stage performance. Mezzo-soprano Jelena Kordic in the character of the Fox also made a strong impression; she has an attractive voice, although it is rather tight at the top.
Finnish baritone Jukka Rasilainen was an appropriate Forester: he has much to do in this production, since he is always present on stage.
The secondary characters were nicely covered. Matthias Henneberg was well-suited to Harasta, as was Jürgen Müller to the role of Schoolmaster, and Michael Tews did fine as Pastor and Badger.
José M. Irurzun