Germany Hefti, Beethoven, Richard Strauss: 'Akademiekonzert', Maria Mazo (piano), David Schultheiß (violin), Yves Savary (cello), Bayerisches Staatsorchester / Cornelius Meister, Nationaltheater, Munich, 21.3.2017. (MC)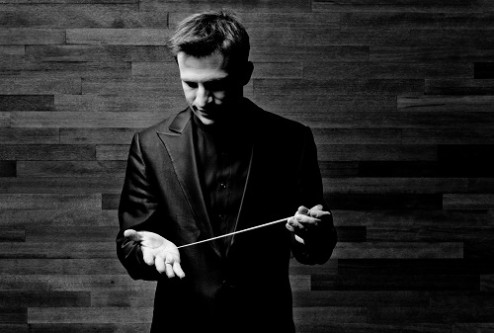 David Philip Hefti – Changements– Stimmungsbilder für Orchester
Beethoven – Triple Concerto, op.56
Richard Strauss – Also sprach Zarathustra, op.30
For its series of Akademiekonzert at Nationaltheater the Bayerisches Staatsorchester leaves the pit for the concert stage. This series of concerts draws capacity audiences which is not surprising as the combination of an elite orchestra, attractive programming and glorious surroundings is a mouth-watering proposition. Valery Gergiev music director of the neighbouring Münchner Philharmoniker clearly knows the reputation of the Akademiekonzert and took his seat in the audience.
Swiss composer David Philip Hefts provided the opening work Changements – Stimmungsbilder für Orchester (Atmospheric Mood Pictures for orchestra). Written in 2011 the single movement score was premiered in Heidelberg under the baton of tonight's conductor Cornelius Meister who is the dedicatee of the score. Recurring changes of mood and texture, often of an unusual quality, are a fundamental feature of the thirteen-minute score from elusive scurrying woodwind figures, unearthly string sounds to fiery brass outbursts to name but a few aspects. Noticably an undertow of anxiety pervades much of the writing. It's an accessible work given a resonable degree of concentration which was well received by the audience.
The trio of Maria Mazo (piano), David Schultheiß (violin) and Yves Savary (cello) delivered an engaging performance of the Beethoven Triple Concerto a work that I don't see programmed too often.  Completed by the composer in 1804 the concerto is an upbeat score that avoids the urgent, often unsettling and tension filled music he had been writing.  Beethoven provided little dialogue with the orchestra, neverthess the trio of Mazo, Schultheiß and Savary played their rather meagre parts with sincerity and  assurance, affording as much gravity as I have seen given to this work. Significantly the instrumental balance favoured Mazo's gloriously rich piano tone over the light timbre of the violin, and in this acoustic Savary's cello had a rather boxy sound.
Richard Strauss's Also sprach Zarathustra is a challenging showpiece that tests the quality of even the finest orchestras. Inspired by the poetic imagery and chapter headings of Friedrich Nietzsche's philosophical novel Thus Spoke Zarathustra Strauss himself described the programme as depicting "the relationship of nature and human will". Undoubtedly one of the glories of classical music, the remarkable opening passage a depiction of Sunrise was performed as outstandingly as I have heard it with the organ pedal reverberating impressively around the auditorium. The assured direction of Cornelius Meister ensured all the lyrical and expressive energy of Strauss's score using such splendidly judged dynamics. Clearly excellently prepared the orchestra gave a masterclass of excellence playing with an uncommon clarity and polish which didn't come at the expense of colour and excitement. In quite stunning form the world-class Bayerisches Staatsorchester passed this taxing examination with flying colours. I've never heard this orchestral masterwork played better.
Michael Cookson