United Kingdom Delius – A Village Romeo and Juliet: Soloists, New Sussex Opera Chorus, Kantanti Ensemble / Lee Reynolds (conductor), Cadogan Hall, London, 28.3.2017 (AS)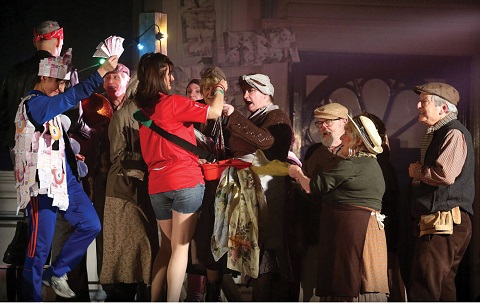 Cast:
Manz – Robert Gildon
Marti – Geoffrey Moses
Young Sali – Alex Edwards
Young Vrenchen – Nell Parry
Sali – Luke Sinclair
Vrenchen – Kirsty Taylor-Stokes
The Dark Fiddler – Ian Beadle
Wild Girl – Georgia Cudby
Those of us who are passionate about the music of Delius have had a thin time of it in recent years, at least so far as live performances of the major works are concerned. The composer's  greatest opera, A Village Romeo and Juliet, has not indeed been produced in London since 1962, the year of the composer's birth centenary. And so the chance to hear it live now was apparently not one to be missed. But there was a snag.
In his interesting programme notes concerning this new production by New Sussex Opera, the conductor Lee Reynolds suggests that since "much of the piece is not big-gesture music, but made of more private, modest sentiments", his own version of it with its "….reduced scoring…. will help to better-access those fragile moments, while keeping the emotional impact Delius will have wanted for the opera."
Such an attempt to make a virtue out of economic necessity is clearly ingenuous. Delius surely didn't score the work for a big orchestra of 110 players simply in order to rival the large-scale operas of Richard Strauss, as Reynolds suggests. (It's interesting, however, to recall Strauss's pre-First World War remark about Delius: "I had no idea that anyone was writing such good music as this besides myself".) Much of the Village Romeo's musical argument and drama are contained within the orchestra, and the lavish orchestration provides enhanced colour and atmosphere. The large ensemble produces sounds and timbres in this work that are unique – even for Delius – and are of a kind had not ever been heard before and have never been re-created.
The prospect therefore of hearing a performance of the opera with an ensemble of just 23 players was not enticing. A dilemma had to be faced. Should one take the probably once in a lifetime chance to hear the piece live, albeit in a compromised form, or rely entirely on the experience of the five varied recordings of it, all in the fully scored version, that have been issued commercially?
It was with some trepidation, therefore, that I took the plunge. Things were not helped by the fact that the instrumental players were placed behind the improvised stage, with the conductor having his back to the singers and only able to keep in touch via a monitor placed high in the gallery. It was striking, in fact, that at no time did Lee Reynolds ever appear to use this electronic communication in order give a cue or indeed any sign to his singers: his attention seemed entirely to be focused on his players.
Fortunately the production had clearly been well-rehearsed, and the Cadogan Hall performance was well-bedded in: there had been a first night at the Town Hall, Lewes and a second performance at the E M Forster Theatre at Tonbridge (those interested can catch two further performances – at the Stag Theatre, Sevenoaks, on Friday and at the Devonshire Park Theatre, Eastbourne, on Sunday). Given the need to transport the stage effects from one venue to another, it would be unfair to criticise the "strip-downed" production.
It has to be said that Reynolds's reduced scoring has been achieved with no little skill: as his sympathetic conducting also showed, he has a real feeling for this music. The famous "Walk to the Paradise Garden" came off remarkably well in the circumstances. But of course much was inevitably lost in the transcription, and the singers, in front of the players, tended to overwhelm the instrumental sound at climactic points: some of these should have been managed at a lower volume level. A particular culprit was the Kirsty Taylor-Stokes, whose lusty, somewhat piercing soprano and energetic acting conveyed quite the wrong impression as Vrenchen, who should be portrayed as a more hesitant, more quietly passionate lover. As The Dark Fiddler (though his violin was nowhere to be seen) Ian Beadle gave a fine account of the role, beautifully sung and vividly acted. Elsewhere some of the acting was a rather wooden. Geoffrey Moses sang well as Marti, and Robert Gildon was at least adequate in the role of Manz. Luke Sinclair's portrayal of Sali was sympathetic, though sometimes he too let the decibels rise too willingly. It was a pity that the 11-year-old Alex Edwards, who sang out engagingly as Young Sali, could not have been partnered by a younger Young Vrenchen than the 17-year-old Nell Parry. Though she sang nicely, her voice was too developed and not well-matched with the young treble soloist.
All in all, it was a strange experience, since what was missing in the performance had to be augmented by memories of the recordings in order to bring everything out. Given these rather curious conditions it was a moving experience to hear the opera live, but I doubt if anyone who had not heard the music before gained an adequate impression of it. Some luminaries of the English music scene were present, including two well-known conductors, a prominent composer and various writers of authority, but the audience was sadly small in numbers.
Alan Sanders