United States The 2017 George London Foundation Awards Competition Finals: Soloists, Craig Rutenberg (piano), Gilder Lehrman Hall, The Morgan Library & Museum, New York City. 17.2.2017. (BH)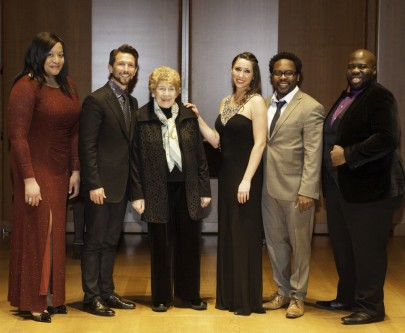 Sometimes it's easier to focus on classical music naysayers ("The future is doomed") than to remember that every year, thousands of musicians around the world are emerging – often with more creative ideas than their mentors. Every year the George London Foundation for Singers holds a competition for vocalists from all over the United States and Canada. This year, the talent on display at the finals – held in the Morgan Library's Gilder Lehrman Hall – was eye-opening, as was the repertoire. "There's no Puccini," a woman near me commented on the composers represented, "and no Rossini!" Not that either composer is unwelcome, but many of the 18 singers showed imagination in seeking out more offbeat choices.
Consider Aryeh Nussbaum Cohen, a 22-year-old countertenor (and the youngest contestant) who gave an astonishing reading of "Dawn, still darkness…" from Jonathan Dove's Flight (1998). The other countertenor, Daniel Moody, won over many with his delicacy and diction in "I know a bank" from Britten's A Midsummer Night's Dream. Lara Secord-Haid deserves major props for choosing "Lied der Lulu," and if the climactic peak could have bloomed just a wee bit more, her precise navigation of Berg's dazzling soprano lines was impressive. In "Things change, Jo" from Mark Adamo's Little Women, mezzo Evanna Lai displayed touching presence and warmth. Baritone Shea Owens aptly captured the mood of John Adams' anguished "Batter my heart" from Doctor Atomic. And how much guts does it take for an aspiring tenor to do the "Mad Scene" from Peter Grimes? If you're Kyle van Schoonhoven, the answer is, you do it beautifully because you can.
But singers with more traditional choices did not disappoint. With handsome command of Russian, baritone Brian Vu landed on a lovely pianissimo at the end of "Kogda bi zhizn domashnim krugom" from Eugene Onegin. In the sole Verdi selection, "D'amor sull ali rosee" from Il trovatore, soprano Michelle Bradley lent breathtaking control and power. Errin Duane Brooks' strong tenor bloomed in the Morgan acoustic, in "Siegmund heiß ich" from Die Walküre. And soprano Lauren Margison, whose "Porgi amor" from Le nozze di Figaro closed the first half, was engagingly natural, never pushing, with impressively controlled crescendos.
From Charles Gounod, the only composer represented twice, came two arias from Faust. Tenor Joseph Hacker precisely enunciated each syllable of "Salut! demeure   chaste et pure" – loud but never harsh, with a commanding stillness at the end. And baritone Cody Quattlebaum had imposing tone for someone so young (he's 23) in "Vous qui faites l'endormie," making the most of the aria's repeated laughing syllables.
French choices seemed to be in vogue. Soprano Danielle Beckvermit might have brought just a little more character to "Depuis le jour" from Louise, but her tone and diction were both winning. A few minutes later came "Connais-tu le pays" from Mignon, with poised mezzo Megan Marino adding substantial luster. And though "Air des lettres" from Werther seemed slightly long in this context, Carolyn Sproule's dusky mezzo was beyond complaint.
Stratospheric runs from soprano Andrea Núñez began the show, in the agile "No, no, I'll take no less" from Handel's Semele. Tenor Aaron Blake seemed "opera veteran already" with his idiomatic Italian in "Tombe degli avi miei" from Lucia di Lammermoor. And to complete the fast-moving afternoon, baritone Wil Liverman also chose a rarity, handsomely delivered, "Grigory's Aria" from The Tsar's Bride by Rimsky-Korsakov.
After a break, the winners were announced (though I was unable to stay for the ceremony). All singers received one of 18 awards, each with its own sponsor. But the top prizes – accompanied by $10,000 each – went to Mr. Blake, Ms. Bradley, Mr. Brooks, Mr. Liverman, and Ms. Secord-Haid. For those who might be despondent about the state of classical singing, the London competition proved an uplifting restorative.
Bruce Hodges