United Kingdom Rossini, La Cenerentola: Chorus and Orchestra of Opera North/Wyn Daview (conductor), The Lowry Theatre, Salford Quays, 9.3.2017.  (RJF)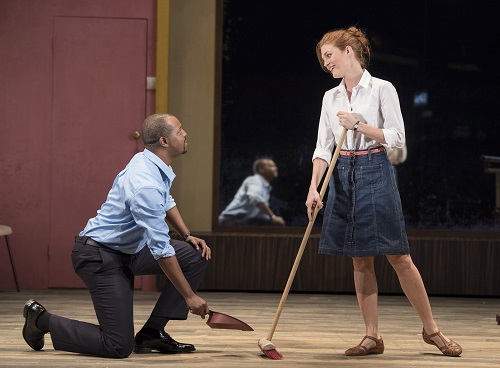 Cast:
Angelina (Cinderella) – Wallis Giunta
Don Ramiro – Sunnyboy Dladla
Dandini – Quirijn de Lang
Don Magnifico – Henry Waddington
Clorinda – Sky Ingram
TisbeAmy – J Payne
Alidoro – John Savournin
Production:
Director – Aletta Collins
Set Designer – Giles Cadle
Costume Designer – Gabrielle Dalton
Lighting Designer – Matthew Haskins
Video Designer – Andrzej Goulding
Second up in Opera North's Fairy Tale Season was advertised as Cinderella by Rossini. To my heartfelt relief it turned out to be La Cenerentola, Rossini's twentieth opera premiered in Rome in January 1817, eleven months after the premiere, and subsequently rave reviewed Barber of Seville eleven months before, also in Rome but at a different theatre. Originally, Rossini was supposed to have set an entirely different work to open the Carnival Season at the Teatro Valle, Rome, on December 26th 1816. However, on his arrival in Rome in mid December he found the Papal Censors had rejected the proposed libretto provided by Ferretti. At a late night crisis meeting with the impresario and librettist, the subject of Cinderella was agreed, as was a postponed premiere. With less than a month to go before the new first night both composer and librettist had to make compromises. Rossini borrowed the overture from his own farsa La gazzetta, written for Naples a mere five months earlier. He also employed a local musician, Luca Angolini, to assist him by composing all the secco recitatives as well as two arias and a chorus that are now often omitted in performance and recordings, most of which follow, Alberto Zedda's Critical Edition for the Pesaro Rossini Foundation. In the programme I can see no mention of what edition is used.
I mention my heartfelt relief at the work being sung in Italian. The prosody and music of the composer's comic operas, often involving quick patter arias and the like, do not make for easy translation nor singing. The same can be said to some degree with other works and languages as had been evident the evening before in Hansel and Gretel when despite David Pountney's felicitous translation there were one or two awkward corners, the same at Rossini speed can seriously mar a performance as well as making singers uncomfortable. There was some mute play and even sound interruption in the overture and which set the mood for what turned out to be more of a pantomime than an opera giocoso. Costumed in present day, the setting was Don Magnifico's Scuolo di Danza, the upstage wall opening in Giles Cadles flexible staging to be the dance hall. There was no fireplace for Cenerentola to weep by, she was the skivvy fro the business, being bullied by one and all. Thi dance hall concept turned out to be an excuse for many dance moments including, particularly, swinging hips, and posteriors, in the Act II finale. No harm, and in the overall spirit of an entertaining production. One or two of the costumes, such as Alidoro as a beggar, were poorly conceived whilst there were sumptuous dance dresses at another time.
As the dance school owner and father of three girls, one of whom he disowns, to her great sorrow, Henry Waddington was outstanding, aided by his natural stature he camped it up and until his voice showed signs of tiring he was the dominant figure throughout. The ugly sisters Clorinda and Tisbe were well played and sung as was Quirijn de Lang's Dandini. As the leading, couple and would be lovers, both were making their UK debuts in this production for Opera North. Wallis Giunta, a slender red haired Angelina and sometime graduate of the Metropolitan Opera New York training programme, acted and sang superbly. Her high notes and coloratura was excellent, she will soon be the world's Cherubino of choice I guess as well as in other Rossini's and 'belcantist' operas. As it was, only in the lower tessitura did she show any sign of weakness. Sunnyboy Dladla, originating from South Africa, exhibited a well-schooled voice of considerable range. Only once did he miss one of the many high notes that Rossini demands. He has an easy grace on the stage and I look forward to hearing him again.
With its storm music and variety there is plenty for the orchestra to do and can kill a performance with ease. Not, thankfully under the baton of Wyn Davies' vibrant vitality on the rostrum. They played a vital part in the proceedings, not least in the dance tempo of the finale!
Robert J Farr