United States Various composers: Alvin Ailey American Dance Theater, Dorothy Chandler Pavilion, Los Angeles, 8.3.2017. (JRo)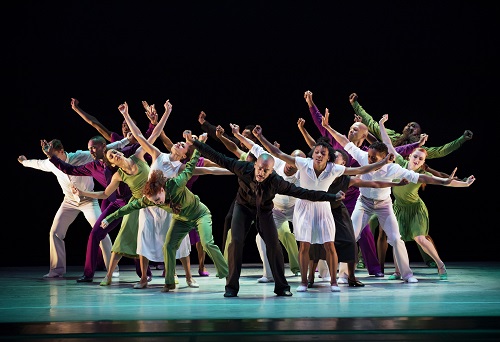 Dancers:
Hope Boykin, Jeroboam Bozeman, Sean Aaron Carmon, Elisa Clark, Sarah Daley, Ghrai DeVore, Solomon Dumas, Samantha Figgins, Vernard J. Gilmore, Jacqueline Green, Daniel Harder, Jacquelin Harris, Collin Heyward, Michael Jackson, Jr., Megan Jakel, Yannick Lebrun, Renaldo Maurice, Ashley Mayeux, Michael Francis McBride, Rachael McLaren, Chalvar Monteiro, Akua Noni Parker, Danica Paulos, Belen Pereyra, Jamar Roberts, Samuel Lee Roberts, Kanji Segawa, Glenn Allen Sims, Linda Celeste Sims, Constance Stamatiou, Jermaine Terry, Fana Tesfagiorgis
Production:
r-Evolution, Dream.
Choreography & Costume Design – Hope Boykin
Music – Ali Jackson
Narration – Leslie Odom, Jr.
Costume Project Manager – Zinda Williams
Lighting – Al Crawford
Untitled America
Choreography – Kyle Abraham
Music – Laura Mvula, Raime, Carsten Nicolai, Kris Bowers, Traditional
Costumes – Karen Young
Lighting & Scenic Design – Dan Scully
Sound Design – Sam Crawford
Interviews – Kevin R. Frech, Logical Chaos
Ella
Choreography – Robert Battle
Restaging – Marlena Wolfe
Music – performed by Ella Fitzgerald
Costumes – Jon Taylor
Lighting – Burke Wilmore
Revelations
Choreography – Alvin AileyMusic – Traditional
Décor & Costumes – Ves Harper
Redesigned costumes for 'Rocka My Soul' – Barbara Forbes
Lighting – Nicola Cernovitch
In a program that succeeded artistically, intellectually, and politically, Alvin Ailey's American Dance Theater offered an evening both challenging and joyful, with works that ranged from Ailey's 1960 masterpiece, Revelations, to Hope Boykin's involving and evocative 2016 r-Evolution, Dream.
Inspired by Dr. Martin Luther King, Jr.'s speeches and sermons, Boykin, a longtime Ailey dancer, creates a riveting dance to a soundtrack of spoken text, narrated by Leslie Odom, Jr. and incorporated into a luscious jazz score by percussionist Ali Jackson. Conflict, survival, and the comfort of community are embedded in a work that traces the evolution of the African American struggle. Without resorting to cliché or literal mindedness, Boykin takes a journey through the past while somehow maintaining an effortless flow of original, contemporary movement.
The first encounter is with dancer Matthew Rushing in black slacks, a white shirt, and tie. With eloquent gestures that evoke spoken communication, he precedes groups of dancers divided by the color of their costumes – black, white, lime green, and purple. Each group takes the stage in turn, spinning their own brand of movement. The black group, some dressed in overalls, move with the pull of gravity at their heels, evoking the rural life of the subjugated. The white group is childlike and playful at times, dancing to dissonant, jazzy rhythms. The green group's footwork is intricate, their presence more upbeat, dancing with reference to 1940s noir and urban cool. The purple group moves to moody jazz – urban and sophisticated. Music complements movement at every turn, whether it's snippets of Latin jazz, dancehall evocations, or sly reference to 1950's beat poetry. All the while propulsive choreography, hinting at everything from folk dance to swing dance to classic ballet, imbue the piece with meaning and aesthetic delight. Al Crawford's dramatic lighting, with vivid colors saturating the ensemble scenes or poetically accentuating individual sorrow and strife, brings out the piquancy of Boykin's costume design.
Untitled America by Kyle Abraham explores the devastating effect of the prison system on African American families. It's more literal than Boykin's work and references to incarceration are overt, from the recorded narration of affected family members, interspersed with spiritual and contemporary music, to the staging and costumes. A long rectangular wall piece symbolizes the bars or narrow window of a prison cell. Shafts of light directed onto the performers, the percussive sounds of explosions, police radio-speak, falling bodies, and the bowed torsos of dancers all contribute to the claustrophobic environment of imprisonment. Though powerful, the dance feels overly long, descending into repetition towards the end. But the Ailey company dancers draw grace and elegance out of every gesture, no matter how tortured. Whether they're moving from deep knee bends to classical attitudes or raising arms heavenwards, tracing patterns in the air, they embody grief in movement.
In AAADT artistic director Robert Battle's short and oh-so-sweet Ella, Jacquelin Harris and Megan Jakel dance deliciously to Ella singing scat. Battle finds a physical equivalent to scat, improvisational in feel and loaded with personality, humor, and musicality. Scat, in the right hands or, I should say, vocal chords, takes on the characteristics of a musical instrument, using nonsense syllables and song phrases to jubilant and often comical effect. Harris and Jakel tumble, scurry, and cavort. They pull themselves up by the hair, hilariously shuffle across the stage, split jump high in the air and land on their backs, and genuinely surprise at every turn.
The company ended the evening with Ailey's beloved Revelations. Set to traditional spirituals, the piece never fails to inspire and entertain. From the opening 'I Been Buked', which speaks of untold sorrow and struggle, to the raucous and comforting 'Rocka My Soul in the Bosom of Abraham,' which embraces joy and hope, it is clear why this ballet endures and has become a twentieth-century classic. So closely was the extraordinary Judith Jamison associated with Ailey's creation that no matter who portrays the woman with the parasol, I always see Jamison's torso perfectly and regally undulating to the rhythms of the spiritual, as she strides across rippling waves of white and blue fabric. But fortunately for audiences now, the Alvin Ailey dancers offer an array of talented dancers who combine elegant technique with strength, suppleness, and musicality.
Jane Rosenberg