Germany J.S. Bach: Soloists, Chor des Bayerischen Rundfunks, Symphonieorchester des Bayerischen Rundfunks / Herbert Blomstedt, Herkulessaal, Munich, 23.3.2017. (MC)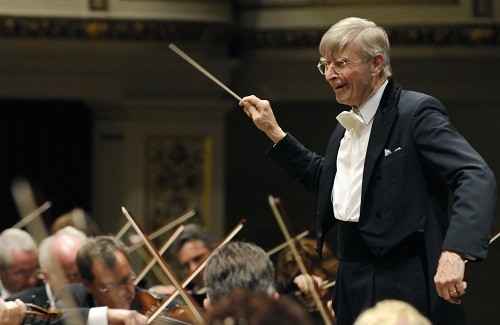 J.S. Bach – Johannes-Passion (St. John Passion), BWV 245 (1724)
Mark Padmore, tenor (Evangelist)
Peter Harvey, baritone (Jesus)
Anna Prohaska, soprano
Elisabeth Kulman (alto)
Andrew Staples (tenor)
Krešimir Stražanac (bass-baritone)
Priska Eser, soprano (Magd)
Q-Won Han, bass (servant)
Anreas Burkhart, bass (Pilate)
Christof Hartkopf, bass (Peter)
In Munich over the years there must have been many concerts of Bach's St. John Passion. Many of tonight's audience will remember Karl Richter directing concerts including the St. John Passion with his Münchener Bach-Chor und Orchester in the 1960s and 70s. Notwithstanding the substantial performance tradition in the city it was hard to imagine a better concert than this conducted by Herbert Blomstedt such was the elevated level of tonight's Herkulessaal performance.
Having been appointed Cantor et Director Musices Bach and his family arrived at Leipzig in 1723. His employers certainly worked him hard as the terms of appointment made him cantor at Thomaskirche and music director for all four churches in the city: the two main parish churches Nikolaikirche and Thomaskirche, and also Neue Kirche and Peterskirche. It can't have been long after settling in Leipzig that Bach began working on the St. John Passion. Cast in forty sections, the St. John primarily uses texts from St. John's Gospel with the remainder taken from a variety of sources, including the Gospel of St. Matthew, Psalm 8:2 and chorale texts. Bach intended the work for Good Friday and was first performed in 1724 at the Good Friday Vesper service at the Nikolaikirche.
For this performance with the Symphonieorchester des Bayerischen Rundfunks, a modern instrument orchestra, Blomstedt did employ some elements of historically informed performance practice using viola d'amore, viola da gamba, lute and also a positive organ. Blomstedt had selected his varied team of soloists particularly well with each singer demonstrating an innate compassion for the sacred text.
Telling the story in the crucial and demanding role of the Evangelist, tenor Mark Padmore was totally assured and apart from a couple of slight lapses of uneveness in the section 'Er leugnete aber und sprach' (12c) was remarkably consistent. Confirming his empathy for the texts he displayed stunning expression and clarity of diction. I especially relished his unfailing high notes and his object lesson of communicating fire and storm in 'Und siehe da, der Vorhang im Tempel zerriß'. In the part of Jesus, baritone Peter Harvey excelled all evening displaying lucidity and impeccable control. Harvey's rich and sturdy voice complete with flawless diction was perfect for the role and his conviction and reverential expression was unerring. Radiating strong assurance Elisabeth Kulman sung her alto aria 'Von den Stricken meiner Sünden', accompanied by oboes, with piety revealing her vocal fluidity and velvety tone. The pain, anguish and appropriate reverence were communicated expertly in 'Es ist vollbracht!' with its viola da gamba solo and attractive organ part. There was an attractive rounded tone from bass Krešimir Stražanac in his arioso 'Betrachte, meine Seel' accompanied by viola d'amores and lute. Although reasonably effective, Stražanac demonstrated little in the way of expression and relied mainly on dynamics. Soprano Anna Prohaska shone brightly in her 'Ich folge dir gleichfalls', accompanied by flutes. There was piety and an abundance of expression although the operatic qualities to her voice never felt far away. In her aria 'Zerfließe, mein Herze, in Fluten der Zähren' the admirable Prohaska provided a strong sense of suffering and near unbearable pain. After a slightly uneven start Andrew Staples soon settled down to give an exceptional performance. Decisive with real conviction Staples provided considerable reverential expression especially in his arias 'Ach, mein Sinn' and a burning passion in 'Erwäge, wie sein blutgefärbter Rücken' with its notable viola d'amore accompaniment.
 
With his usual unruffled assurance conductor Blomstedt pulled together his choral and orchestral forces together flawlessly to reveal plenty of fine detail as well as the often dramatic emotions of the liturgical texts. Right from the opening bars it was obvious the singing of the Chor des Bayerischen Rundfunks, of around forty-five members, was of an elevated quality. Coached by Michael Glaser the choir delivered full-toned singing in a constantly rewarding performance marked by a compelling unity and often moving sincerity for the sacred text. Outstanding was the thrilling power of the singing contrasted with episodes of tender devotion. Particularly remarkable was the atmospheric and stirring opening chorus 'Herr, unser Herrscher' and notable too 'Wäre dieser nicht ein Übeltäter' and 'Durch dein Gefängnis'. The world class Symphonieorchester des Bayerischen Rundfunks was in exceptional form with all sections adroitly balanced by Blomstedt. Exquisite were the numerous solo accompaniments given to individual singers.
Such a highly progressive work for its time, Bach's St. John Passion, full of terror and menace, communicated a stark message. Blomstedt went on the front foot at Herkulessaal with an inspirationally intense and exceptional performance of this sacred masterwork.
Michael Cookson