United States Verdi, La traviata: Soloists, Chorus and Orchestra of the Metropolitan Opera, New York / Nicola Luisotti (conductor), Met Live in HD transmitted to the Komedia Cinema, Brighton, 11.3.2017. (RB)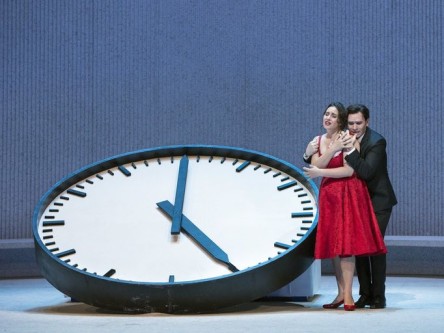 Cast:
Violetta Valéry – Sonya Yoncheva
Alfredo Germont – Michael Fabiano
Giorgio Germont – Thomas Hampson
Production:
Production – Willy Decker
Set and Costume Designer – Wolfgang Gussmann
Associate Costume Designer – Susana Mendoza
Lighting Designer – Hans Toelstede
Choreographer – Athol Farmer
Live in HD Director – Matthew Diamond
Live in HD Host – Isabel Leonard
This season provides the last opportunity to see Willy Decker's modernist production of La traviata at the Metropolitan Opera so I was pleased to be able to catch it before it vanishes from the stage. The set was dominated by a curved white wall and most of the action took place within a confined circular space which was later transformed into a bull ring. As Violetta, Sonya Yoncheva wore a scarlet dress and ruby shoes providing an extraordinary splash of colour against the monochrome background. Male and female members of the chorus were all wearing evening suits and ties. The cross dressing continued in Act II when a male party goer with a beard and tattoos stripped to the waist and put on Violetta's scarlet dress. The effect of this seemed to be to objectify and denigrate Violetta's character and women in general. Decker used various symbols throughout the production including a vast clock to represent the limited time Violetta had left. Dr Grenvil was a silent passive observer throughout, taking on a Grim Reaper-like presence.
Sonya Yoncheva was absolutely superb in the demanding role of Violetta. In the first act Yoncheva seemed unsteady on her feet when she first entered giving us a glimpse of the frailty of the character. However, when the revellers entered she was immediately transformed into the ultimate party girl cavorting in front of her male admirers and drinking champagne. The dizzying coloratura and runs of the first act were dispatched with virtuoso aplomb. 'Sempre libera' bubbled along with infectious joy while her handling of the coquettish ornaments in 'Un di felice, eterea' was glorious. In her Act II encounters with Thomas Hampson's Germont she was transformed into a much more serious and principled figure. Yoncheva produced a rich and varied palette of vocal colours and the singing was subtly nuanced and lines sustained beautifully. When required she was able to produce considerable dramatic power, as in 'Amami Alfredo' which was full of searing passion. 'Addio, del passato' was heartbreaking and Yoncheva's haunting rendition of the mournful opening melody and wonderful colour changes moved me. Her final moments on stage as she tried to cling on to life and her last desperate attempt to rekindle the joys of the past were very moving.
Michael Fabiano presented us with a sophisticated and complex portrayal of Alfredo. When he first entered he watched Violetta from afar and there seemed to be a gradual dangerous inevitability about their relationship as their two stars eventually collided. He brought a gorgeous Italianate colouring to the words in the opening drinking song while his rendition of 'Un di felice, eterea' was lush and had a resonant glow. 'O mio Rimorso' at the start of Act II was dispatched with a blaze of Romantic ardour and the top notes delivered with thrilling gusto. As the Act progressed he was transformed into a demented individual driven mad with jealousy. Instead of throwing money at Violetta he stuffed it up her dress and down the front of her bodice in a scene that can only be described as a rape. It was incendiary theatre and very uncomfortable to watch. I wondered how Fabiano could be redeemed after this scene but he succeeded in winning us over again in the final scene which he sang with enormous sensitivity and tenderness, his eyes glistening as he sang his farewells to his Violetta.
The veteran baritone, Thomas Hampson, gave a multi-faceted, rounded portrayal of Giorgio Germont. When we first saw him he came across as a slightly severe, buttoned up character full of the best intentions for all the wrong reasons. However, he showed tremendous gallantry at the end of the second act when he admonished Alfredo for his treatment of Violetta – an important point in this production where the male characters were not always viewed in the best light. Hampson's voice had a rich seasoned quality that was perfect for the role and his handling of the Act II exchanges with Yoncheva were very good although occasionally I would have welcomed a more focused sound and greater vocal projection. 'Di Provenza il mar' had an easy flow and soothing lyricism which I enjoyed immensely.
Nicola Luisotti provided assured direction through the performance and the Metropolitan orchestra were clearly firing on all cylinders. The prelude to Act I captured the bitter-sweet anguish at the heart of the work and set the scene perfectly. The Metropolitan Chorus were terrific in the crowd numbers and the choruses which opened the first two acts were performed with gusto. The minor cast members all acquitted themselves well and I particularly enjoyed Flora's performance (the performer was not named in the programme).
The evening, however, belonged to Yoncheva and Fabiano and they were deservedly greeted with ecstatic applause and a standing ovation from the audience.
Robert Beattie