China Mozart, Janáček, Chopin: Piotr Anderszewski (piano), Shanghai Concert Hall, Shanghai, 5.3.2017. (RP)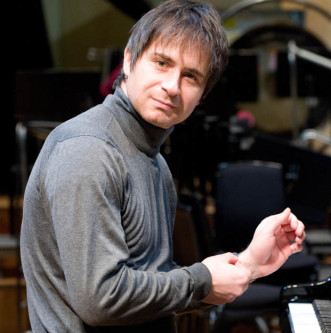 Mozart – Sonata No.14 in C minor, K.457; Fantasia in C minor, K.475
Janáček – On an Overgrown Path, Book II
Chopin – Mazurkas, Op.56 & Op.59; Polonaise-Fantasie, Op.61
Pianist Piotr Anderszewski's Shanghai recital was an antidote to the constant, desensitizing din of living in the world's largest city. Intimacy is his calling card. His self-effacing manner, broken only by broad smiles when acknowledging an audience's applause, draws you into a private sphere of intense emotion and exquisite beauty. Situated as it is in a relatively quiet nook of the city near People's Square, the Shanghai Concert Hall is a sort of oasis, despite the massive, elevated Yan'an Road that looms nearby. Its neoclassical blue, cream and gilt hall imposes an atmosphere of restraint and formality which are essential to appreciate this artist, who plays with such elegance and depth of feeling.
Anderszewski's phrasings and dynamic sensitivity linger in my memory. The opening measures of Mozart's Sonata No.14 are a series of upward arpeggios, interrupted by a short pause and followed by a simple melody. How to describe that feeling of being suspended in midair, only to be eased back into reality with a gentle, beautifully executed trill? Chopin begins the Polonaise-Fantasie in a similar manner, with expansive arpeggios that pause in the stratosphere, followed by loud chords, before the piano once again takes flight. As in the Mozart, these passages were stunning and the pauses as important as any note that Anderszewski played. Indeed, those brief moments of repose were the leitmotifs of the recital.
Mozart and Chopin were master melodists, and folk songs such as Janáček used in On an Overgrown Path survived because they are catchy and memorable. Every instrumentalist strives to replicate the emotions conveyed through the human voice in song. Anderszewski can make the piano sing. The simple melody over a broken chord in the Adagio from the Mozart sonata was spun with lyricism and grace. Chopin's sweeping melodies required a different voice, full of complex colors and passion. The pianist's Slavic soul provided the latter, his technical finesse the former.
'Unquiet Traveler' flashed on the screens that announced the program just prior to the start of the recital. Surely it referred to a restless spirit rather than a peripatetic wanderer. The emotional intensity of this recital was unrelenting, beginning with the two Mozart pieces played with nary a pause between them. The Janáček folk songs' settings were lyrical and chromatic but provided little respite. Chopin's appeal is the emotional pull created by his song-like melodies and flowing rhythms, imbued with patriotic fervor. For this listener it was extremely rewarding but exhausting.
Anderszewski, however, is a master at controlling an audience's emotions. Thus it was if a shaft of light appeared when he played the final A-major chord of the Polonaise-Fantasie. New sensations suddenly filled the hall, those of triumph and ecstasy. The cheers of the audience after those notes sounded brought a sole encore, Bartók's Three Hungarian Folksongs from Csík. The first two are simple pastoral tunes, while the third is lively and vivacious. I left the Shanghai Concert Hall emotionally drained but joyful.
Rick Perdian