Spain Handel, Rodelinda: Orchestra of Teatro Real / Ivor Bolton (conductor), Teatro Real, Madrid, 24 & 25.3.2017. (JMI)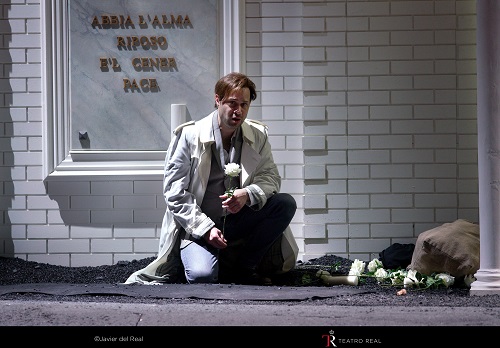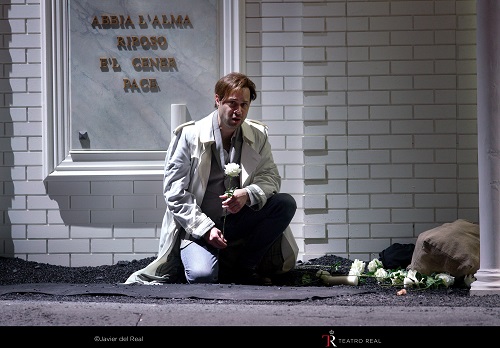 Casts:
Rodelinda – Lucy Crowe/ Sabina Puértolas
Bertarido – Bejun Mehta/Xavier Sábata
Grimoaldo – Jeremy Ovenden/Juan Sancho
Eduige – Sonia Prina/Lidia Vinyes-Curtis
Unulfo – Lawrence Zazzo/Christopher Ainslie
Garibaldo – Umberto Chiummo/José Antonio López
Flavio – Fabián Augusto Gómez
New Production: Teatro Real, Barcelona's Liceu, Opéra de Lyon and Oper Frankfurt
Director – Claus Guth
Sets and Costumes – Christian Schmidt
Lighting – Joachim Klein
These well-received performances of Handel's Rodelinda featured an excellent staging and two appealing casts, beautifully directed by Claus Guth. The attractive new production tells the story as if it were the memories of Flavio, the son of Rodelinda and Bertarido, who is always present on stage. The sets consist of a rotating stage with a mansion, all in white, on two levels. On one side, there is a dining room at the base with Rodelinda's room above it; as the stage turns, one notes interior staircases that lead to corridors and rooms; at the last turn we are at the front of the house. One advantage of this rotating stage is that it kept things lively, avoiding a certain lack of action which can be a problem in Baroque opera. The costumes have been brought up to modern times, and are particularly suitable in the case of Rodelinda. The lighting was handled well and good use was made of video projections.
The musical direction was in the hands of Ivor Bolton, one of the leading conductors of Baroque opera. His conducting was quite good, even if I wasn't overly enthusiastic about his reading. It was all neat and adequate, but I missed more life and emotion at times; the third act was the most successful. The Teatro Real orchestra gave a fine performance, although their sound was not comparable to that of orchestras that specialize in Baroque music.
The protagonist who gives title to the opera is none other than the Queen of Lombardy, played by British soprano Lucy Crowe in the first cast. Her interpretation was correct but rather impersonal, and her singing was a bit strident at the top. Sabina Puértolas in the second cast was more convincing vocally: her voice is attractive and she is comfortable in Baroque. But in both cases, I found their Rodelindas were too light.
American countertenor Bejun Mehta was a magnificent Bertarido. When you have an interpreter like Mehta, the opera should be entitled Bertarido. He sang with gusto, great emotion and fine technique. The second Bertarido was Xavier Sábata, who did well but with the serious inconvenience of doing so the day after his colleague, Bejun Mehta. The difference between the two is notable: he was a good Bertarido, but Mehta was exceptional.
Jeremy Ovenden as Grimoaldo sang expressively, but his voice is rather reduced in volume and not particularly rich. In the second cast was Juan Sancho, who made an excellent impression. I had not heard him on stage for almost eight years and found him remarkably improved.
Sonia Prina as Eduige, Bertarido's sister, was well suited to a role that requires a real contralto. Lydia Vinyes-Curtis sang the part in the second cast; her presence was surprising, considering that until now she has sung very minor characters in Spanish theatres. She was correct, but her voice is not that of a contralto.
Lawrence Zazzo was good in the part of Unulfo, as was Christopher Ainslie in the second cast.  Umberto Chiummo was a disappointing Garibaldo, while José Antonio López was rather vociferous in the part.
I must single out the superb performance of actor Fabián Augusto Gómez in the part of Flavio.
José M. Irurzun