United Kingdom Various composers, English National Ballet – Bausch/Forsythe/Van Manen: Dancers of English National Ballet, Olga Khoziainova (piano), English National Ballet Philharmonic / Gavin Sutherland (conductor). Sadler's Wells, London, 23.3.2017. (JPr)
In The Middle, Somewhat Elevated
Choreography, Costume and Lighting Design – William Forsythe
Staging – Agnès Noltenius
Music – Thom Willems (in collaboration with Les Stuck)
Dancers: Laurretta Summerscales, James Streeter, Tiffany Hedman,
Precious Adams, Cesar Corrales, Crystal Costa, Isaac Hernández,
Madison Keesler, Sarah Kundi.
Adagio Hammerklavier
Choreography – Hans van Manen
Staging – Rachel Beaujean
Music – Ludwig van Beethoven
Set Design – Jean-Paul Vroom
Costume Design – Hans van Manen
Lighting Design – Jan Hofstra
Dancers: Fernanda Oliveira and James Forbat
Laurretta Summerscales and Fabian Reimair
Tamara Rojo and Isaac Hernández
Le Sacre du printemps (The Rite of Spring)
Choreography – Pina Bausch
Music – Igor Stravinsky
Set and Costumes – Rolf Borzik
Collaboration – Hans Pop
Dancers of English National Ballet featuring Francesca Velicu
Your reaction to In The Middle, Somewhat Elevated will depend on whether you have seen it before, or – like me – it was your first time. The history of this short 1987 work is almost as fascinating as what we actually see. Forsythe was originally going to call it Impressing the Czar to honour Rudolf Nureyev whose Paris Opéra Ballet had commissioned the piece. It begins with a crash of electronic sound and two female dancers in azure blue leotards and black tights pay homage to two golden cherries hanging high above the stage. These are apparently a reminder of the Paris Opéra and were the inspiration for giving the work its present title.
My understanding of Forsythe's work is that it reflects his knowledge of the Paris Opéra Ballet with its formal hierarchical system of grades. This results in a deep-rooted competitiveness in the company from the Ballet School and up through the professional ranks, where promotion was – and apparently still is – only achieved through a competition held annually. I suspect Forsythe captures this closeted – somewhat incestuous – world well with its seeming friendship between dancers masking fierce ambition and petty jealousy. It all reeks of the insecurity of a dancer's existence; their position is never secure. So during the solos and even the climactic pas de deux of In the Middle, Somewhat Elevated there is always one or more of the dancers lurking about at the side or the back of the stage: their moves often suggest a ballet class and – like most dancers – they are clearly ready to respond to the call to take over if asked. Elsewhere the choreography – as well as the over-amplified percussive electronic score from Thom Willems – is incessant and unrelenting. There are high-octane performances from all concerned in the rhythmic surges of almost unstoppable movement. I just wondered whether it was danced a little too smoothly. Yes, there were displays of braggadocio as dancers confronted each other, but that their bravado possibly masks performance anxiety should be more obvious.
English National Ballet's continuing exploration of modern European choreography began with Modern Masters in 2015 (review here) which included In the Middle, Somewhat Elevated. The 1987 première included Sylvie Guillem, Laurent Hilaire, Isabelle Guérin, Manuel Legris and others, who at the time were virtually unknown, yet all set to become stars of the Paris Opéra Ballet and elsewhere. English National Ballet's artistic director, Tamara Rojo, seems to have the same knack as Nureyev in spotting talent. Out of the nine dancers, six were making their debut in their role, and though none disappointed, the choreography seems to suit some better than others. It was Precious Adams – with her long limbs and beautifully pliant feet – who really stood out here and later in The Rite of Spring. Hopefully she will do much more than just be in the corps de ballet after this. A 'precious' talent indeed!
By contrast with In the Middle, Somewhat Elevated and The Rite of Spring that completed the triple bill, Hans Van Manen's Adagio Hammerklavier is extremely genteel stuff. It was choreographed for Dutch National Ballet in 1973 and inspired by the very slow tempo of Christoph Eschenbach's recording of the third movement from Beethoven's Piano Sonata, Op.106 often referred to as the 'Hammerklavier'. His performance was recreated by playing of sustain eloquence and gravitas from Olga Khoziainova, though it was amplified so loudly that I initially thought it was Eschenbach's original interpretation.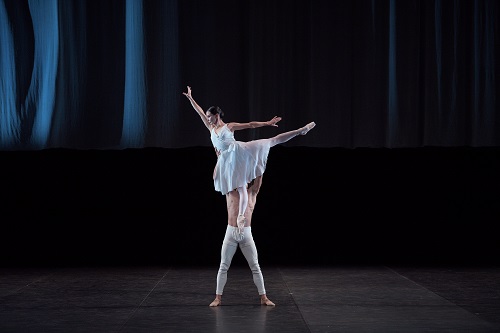 As a consequence, van Manen's Adagio Hammerklavier is sombre and profound and is danced against a simple blue curtain that has descended to cover half the rear wall of the stage. It is distinctly neo-classical and there are just three pairs of dancers; the men are bare-chested and bare-footed in white tights, whilst the women wear flimsy blue dresses. Together they seem slowly to be dissecting their relationships; both as people – possibly between a flighty man and a jealous woman – and as dancers, through partnering, whilst exploring aspects of disharmony along the way. As is to be expected, the always impeccable Tamara Rojo and Isaac Hernández were the pair who best brought out the romantic intensity at the core of the piece. The other pairings Fernanda Oliveira with James Forbat and Laurretta Summerscales with Fabian Reimair needed to work harder to reach their high level, but it is to the dancers' credit that they achieved it. Here – as throughout the evening – the unison dancing displayed an impeccable ensemble
Not seen in the UK since 2008, Pina Bausch's Le Sacre du printemps (The Rite of Spring) was a remarkable company achievement and further proof – if it was needed – of the heights English National Ballet are attaining under Tamara Rojo's leadership. Stravinsky's music has been choreographed many times since the scandal it caused in Paris in 1913. The late Pina Bausch tackled it right at the beginning of her career at Tanztheater Wupperthal in 1975 and English National Ballet are only the third company to perform it. The energy required by all-concerned is feverish, the atmosphere hallucinatory and primeval and the effect on the viewer is visceral. It is a bit like being transported as in H. G. Wells's The Time Machine to more primitive times to witness an ancient tribe and their frenzied fertility ritual. That Bausch's The Rite of Spring – and the religion of the people that we see – is 'rooted in the earth' is helped by the 28 dancers performing on peat. This not only provides a most effective set design, but also becomes a significant part of the performance; streaking and staining the dancers during the tribal rites in way reminiscent to what happens in Akram Khan's recent Dust for the company.
As with In the Middle, Somewhat Elevated there is just too much happening for someone like me seeing this for the first time and your eye rarely settles on anyone for long. Clear once again was the well-schooled technical skills of the English National Ballet's dancers; whilst capping this was how good they were as actors. Dancing in unison they were as incandescent as when showing their complete involvement in the unfolding of the drama, almost making me believe they had entered the trance-like state Bausch shows us. Though I believe the sounds are genuine exhaustion, the dancers are heard catching their breath in the quieter interludes and this seems to have been highlighted by Bausch in her work.
The tension builds and builds inexorably as the sacrificial maiden (the 'chosen one') is selected to wear a red dress and thus trigger an orgiastic – and gymnastic – celebration of fertility. Initially reluctant she tosses the dress to others. As a counterpoint to the huge emotional involvement the 'chosen one' has in the proceedings from this point, the man who made the choice displays little emotion when putting her in the dress, his back to the audience, or spending most of the time lying still and face down, with arms stretched outwards, as if waiting to receive her.
Finally, there is the long – it lasts for several minutes – degrading, agitated and agonising dance of death which was a tour de force from Bolshoi Ballet-trained Francesca Velicu as the conflicted 'chosen one'. She is the company's youngest dancer who is clearly another wonderful talent currently to be found in the corps de ballet and surely we will also hear more about her in the future. The Rite of Spring ends with the 'chosen one' collapsing exhausted headlong into the earth and in a sense returning from whence she came. Throughout Gavin Sutherland and his impeccable English National Ballet Philharmonic brought a suitably relentless fervour to Stravinsky's score. The compelling nature of the expressive music resulted in an organic relationship between it and Bausch's choreography that is often missing in modern dance.
Jim Pritchard
For more about English National Ballet's future performances visit http://www.ballet.org.uk/.