Canada Mozart, Bruckner, Kraggerud: Henning Kraggerud (violin), Vancouver Symphony Orchestra / James Gaffigan, Orpheum Theatre, Vancouver, 1.4.2017. (GN)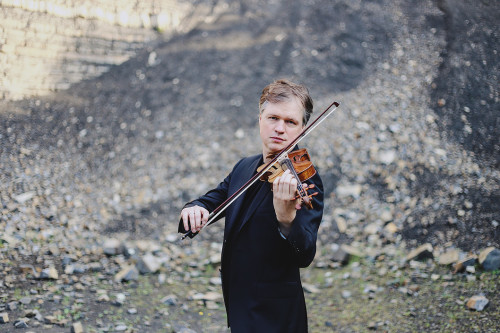 Mozart – Adagio and Fugue in C minor K.546; Violin Concerto No.4 in D major K.216
Bruckner – Symphony No.7 in E major
Kraggerud – Postlude 10 from Equinox
Up-and-coming conductor James Gaffigan has established a tradition of presenting concerts that combine an adventurous opener with closing works of the greatest reach. An early appearance with the VSO started with an intimate wind serenade by Richard Strauss and finished with Beethoven's 'Eroica'. Last time, it was the Intermezzo from Barber's Vanessa holding hands with Shostakovich's massive 'Leningrad' Symphony. And this time, it was Mozart's Adagio and Fugue (rarely played in its orchestral version) pairing off with Bruckner's far-reaching Seventh Symphony. A refreshing concept indeed, made even more beguiling by the appearance of Norwegian violinist Henning Kraggerud in Mozart's Fourth Violin Concerto. The violinist was a delight, and the performance of the Bruckner was committed and creditable.
Bruno Walter and Otto Klemperer used to perform Mozart's Adagio and Fugue with full orchestra, but it is now usual to perform it with a small chamber orchestra or even a string quartet. Gaffigan did reduce the orchestra's size, which worked acceptably, though I might like to have seen it reduced even more. The conductor has gained a greater tightness and structural sophistication in recent years, and this showed in his clear and knowing articulation, giving each string voice its due. He found fine tonal balance and variety in the somber Adagio while the Fugue had enviable structural line and strong energy. The piece pays tribute to Bach, and some have thought this late work probes something more metaphysical, but the accent here was on cogent articulation.
I have been fond of violinist Henning Kraggerud since his early recordings for Naxos, and have had a partiality to Norwegian violinists since I heard Arve Tellefsen years ago. There is a lovely freedom in Kraggerud's manner and a sense of fantasy and feeling in his playing and, indeed, in his sensitive explorations as a composer. He is also Artistic Director of the Arctic Philharmonic Chamber Orchestra. His tone is particularly fine and pure and he shows beguiling flexibility, in some ways suggesting remnants of a Norwegian 'fiddle' tradition that dates back to1650. With all the ornaments, accents and flights of fancy in the violinist's arsenal, one would think that this performance was unquestionably in the authentic tradition: Andrew Manze would have been impressed! The sheer speed and bounding energy of the opening Allegro was about as truculent as I have ever heard. The heart of the performance was the Andante, Kraggerud suspending his long cantabile lines with so much beauty and fantasy that it was quite spellbinding. The finale brought out a delicious range of play and delight with a vigour recalling the opening movement. Throughout this somewhat daring journey, Gaffigan's conducting distinguished through its conscientiousness, but I would have preferred the scale and sound of an authentic orchestra. There was sometimes too much orchestral weight and thrust to fit with the soloist's finely etched lines and quicksilver mobility.
An encore does not usually leave as much imprint as the main work, but Kraggerud's traversal of Postlude 10 from his new composition, Equinox, really was eye-opening, and in some ways unforgettable. One would be greatly enriched by hearing all 24 postludes (utilizing every key) that comprise the full work. I have the greatest respect for a composer who can combine formal structure with a seeming simplicity of utterance while taking the listener into a personal and deeply-felt world. There is a great sense of imagination and wonder in this writing.
The first two movements of Bruckner's Seventh Symphony are a challenge for any young conductor: the problem is how to make the music just unfold with flow and nobility over its entire length as if untouched by human hands. In their various recordings, Eugen Jochum, Herbert von Karajan and Nicolaus Harnoncourt have all illustrated the patience and subtle detailing needed to reach the composer's inner sanctum, finding a consuming spirituality rather than a more commonplace romanticism. In a performance here a few seasons ago, the estimable Mark Wigglesworth unfortunately displayed few of these characteristics, making the work more cinematic than anything else. Gaffigan did much better, exhibiting a healthy love for the work's inner beauty and space: in fact, he introduced the work to the audience as a study in meditation.  That's one way of putting it, but it is undoubtedly easier to say this than to actually bring it off.
The quiet opening strings of the Allegro were nicely suspended and textured, setting a fine stage, but the transition to the woodwind's probing reflections on the basic motive seemed to sacrifice character: they came through almost forte and with little sensitivity. From then on, the sense of natural lyricism seemed to be less in evidence. The conducting took on a greater sense of purpose, moving to a quicker speed, and aiming more at the grand brass perorations than the gentle unfolding of the narrative line. The movement ended with a sense of tight integration – worthy enough – even if I was aware of the conductor's efforts to will it all together. In terms of achieving overall cohesion at a deliberate tempo, I thought the great Adagio was finer. I'm not sure whether the string textures had to be quite as lush as they were, or whether the climaxes had to be given such effusive push, but one definitely felt the movement's sense of inexorability and majesty. The contentious cymbal at the movement's climax made a (now rare) appearance, suggesting that Leopold Nowak's edition was used.
The rollicking Scherzo was more powerhouse than rustic – the timpanist trying his hardest at the climaxes – but certainly yielded its customary excitement. The finale has always seemed less distinguished than the rest of the work; but despite a certain jauntiness, Gaffigan held it together well and built everything to an imposing conclusion. Indeed, it was a most creditable start for the young conductor, who manifested a true sense of commitment. It would be idle to pretend that Gaffigan found all the magical corners of the work or its full ebb and flow, but that takes time. A better understanding of Austrian Ländler style is needed, and the searching utterances of the woodwinds (the great 'spokesmen' in Bruckner's symphonies) have to be brought out with more sensitivity and transparency. The orchestra was largely up to the challenge, bringing an integrated power to the climaxes in particular. Perhaps the tonal ambience might have been slightly too thick at points, and the horns had some interesting moments too, but the strings led the way forward. The conductor's care in securing a tight, sculpted quality from the lower strings evinced his quest for discipline, though it sometimes struck me as too conscientious for its own good.
A most enjoyable variety of works here; interestingly enough, I left the concert immediately wanting to seek out the rest of Henning Kraggerud's Equinox.
Geoffrey Newman
Previously published in a slightly different form on http://www.vanclassicalmusic.com.