China Donizetti, Lucia di Lammermoor: Soloists, China NCPA Orchestra and Chorus / Daniel Oren (conductor), Tianqiao Performing Arts Center, Beijing, 12.4.2017. (RP)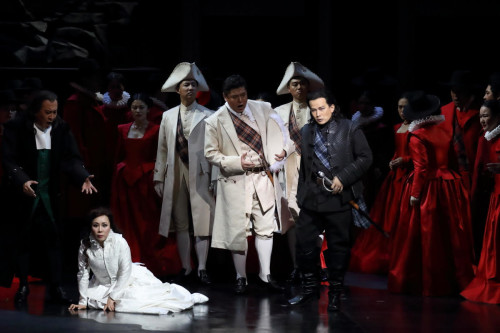 Cast:
Lucia – Zhang Liping
Sir Edgardo of Ravenswood – Shi Yijie
Lord Enrico Ashton – Zhang Yang
Raimondo Bidebent -Tian Haojiang
Lord Arturo Bucklaw – Wang Chong
Alisa – Shi Lin
Normanno – Luo Yang
Co-Production: Mariinsky Theatre
Director/Set Designer/Costume Designer – Yannis Kokkos
Lighting Designer – Vinicio Cheli
Projection Designer – Sergio Metalli
Artistic Collaboration – Anne Blancard-Kokkos
Chorus Master – Salvatore Caputo
Shi Yijie triumphed as Edgardo in the National Centre for the Performing Arts's Lucia Di Lammermoor. Opera audiences are the same the world over – give them a tenor with a voice of gold, swashbuckling good looks, singing his heart out as a passionate if doomed suitor – and they go wild. The ovations are all the more explosive and heartfelt when he is a native son (although Shi is from Shanghai and not Beijing). Having recently returned to China after studying in Japan and Austria and performing in Europe, one can only hope the world will soon be his stage.
Lucia is a mere pawn in a testosterone-fueled world; her only raison d'être is to secure a strategic alliance for her brother through marriage. Mercifully she found love, but it was doomed from the start. Zhang Liping's Lucia – always in luminescent white – was a caged bird, no match for the manipulative males who surrounded her. Zhang's singing was as carefully sculpted as her characterization, with dynamic shadings and coloratura that conveyed Lucia's anguish, bewilderment and dreams. Lucia's remorse at having signed the marital contract, thus breaking her promise to Edgardo, was heartbreaking. Given the overall loveliness of her singing, one was left to ponder if the occasional strident high notes were evidence of her vocal limitations or primeval screams capturing Lucia's desperation.
Donizetti's male characters are mostly one-dimensional types. Raimondo Bidebent, Lucia's teacher and advisor, is the exception. Although a willing accomplice in Enrico's efforts to coerce Lucia into marriage, he might actually feel remorse for his role in what transpired after happening upon the gruesome scene in the bridal chamber. Bass Tian Jaojiang captured the various facets of Raimondo's character with his resonant bass and well-honed acting skills. Sadly, that combination was lacking in Zhang Yang's Enrico. Neither Zhang's finely grained baritone, nor his bland portrayal of the power-hungry Enrico, gave life to this heartless villain. Wang Chong's Arturo, in fine voice, was a towering peacock of a man in gold and white topped off with a three-cornered hat.
Yannis Kokkos' concept was traditional and straightforward. Red was the predominant color. A statue of a magnificent stag with huge antlers dominated the interior of the Ashton manse, except when a painting of a hunt scene with a pack of dogs pursuing a terrified deer took its place. Rather than kilts and tartans, Kokkos opted for stark Calvinist garb for the chorus, albeit in red, alleviated only by white ruffs. A few splashes of dark yellow and amber added complexity and contrast to the restricted color palette, as did the rich blue of Alisa's dress.
The claustrophobic feeling was intensified by Sergio Metalli's projections of swirling clouds that immediately drew one into a menacing environment, where death and destruction reigned and the thirst for revenge left sparse room for romance. Only once did the clouds part as a pink dawn broke, when Lucia made her secret pledge of love to Edgardo. Vinicio Cheli's lighting was crucial in creating the visual context for the Mad Scene. The white ruffs of the chorus dazzled in the light, framing the blood-splattered Lucia, who entered yielding a huge sword with which she had dispatched her bridegroom. Lucia quickly doffed the stained dress and was again the embodiment of innocence, albeit one verging on a total mental and physical collapse.
Returning to the music, Daniel Oren was the other indisputable star of the evening. His absolute command of the chorus and orchestra, coupled with his nuanced interpretation of Donizetti's score, was truly impressive. With Oren, power and passion are never in short supply, but the softer, more lyrical passages of this Lucia are what linger in the memory. The playing that emerged from the pit was at times an iridescent shimmer of sound. The NCPA's chorus was at its estimable best, especially its outstanding tenors. A last-minute substitute for Valery Gergiev, Oren arrived in Beijing in time to conduct two dress rehearsals (the opera was double cast) and led four performances. He took one quick bow during the curtain calls of this, the final performance, and was whisked off to the airport.
Rick Perdian