United Kingdom Adès, The Exterminating Angel: (UK premiere) Soloists, Chorus and Orchestra of the Royal Opera House, Covent Garden / Thomas Adès. 24.4.2017. (CC)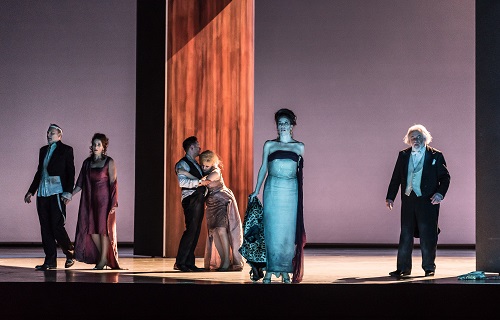 Cast:
Leticia Maynar – Audrey Luna
Edmundo de Nobile – Charles Workman
Leonora Palma – Anne Sofie von Otter
Silvia de Ávila – Sally Matthews
Francisco de Ávila – Iestyn Davies
Beatriz – Sophie Bevan
Dr Carlos Conde – John Tomlinson
Julio – Morgan Moody
Lucas – Hubert Francis
Meni – Elizabeth Atherton
Camila – Anne Marie Gibbons
Enrique – Thomas Atkins
Pablo – James Cleverton
Lucía de Nobile – Amanda Echalaz
Álvaro Gómez – David Adam Moore
Sergio Russell – Sten Byriel
Alberto Roc – Thomas Allen
Blanca Delgado – Christine Rice
Raúl Yebenes – Frédéric Antoun
Eduardo – Ed Lyon
Padre Sansón – Wyn Pencarreg
Yoli – Jai-Sai Mehta
Production:
Tom Cairns – Director
Hildegard Bechtler – Set & Costume Designer
Jon Clark – Lighting Designer
Tal Yarden – Video Designer
Amir Hosseinpour – Choreographer
The 1962 Surrealist film El ángel exterminador (The Exterminating Angel) by Luis Buñuel (1900-1983) is a masterpiece of cinematographic art. The plot concerns a group of high society persons, including a conductor and a prima donna hot from the opera stage, retiring back to an exclusive dinner party. Already at the outset, things are not as they should be: servants mysteriously absent themselves on flimsy pretexts, but really for no rational reason. As the evening progresses, it becomes increasingly evident that not only is nobody leaving the house, but that nobody can leave; a situation that is met with no surprise, as if it were the most natural thing in the world. As the days drag on, and the behaviour of the characters becomes ever more animalistic, the viewer is privy to the world outside, itself unable to approach the house and enter.
Where opera and film part company is in the final scene. Whereas Adès has the opera close when "freedom" is achieved and the guests at last leave, Buñuel has a final scene set in a church. The guests are seen giving praise to their Lord, presumably for their recovered freedom, only for the pastors to comment that the congregation, strangely, is not leaving …and so, Buñuel seems to imply, the same scenario repeats itself, just as at the end of Berg's Wozzeck the implication is that the child of Wozzeck and Marie will simply endure the same sort of hardships again and nothing is learned. Buñuel, in his surrealist satire on social etiquette and strata, seems to imply that nothing and no-one is changed. A curious decision, then, to excise this final offering.
That said, Adès's opera is the finest piece this writer has encountered by this composer. Even before curtain up, we are invited into the world of The Exterminating Angel: bells ring out continuously, and three sheep are onstage as the audience settles (sheep – the masses without individual minds, one assumes – and a bear are vital to Buñuel's film). A proscenium arch-like structure in Tom Cairns' excellent staging is used to separate the internal rooms of the house from the World outside and to delineate stage area. Cairns previously directed The Tempest for Adès, and his understanding of Adès' take on the operatic world is clearly close and deep; he is also librettist. Adès' music has lost none of its pluralistic virtuosity but seems now to have laser focus, his scoring (including an atmospheric, otherwordly role for the ondes martinet, here played by Cynthia Miller) impeccably judged. Extra percussion is placed in one of the boxes to the side of the stage. Adès unashamedly calls on the full dynamic range of his forces, from fortissimo and beyond that one can feel in one's body to the most delicate of scorings. Adès' own conducting, while it might look merely functional from the outside, clearly inspires the Covent Garden Orchestra to its very best.
Whereas Powder Her Face (see my review of the 2014 ENO production at Ambika P3 in London) was a clever piece, The Exterminating Angel speaks more honestly and with more depth, and seems to stake a place for itself in the operatic canon. One wonders if it will return with the success enjoyed by George Benjamin's Written on Skin (see my review of the recent Covent Garden production)? The temptation to indulge in "cleverness" in an opera that is about a film that itself references opera ("The Virgin Bride of Lammermoor" and "Valkyrie") and indeed Classical music (a piano sonata by Paradisi that generates a discussion as to whether it would sound better on harpsichord) might have been too much for Adès earlier in his career; now, the response is considered and deft. Consonance sits happily alongside crushing dissonance, both working towards a greater good. The Viennese Waltz emerges here as a symbol of the decadent world the characters inhabit; its bending in Adès' fairground mirror itself seems to reflect a surrealist basis to the evening.
The stratospheric acrobatics of Leticia Maynar's part (more than ably taken by American soprano Audrey Luna, a part she created in the Salzburg premiere last year) seem to reflect Adès predilection for instrumental extremes. This is generally, though, an ensemble opera requiring quicksilver responses from the soloists. The hyper-experienced Sir John Tomlinson takes the role of the Doctor (Carlos Conde), a scientist and rationalist whose diagnostic abilities at one point seem to reference the Doctor in Wozzeck (no accident, one assumes, given the link identified above). Tomlinson's stage presence is undiminished (one thinks also of his role in Mike Leigh's Pirates of Penzance at ENO earlier this year). Another "old hand" whose stage presence is never in doubt is Thomas Allen, who plays Alberto Roc. Countertenor Iestyn Davies is superb as the ever-fussy and flustered Francisco de Ávila while Charles Workman exudes confidence as Edmundo de Nobile.
Much thought clearly went into the casting in an opera that relies so much on uniform excellence. Sally Matthews (Silvia de Ávila), Sophie Bevan (Beatriz) are hugely characterful as well as vocally on point; Anne Sofie von Otter is a superb Leonora Palma. Unsurprisingly, of course many of the singers created the roles in Salzburg, so such confidence in a new opera is perhaps not so surprising; yet the confidence here is no less impressive.
Jon Clark's lighting, so vital in an opera that relies on the supernatural and the concept of enchantment, is perfectly judged. Shadow projections of birds blend with the sheep and the bear elements to remind us that take away the civility and perhaps we are all animals at heart. Hildegard Bechtler's sets and costumes create a world that is recognizably ours, and yet at the same time at one remove; Tal Yarden's video designs are impeccably judged.
The highest praise I can give is to say I yearn to experience this opera again. Power meets sophistication in a created Otherworld that asks so many questions of our world. The real feeling of a concerted effort from all concerned, in particular perhaps the superb orchestral contribution, is indeed palpable.
Colin Clarke