United Kingdom Handel: The Brook Street Band (Tatty Theo [cello], Rachel Harris [violin], Farran Scott [violin], Carolyn Gibley [harpsichord], Nikki Kennedy [soprano], Louis de Bernières [reader/author]). Handel Festival, The Chapel, Norwich 22.4.2017. (MH)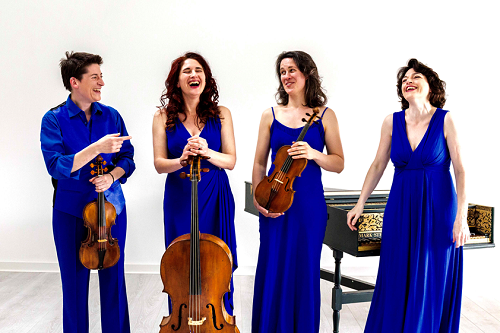 Handel – Trio Sonata Op.2 No.6 in G minor HWV 391; Armida Abbandonata HWV 105; Trio Sonata Op.5 No.4 in G major; Extracts from Dining with George including Sinfonia in B flat major HWV 339 and Motet Coelestis dum spirat aura HWV 231.
The Brook Street Band, established in 1996, had been planning a 20th Anniversary celebration for some time. A weekend dedicated to Handel in Norwich, was a fine tribute to both composer and musicians. This was also an educational initiative spread over a weekend, which included workshop titles – play: Handel, dance: Handel, talk: Handel, young:Handel, sing:Handel, experience: Handel, debate: Handel; culminating each day with a hear:Handel concert in The Chapel, Park Lane, Norwich.
The chapel was originally named the Swedenborgen Chapel used by a religious sect who financed it, but after several changes of owner and use, it is now a private music room used for music events such as love: Handel. It was acoustically ideal, providing an intimate salon for this Handel festival.
The evening concert opened with a light hearted introduction from Tatty Theo, the groups Founder and Director. Even the tuning up was a pleasure to experience. This refreshing approach, to what may be considered a serious set of compositions, made the music spring along. Everyone was smiling at Handel!
The Trio Sonata Opus 6, No 2 was notable in the Allegro where the 2 violins (Rachel Harris & Farren Scott) made the most of the competitive playing required, whereas at other times they were clearly attuned to every nuance of the other's bowing. The final Allegro was so vivacious that one almost wanted to get up and dance!
A dramatic cantata – Armida abandoned was the first vocal piece from soprano Nikki Kennedy. Made up of 3 recits and 3 arias inspired by Tasso's tale of Rinaldo sailing away from a broken hearted Armida, this was a piece of contrasts. Sorrow – Ah! crudele, e pur ten vai and anger – O voi, dell'incostante equally sensitively expressed by this stylish baroque singer. Every opportunity to embellish the musical line was taken with aplomb. A little more eye contact with the audience – off the copy – would have added to the overall drama of the cantata. Nevertheless, a thoroughly enjoyable work with the underlying expressive support from the BSB.
The First half concluded with another Trio Sonata Opus 5, No 4. Here again the BSB were in their element. This time in G major, the happiness of each piece ending in dance style, sparkled through. Her Handel had recycled some of his tunes and so each section had that I have heard that somewhere before feel to it. Not so with the musicians whose playing was vibrant and expressive throughout. Particularly notable were the glissandi violin sections, where each player excelled in echoing duet.
Following a short interval we were treated to an Extract from Dining with George read by the author Louis de Bernières – writer of Captain Corelli's Mandolin and involving the Band. The ladies were harangued by Handel – women could not possibly be proper musicians in this story, where Handel returns from the afterlife.
Needless to say, the BSB were more than up to the task in the Sinfonia HWV 338 together with the vocal excellence shown by another woman – Kennedy – for whom the character of Handel had even less respect. The motet Coelestis dum spirat aura was written in Handel's time living near Rome for the Catholic Church to use on the Feast of St. Anthony. Kennedy's joyous rendition left Handel lost in his world of music.
After very appreciative applause, the encore sending us home with a tear in the eye, was Kennedy singing Lascio ch'io pianga Let me weep, My cruel fate, Almirena's Aria from Handel's Opera, Rinaldo. Loved by tenors and sopranos alike and a Classic FM favourite we were not disappointed.
This inaugural Handel Festival was a High Quality event for both young and old, aficionado or beginner and it is to be hoped it is not the last time BSB present such an all round view of GFH.
All praise to Norfolk + Norwich Chamber Music and Roger Rowe for promoting this project.
Martyn Harrison
For details of the Brook Street band see www.brookstreetband.co.uk
Norfolk + Norwich Chamber Music see www.norwichchambermusic.co.uk/