United Kingdom Schubert, Wilson, Beethoven: Dante String Quartet, Mark Bebbington (piano), Tavistock Parish Church, 18.4.2017. (PRB)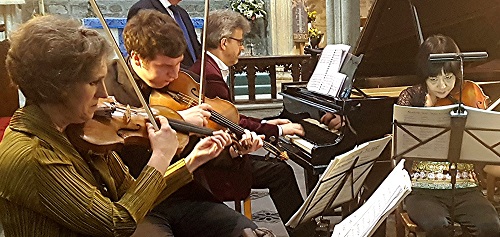 Schubert – String Quartet No.13 in A minor (Rosamunde)
Andrew M. Wilson – Piano Quintet, Conversation Pieces
Beethoven – String Quartet in F Op.59 No.1 (Razumovsky)
Compared with smaller country towns, most of our big conurbations will have the largest selection of national store chains and glitzy shopping malls. But if you are looking for a small, specialist shop then you are probably more likely to find it off the beaten track. This also can be the case where Arts Festivals are concerned, and especially where the musical mix generally favours the classical rather than pop end of the spectrum.
Described as an ancient Stannary (tin-assaying and tin-marketing) town, Tavistock lies on the south-west edge of Dartmoor in Devon, and, with a modest population of some 12,000, manages to mount an impressive Arts Festival each year, usually spread over some three weeks.
The Dante String Quartet and British pianist Mark Bebbington gave the opening concert of the 2017 Festival, with music by Schubert, Beethoven and Andrew M. Wilson. The long-established Dantes have given recitals all over the world. In 2004 they launched the Dante Summer Festival in the Tamar Valley (the River Tamar effectively separates England's two counties of Devon and Cornwall on the South West Peninsula). Now they return to the area each year giving recitals and workshops, and undertaking many other community activities. They are, then, no strangers to the area. Similarly Mark Bebbington has also given a number of recitals locally, while balancing a busy concert schedule here and abroad, with an ever-increasing discography which prominently features the works of English composers, in particular, John Ireland.
The two string quartets played at this concert are arguably among the most familiar in the repertoire, but the work of Andrew M. Wilson (born 1960) may not be quite as well known to casual readers of this review. For many years, Wilson was Director of Music at Tavistock's Kelly College, where he combined his educational responsibilities with composing. After leaving full-time school teaching, he has been able to concentrate on composition. His works have been performed around the world, garnered a number of prestigious prizes and awards, and been heard on BBC Radio 3. Among his many other activities, he is now President of Tavistock Festival, so it was particularly apt that he should have written a Piano Quintet especially for the event. It would bring together performers and composer, all with a strong connection to the town.
The church's acoustic is well suited to chamber music, since it allows the widest dynamic range possible, from the softest pianissimo to the most potent fortissimo. This very much adds to the intimacy of the performance—something that the necessarily improvised lighting, of the domestic rather than stage variety, reinforced even further.
A string quartet is probably the most telling medium in terms of balance and empathy between the players. Paradoxically it does not imply that a successful quartet will be the one where all four instrumentalists are similarly extrovert, laid-back, or even like-minded. It is more a question of magnetism—a mix of polarities that both repel and attract, and thereby provide the real motive power. That is why changes of personnel can have a significant effect. First violin Krysia Osostowicz founded the quartet in 1995, while the other three players—Oscar Perks (violin), Yuko Inoue (viola) and Richard Jenkinson (cello)—are relative newcomers, of around 2012 vintage onwards. I have reviewed the Dantes in a previous configuration in 2012, where Jenkinson had just replaced Bernard Roberts, later again that year, and once in 2013. It would be hard to make any comparisons at this remove. Suffice it to say that under Osostowicz's inspired leadership, superb technique, and insight into the music, Jenkinson's utter enthusiasm for every note played, and terrific drive and impetus from the bottom up, the change of middle parts had little noticeable effect, one way or the other. Just occasionally, perhaps, the cello's immense verve and attack did not always appear quite matched by the viola, especially when a shared line or phrase was tossed from one instrument to another, but still not to the detriment of balance overall. To be fair, I was sitting more in the cello's line of fire than the viola's.
Schubert's Rosamunde Quartet was despatched with great panache. The players had certainly done their homework in getting to the crux of this work, written just about four years before the composer's untimely demise. Despite the lighter moments, the inner despair was never far away in a reading of assured authority and technical mastery.
Wilson describes his Piano Quintet as 'a highly volatile mixture'. It addresses the relationship between four string instruments (played with or without the bow), and the relatively far greater power of the grand piano, with its essentially percussive method of tone production. By contrasting these two parameters, sometimes gently, sometimes aggressively—and at times complementarily—Wilson produced a fascinating three-movement work. His clearly stated written aims were immediately evident in the sounds heard. That is a relative rarity with many contemporary composers when they attempt to describe in words what is then actually heard in sound. Stylistically Wilson's music is eminently listenable throughout, though sufficiently spiced at times to avoid the ordinary. Shades of Shostakovich, Bartók and Stravinsky mingle with a definite English Pastoral feel—strange bedfellows perhaps, but a style that is really engrossing, thoroughly coherent throughout, at times brutally exciting, and sometimes delicately lyrical. Mark Bebbington was on top form, coping with the none-too-easy piano part, and its often challenging octaves, matched by equally superb and articulate playing from the Dantes. It is altogether an extremely well-crafted and effective contribution to the piano quintet repertoire, and one that very much deserves further performances in the future.
Despite the physical challenges and exigencies of the first half, it was a further testament to the stamina and dedication of the Dantes that they could return to the platform and give such a definitive performance of Beethoven's much-loved first Razumovsky Quartet. Here all four players were as one in precisely capturing every nuance of the composer's score and intentions, from the musical surprises of the opening movement, the playfulness of the second, gravity of the third, to the robust and ultimately jubilant finale, where Jenkinson's outstanding contribution proved especially decisive and memorable. All in all, then, the perfect way to get this year's Tavistock Festival under way.
Philip R Buttall