United States Mendelssohn, Verdi, Respighi: The Cleveland Orchestra / Franz Welser-Möst (conductor), Adrienne Arsht Center, Miami, Florida. 24.3.2017. (DS)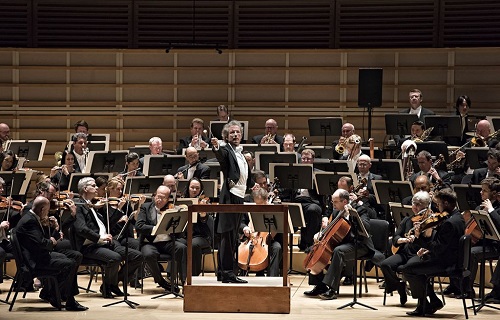 Mendelssohn – Symphony No. 4, 'Italian'
Verdi – Ballet Music from Macbeth and Don Carlos
Respighi – The Pines of Rome
Each year as winter comes to a drawn-out close in the Midwest, the Cleveland Orchestra escapes to the balmy sea air of glamorous Miami, Florida. Sadly – as overheard amongst the dolorous chatter of many dedicated Florida concertgoers – this was to be the ensemble's last March visit for the foreseeable future, and thus, a bittersweet concert. To help distract from this disappointing turn of events, the concert removed thoughts of either Ohio or Florida, and instead reveled in Italian splendor.
Music director Franz Welser-Möst first led a familiar, tuneful Mendelssohn Symphony No. 4, and proved exceptional in revealing its deeper Classical and operatic influences, considering the work is often performed with the goal of saccharine melodic pleasure. With the unparalleled orchestral technique of the Cleveland musicians, Welser-Most carried the work across the bridge from the Classical to the Romantic, never leaning too far in one direction but striking a tight balance that was pleasing and exciting to behold. A repertory standard was transformed into a fresh discovery.
Two Verdi ballet selections – from Macbeth and Don Carlos – were the centerpiece, and there is no need to be a regular classical listener to hear that Welser-Möst has mastery in both opera and ballet. The operatic excerpts stood out like perfectly sculpted Italian marble, which can be attributed to the conductor's painstaking attention to the timing of the silences – so easily overlooked, rushed along, or labored heavily. Great Italian sculptors (Bernini, for one) were masters of the negative space in and around the stone, which subsequently gave a sense dramatic of movement to their frozen figures. Similarly, the moments in which Welser-Möst held a fermata or paced a tempo, leaving just the right amount of distilled silence between notes, likened his crafting of these dances to carving crystalline movement.
The performance ended with a thrilling reading of Respighi's The Pines of Rome. Strings sounded like bells and the brass rang out as if empathizing with the violins' vibrato. Occasional, well-placed sweeping gestures brought to mind dramatic moments from a Fellini film. The famous last movement, "The Pines of the Appian Way" had a faster than usual tempo that evoked not only a marching Roman army, but a sense of abstract anxiety – two different facets of the Eternal City brought to life.
Leaving the Adrienne Arsht Performing Arts Center, I heard a lady say to her companion, "Next year, they will only come in January. Can you believe it?" I felt for her. Because in life there are some experiences that can never be replaced once they are gone. The Cleveland Orchestra's ability to combine polished technique and impeccable musicality brings the earthly in contact with the elusive Platonic ideal. To experience it in person is wondrous.
Daniele Sahr