Austria Final of the 10th International Hilde Zadel Competition: Musikverein, Vienna 22.4.2017. (SS)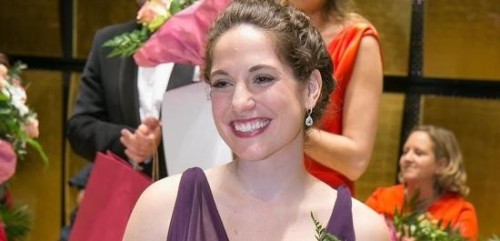 Monica Dewey, 27, won the €10,000 first prize at the 10th Hilde Zadek singing competition held last weekend at Vienna's Musikverein. The American soprano also took home four additional awards including the sponsor and media jury prizes. The second prize was awarded to Polish baritone Dariusz Perczak, 27, while the third prize went jointly to Slovenian soprano Jerica Steklasa, 25, and Italian soprano Alice Rossi, 24.
45 singers from 24 countries entered the biennial competition, with six making it through to the final round. Their performances were judged by Brigitte Fassbaender and Thomas Quasthoff as well as figures from the music industry and education.
Held in close cooperation with Vienna's University of Music and Performing Arts since 2002, the Hilde Zadek competition places particular emphasis on the performance of contemporary music. This year, the finalists' program of three pieces had to contain an aria or song written after 1970, with a special focus on the work of the female composers Johanna Doderer, Nancy Van de Vate, Rosalind Page and Sofia Gubaidulina.
Hilde Zadek, who will turn 100 in December, was honored at this year's competition with the 'Goldener Rathausmann', an award presented by the City of Vienna. Being Jewish, she fled Nazi Germany for Palestine in 1935, but made a career after the war at the Vienna State Opera, singing there over 700 times before dedicating her retirement to the mentoring and promotion of young singers.
Monica Dewey recently completed a Master's degree in music and voice at Indiana University Bloomington, where she also starred in productions including La fille du régiment at the Indiana University Opera Theater. Last year, she won second place in the Central Region of the Metropolitan Opera's National Council Auditions. The three pieces in her prize-winning program were Gilda's aria 'Caro nome' from Rigoletto, the first of Richard Strauss' Ophelia Lieder, and the aria 'Schlaf nur Liliom' from Johanna Doderer's opera Liliom.
Sebastian Smallshaw