United Kingdom Puccini, Turandot: Soloists, Chorus and Orchestra of Opera North / Sir Richard Armstrong, Leeds Town Hall, 28.4.2017. (CF)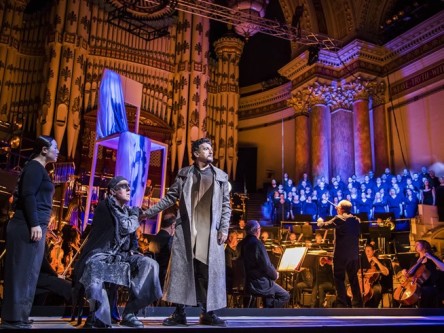 Puccini – Turandot
Cast:
Turandot – Orla Boylan
Calaf – Rafael Rojas
Timur – Alastair Miles
Emperor Altoum – Bonaventura Bottone
Liù – Sunyoung Seo
Ping – Gavan Ring
Pang – Joseph Shovelton
Pong – Nicholas Watts
The Prince of Persia – Alexander Banfield
A Mandarin – Dean Robinson
Production:
Director – Annabel Arden
Set & Costume Designer – Joanna Parker
Lighting Designer – Richard Moore
"[…]our concert staging  format is in no way a halfway house but a wholly coherent artistic approach in its own right to the presentation of opera." These are the words of Opera North's General Director Richard Mantle, from his welcome note in the programme to Turandot. It is a belief underpinned by the spectacular reception their concert-staged Ring cycle has received. I would whole-heartedly concur with him based on tonight's performance, in which the medium allowed the operatic message to be delivered with a truly ferocious impact at times. Indeed, this is the most immersive and musically-revelatory opera experience I have had to date, and the concert-staging enabled much of this effect.
Puccini's Turandot is a notoriously difficult opera to pull off. There is the seemingly proto-feminist subject matter which is undermined by an assault-like transformative kiss. Then there is its incomplete status that means the finale was written in another hand (Franco Alfano's). To be a success, therefore, a performance requires total conviction in the work as it stands, and that is what it received from the immense forces of Opera North tonight. From the opening, the attention to detail of director, set, costume and lighting designers was made apparent, not gratuitously but as either sensitive or bold aesthetic and dramaturgical choices; this was truly an ensemble production.
Thus, the Mandarin (Dean Robinson) declaimed the opening monologue on the imperial decree regarding would-be suitors to Turandot – failure to answer her three riddles correctly is death – in a lime-green suit – at once luridly eye-catching and unsettling. Ping, Pang and Pong (Gavan Ring, Joseph Shovelton and Nicholas Watts respectively) are transformed into a whiteface clown trio using props to comedic effect, and with the imperial motif – a emblematic moon – emblazoned on the backs of their jackets and trouser legs. Their memorable attempt to dissuade Calaf from wooing Turandot involves a dancing skeleton. The gong which resounds at the end of Act 1 to confirm Calaf's intent to pursue his attempt to solve the three riddles also shimmers like a moon on high above the stage. The knotty problem that entwines the principles in Act III was visualised in a giant line of rope which connects Liù, Timur, Calaf, Turandot, and the clown trio. And, finally, Turandot's (Orla Boylan) remarkable feathered crown and shimmering grey coat giving way to a slate-grey slip when she is overwhelmed by Rojas's kiss.
All these thoughtful visual touches added an emotional intelligence to the whole, but perhaps the coup de théâtre was the slow-reveal of Turandot's presence in a sort of quasi-birdcage amidst the orchestra, only revealed in a moonbeam mid-Act I. Here she admired herself in a mirror or overlooked proceedings around her haughtily, Boylan's body language conveying her mental agitations. It felt so clever and so right, as a way to make her presence felt on stage.
Puccini's chromatically-intriguing score received a powerful yet transparent performance from a very large orchestra that played out of their skin. The Leeds Town Hall venue enabled the orchestra to blossom in stature to a size commensurate with the story unfolding around it, whilst the hall's acoustic magnified the often violent threat of the crescendo. The clever positioning of instruments made for wonderfully transparent listening at times, allowing one to follow delicate melodic lines of harp and celeste with the same ease as the thundering explosions of brass or timpani. That said, the acoustic of Leeds Town Hall was not to everyone's taste – my neighbour complained of its resonance – but I had no cause for complaint. This was opera as wall of sound and those chorales sounded terrifying and awesome in equal part.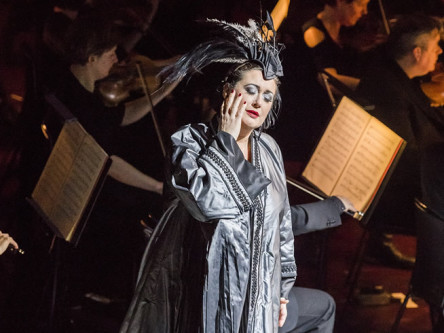 One risk of any operatic concert staging is for singers to be overwhelmed by the orchestra and chorus behind them. This was never a problem for the fearless Boylan in the title role, whose experience in Wagner and Strauss reveal the astonishing vocal power she wields. This meant she was audible even in the final duet with its thundering conclusion, which was not always the case with Rafael Rojas' Calaf. That said, he characterised his turmoil well, helped by a wonderfully expressive face and posture. Today 'Nessun Dorma' comes saddled with so much extra-operatic baggage and classical musical heritage (Pavarotti et al) that it could seem an unenviable task to sing it. Rojas didn't seem the least phased by this historical weight, bringing to it passion and sincerity. I expect I wasn't the only one to get goosebumps. Bonaventura Bottone's Emperor Altoum, staged aloft in a massively-sleeved suit reminiscent of 70s Bowie, was also in impeccable voice, as was Alastair Miles in his sensitive rendering of the oft-distraught Timur, his bosky voice overcoming whatever orchestral might was behind it.
Liù, whose role as stoic slave loyal to her master adds decency to an often barbaric-seeming narrative, was wonderfully inhabited by Sunyoung Seo, making her ON debut. What a phenomenal talent she is! Her wonderfully expressive mien and lovely top-end brought Liù to life, which made the rather rushed performance of the moving aria 'Signore, ascolta!' all the more perplexing. Surely this was the conductor Sir Richard Armstrong's choice, but the tempo here seemed out-of-keeping with his otherwise impeccable control of pace and dynamic range throughout the evening. After her suicide, her mouth appeared smeared with black ink, a visual indication of the vow to remain mute about her old master's true name. That the sacrifice is famously made meaningless seconds later when Calaf reveals his name to Turandot was not so easily blacked out alas, a plot flaw that would receive an instant backlash on Twitter today.
The chorus master (Oliver Rundell) and chorus were also essential to the performance's success, turning them into a dramatic tour de force; whether standing, sitting, or gesticulating to reinforce their fears, bathed in red or blue, they added a bold characterisation to their multiple roles as vox populi, soldiers, priests, handmaidens, sages… The Prince of Persia (Alexander Banfield), another failed suitor, stands spot-lit amidst them as his execution is cleverly mimed in Act 1, and is cleverly absorbed by them following the execution. It is proof that spectacular effects can be achieved in a limited space. Other delightful touches were the off-stage children's choir (from Low Road Primary School) singing the folk melody 'Mo Li Hua' ('Jasmine Flower') in the first act, who then appeared in the rafters behind the stage in the final act to sing the same lines. The evening was filled with these touches of musico-dramaturgical intelligence which meant that acts rarely flagged.
Originality and ingenuity of dramaturgy and stagecraft has become synonymous with Opera North in recent years, and their production of Turandot was no different. To add to this the utter conviction of the soloists, chorus and orchestra in the words they are delivering, then you have a truly winning production. There are still tickets available for the final performances in Leeds, and I would encourage you to snap them out without delay.
After Leeds the production tours to Nottingham, Hull, Liverpool and Gateshead.
Cornelius Fitz
For more about Opera North visit https://www.operanorth.co.uk/.