United Kingdom International Piano Series 2016/17 – Yuja Wang: Royal Festival Hall, London. 11.4.2017. (JPr)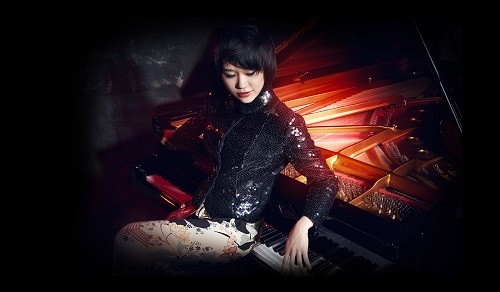 Chopin – 24 Preludes, Op.28
Brahms – 25 Variations and Fugue on a Theme by Handel, Op.24
Encores:
Scriabin – Piano Sonata No.4
Schubert (arr. Liszt) – Gretchen am Spinnrade
Prokofiev – Toccata
Rachmaninov (arr. Kocsis) – Vocalise
It may seem strange to list the encores above, but this was 'a game of three halves' as you will see. Yuja Wang is the Chinese virtuoso who is known as much for bringing a flair for fashion to the concert platform as for her prodigious keyboard skills. At the end of a European tour, Wang was making her solo recital debut at the Royal Festival Hall. The musical programme seemed to go through various incarnations; indeed one early listing suggested Beethoven's 'Hammerklavier'. Now some previously announced Schubert was not to be played and we were left with what were described – in a recent interview with Yuja Wang in The Guardian – as 'two monumental works:  Chopin's 24 Preludes and Brahms' 'Variations and Fugue on a Theme by Handel'. Wang's justification for these changes was 'How can I know two years ahead what I'm going to play at 8pm in this hall in this city? I'm still exploring repertoire. I just say some random composer names…'.
I leave this without much further comment except to say that perhaps audiences paying up to £55 a seat months in advance of a concert might have a right to know what they are coming to hear. I am a rare visitor to a solo piano evening, but if you added together the 38 minutes of Chopin and 24 minutes of Brahms it is about what you would expect at a lunchtime recital. Wang probably wouldn't accept she is short-changing her audience and has said that because of this 'They get more encores!' For me, the best playing of this recital came during these encores. Do you really come to a concert waiting for them? It appeared that many around me had been.
It was not a fashion show so I will just comment that over the evening Wang chose two glittery, revealing, figure-hugging, floor-length gowns; both neither inappropriate, nor too showy. There was a palpable buzz in the air before the lights dimmed as if we were expecting a superstar. However, when Wang came onto the platform the surprisingly slight figure seemed to have a brusque, insouciant air about her. There was a cursory bow to the packed Royal Festival Hall and it was down to business. There was certainly plenty of glamour, but I struggled to discern any of the charisma that several others describe her as having. Undoubtedly Wang has a phenomenal memory and a stupendous technique that allows her to conquer every technical hurdle with casual elegance. It was probably just me, but – as good as it all was – I struggled to 'feel' the pieces she played. Wang appears the epitome of imperturbable composure, whilst music is about feeling – or at least I suspect it should be – and not just playing the notes as perfectly as she undoubtedly did.
In Baroque times the term 'prelude' was used to describe an introductory piece, often to a fugue. However, Chopin's 24 Preludes Op.28 are pianistic masterpieces in miniature: there is one standalone piece for each of the twenty-four keys and they each convey a specific idea or emotion with possibly an overarching shape to the set. I am not entirely sure Wang delved below the surface of this music, though I am sure her skittish, clear-eyed approach will have its adherents from those who know more about it all than me. First was the agitated C major which brought a sense of anticipation for the rest which wasn't entirely fulfilled. However, I particularly liked the melancholic B minor (No.6), the A major (No.7) with its hint of a mazurka, the more extrovert F sharp minor (No.8) which surged along, and the small but perfectly formed Largo (No.9). The 'raindrops' were clearly heard in the D flat major (No.15) and sparks flew in the B flat minor (No.16), apparently one of the most technically difficult of the preludes. Wang brought it all to a thundering close conjuring up a dark storm for the D minor (No 24) with its concluding – and very visceral – three unaccompanied low Ds.
Brahms's 25 Variations and Fugue on a Theme by Handel, Op.24 were dedicated to Clara Schumann on her 42nd birthday. He was at the height of his powers when he composed them. There is a Baroque theme on which Brahms superimposes all the richness and scope of the piano through his variations and the concluding extended fugue. The very nature of the variation form requires a display of a wide variety of expressive playing and I doubt Wang did anything wrong here. I am not about to discuss each of these rather ephemeral pieces though Wang did seem to adopt various touches that gave individuality to each one. She capped them all with a brilliantly executed and majestic final fugue. Nevertheless – and I am sorry if this is heresy – they sounded like a collection of short piano exercises that Wang might play every day simply to practice her technique.
The encores and standing ovations followed: none of the extra pieces were announced from the stage and I wonder how many in the audience really knew what they were hearing? Wang sounded as if she revelled in the frenetic conclusion of Scriabin's Fourth Sonata, yet, of the four, the anarchic, dissonant and percussive Toccata by Prokofiev was far-and-away the best. Clearly Wang relished how fiendishly difficult it was to play and she rose to the challenge. She also seemed to relax more 'into the music' than anywhere else during her programme. By contrast her last piece, Kocsis's arrangement of Rachmaninoff's familiar Vocalise seemed rather twee and an anti-climax.
Jim Pritchard
For more about the Southbank Centre's International Piano Series click here.