United States Rameau, Le Temple de la Gloire (The Temple of Glory): Soloists, Philharmonia Baroque Orchestra & Chorale / Nicholas McGegan (conductor), Bruce Lamott (chorale director), New York Baroque Dance Company, presented by Cal Performances, Zellerbach Hall, University of California Berkeley, 28.4.2017. (HS)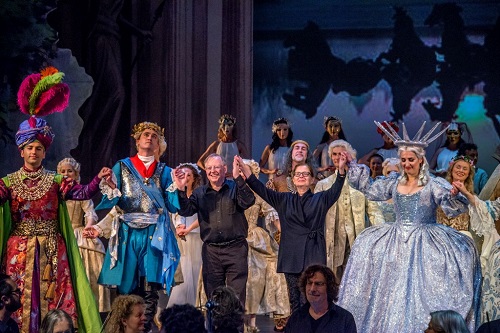 Cast:
Arsine, Plautine — Gabrielle Philiponet
Lydie, La Gloire — Chantal Santon-Jeffery
Érigone, Junie —Camille Ortiz-Lafont
Bacchus — Artavazd Sargsyan
Apollon , Trajan — Aaron Sheehan
Bélus, Un Gerrier — Philippe-Nicolas Martin
L'Envie, Le: Grand Prêtre de la Gloire — Marc Labonnette
Production:
Stage director and choreographer —Catherine Turocy
Set designer — Scott Blake
Costume designer — Marie Anne Chiment
Lighting designer — Pierre Dupouey
The Temple of Glory is some place. Everybody wants in, including the god Bacchus and the Roman emperor Trajan. It's an allegory, of course, and a pointed one. The program notes that Voltaire aimed his libretto—"three examples of kingship: two bad, and one good"—squarely at Louis XV.
At the premiere at Versailles, Le Roi was in attendance, in the riding school's theater in the Great Stable (Grande Écurie) November 27, 1745. By all accounts he was not pleased by Voltaire's message but he loved Rameau's score.
The music was the main reason to revive this obscure work, a French amalgam of opera and ballet. Mounted by the Philharmonia Baroque and Cal Performances, this new production was based on a book held in the Jean Gray Hargrove Music Library at the University of California, Berkeley. The book comprises both Voltaire's original libretto and a rehearsal score; the latter is the only one known to be in existence. Shortly after the book's acquisition in 1976, researchers discovered many pages of Rameau's music not seen elsewhere.
After two performances in Versailles, several performances at the Paris Opera flopped. A Paris revision (debuted in April 19, 1746) softened the message and put more emphasis on Rameau's music. Still, the opera's modest success assured that it would virtually disappear from the stage.
Reviving it has been a passion for Nicholas McGegan, the energetic conductor of the Bay Area original instruments ensemble Philharmonia Baroque. He was inspired in 1997 after Cal Performances mounted his joyful, funny, and musically compelling Platée, written in the same year as Le Temple de la Gloire. The 1740s were "Rameau's best period, when he was at his most cranky and most individual," McGegan says in a program note.
Rameau's hallmarks are everywhere—supple vocal lines, seamless transitions from recitative (often fully orchestrated) to arias, and colorful orchestration in which woodwinds play a much larger role than in, say, Italian opera seria. The ballets, interspersed liberally throughout, are set to dances current at the time, including elegant passepieds, pastoral gigues, bawdy forlanes, lively gavottes and mournful loures.
McGegan's signature vitality and emotional resonance were in evidence. If clarity and precision were sometimes in short supply, the results were vivid enough to make a case for this as an opera worth reviving. The Philharmonia Baroque chorale made strong contributions, too.
French singers well steeped in Baroque style sung most of the key roles. Baritone Philippe-Nicolas Martin made the biggest impression—first as Bélus, a mythical king whose tyrannical reign makes him unworthy of entry into the temple, and later, even better as one of Bacchus' warriors whose lechery and debauchery exemplify why the wine god doesn't make it into the temple either. Martin deployed a flexible and plangent baritone to go along with deft comic acting. Solid contributions from baritone Marc Labonnette lent a modicum of gravitas to L'Envie in the prologue and, in the Bacchus scene, Glory's high priest.
Soprano Chantal Santon-Jeffery, well known in Baroque circles, brought drama to the flowing lines of Lydie, the princess deserted by Bélus to wage his wars, and delivered a regal finish with La Gloire's decisive final scene. Soprano Gabrielle Philiponet invested Plautine, the Roman emperor Trajan's wife, with appropriate stature, and created a sympathetic vibe with Arsine, Lydie's companion. The lighter, more lyrical voice of Puerto Rico-born soprano Camille Ortiz-Lafont provided welcome contrast and many charming moments.
The haut-contre voice, though usually translated as "countertenor," makes little use of falsetto except for very high notes. Both Artavazd Sargsyan as Bacchus and the American tenor Aaron Sheehan (as a pompous Apollon in the prologue opposing Envie and as a more noble Trajan) offered limpid singing and presence. When the high notes shifted into falsetto, however, both singers lost power.
A mix of singers and dancers crowded the stage much of the time as warriors, shepherds and muses, each with its own flavor of music and dance styles.
The staging hewed to Baroque style, with drop scenery evoking tradition and rear projections enabling quick and seamless location shifts, with the occasional god descending from the flies on a cloud. Costumes tended to the ornate, except for the shepherds and an unexplained appearance by a seven-foot-tall ostrich in high heels during the Bacchus scene (perhaps an alcohol-induced vision?). Dancers from the New York Baroque Dance Company managed to look elegant with quite a bit of leg-shaking and occasional hopping.
The glory of Glory is the music. Even if McGegan were unable to tighten up synchronization for the remaining two performances, it's a score eminently worth savouring.
Harvey Steiman