United Kingdom Mozart, The Magic Flute: Soloists and Orchestra of Mid Wales Opera / Jonathan Lyness (conductor), Riverfront Theatre, Newport, 4.5.2017. (GPu)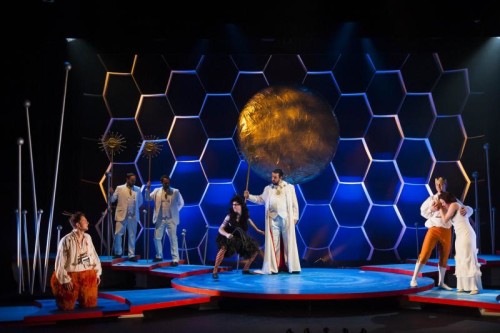 Cast:
Tamino – William Wallace
Papageno – Frederick Long
Queen of the Night – Samantha Hay
Monostatos – Matt R. J. Ward
Pamina – Galina Averina
Sarastro – Sion Goronwy
Papagena – Laura Ruhí Vidal
Speaker – Matthew Buswell
Priest – Jonathan Cooke
First Lady – Kirsty Swift
Second Lady – Martha Jones
Third Lady – Catherine Backhouse
Spirits – Katherine Williamson, Alys Mererid Roberts & Felicity Turner
Production:
Conductor – Jonathan Lyness
Director / Designer – Richard Studer
Lighting Designer – Declan Randall
Orchestra Leader – Deborah White
This was very much a Magic Flute in the territory of fairy tale and pantomime (with perhaps a dash of Star Wars in places). All of that is fine by me – any production of this opera which does not draw on popular conventions and traditions is surely seriously misconceived. Add to that some very accomplished young soloists, a production which acknowledges the important dimension of freemasonry in the work, but doesn't overplay it and you have the makings of a fine Flute. The quality of the reduced orchestration (for forces just ten strong) made by Jonathan Lyness and the skillful musicianship with which it was played and the recipe is complete. This was, indeed, a splendid achievement by a 'small' (by the standards of most opera companies) touring company This was, sadly, the last performance in the tour of The Magic Flute (my plans to see it earlier in the tour were scuppered by ill health), but it was also a beginning of sorts, since this was the first production by Mid Wales Opera's new creative partnership of Richard Studer (Artistic Director) and Jonathan Lyness (Music Director). Both have impressive track records with, among others, Loughborough Festival Opera and Opera Project. They have set themselves a high standard at MWO with their first production – if they can keep it up it bodes very well indeed for the future of the company.
One of the many refreshing things about this production was, as suggested earlier, that in resisting the temptation to place too much emphasis on the masonic symbolism (which is clearly present in the libretto), Richard Studer allowed the work's essentially simple and universal morality – love, truth, generosity of spirit – to shine out. I have seen too many productions in which arcane masonic details bewilder and confuse. The basic antitheses of the opera – night and day, darkness and light – are archetypal and universal. To insist too heavily on the masonic intentions of Schikaneder and Mozart is to limit the work's range of meaning and application, rather in the way that the excessive emphasis on Freemasonry in Christian Jacq's series of Mozart novels results in a seriously unbalanced picture of the composer. Richard Studer's production permitted this great work its force and range of meaning, as well as its enormous range of tone and mood, avoiding the excessive reverence with which some director's treat the work.
All of that would have counted for less had the production not been so well cast. There were several outstanding performances, not least the Pamina of Galina Averina, whose beauty of tone was matched by her consistent accuracy and expressiveness and the immensely impressive authority of Sion Goronwy's Sarastro, dominating in both physical stature and voice, but capable of a persuasive humanity in the closing scenes. Not far behind was the attractively lyrical tenor of William Wallace's Tamino and the fine, unforced foolery of Frederick Long's Papageno, a role as important here as are the Fools in Shakespeare, affirmations of the value of common humanity just as other aspects of the work laud idealism. I particularly loved the way in which Long contrived (with the director's assistance) to be simultaneously moving and absurd in his 'attempted suicide' at the close of Act II. Samantha Hay took entirely in her stride the vocal difficulties of some of the music Mozart gives the Queen of Night and dazzled appropriately, as well as looking aptly haughty. Laura Ruhí Vidal quickly created a plausible and nicely-sung Papagena and as the Speaker and the Priest Matthew Buswell and Jonathan Cooke had dignity and a sense of latent power. The trios of Ladies and Spirits were both delightful. The Monostatos of Matt R. J. Ward was, however, somewhat less threatening than he might have been.
A touring production, especially one mounted by a 'small' company, cannot make sue of elaborate sets, for obvious reasons. As such, much depends on the effective use of lighting and here Declan Randall had clearly done a very good job, effecting changes of both mood and implied location in convincing fashion. The constant stage prop of a giant honeycomb design made an adaptable and unobtrusive background. Most of the costumes were striking and some details of costume design were very telling. So, for example, both Tamino and Papageno wore white shorts and trousers in different shades of orange, though Papageno's were richly feathered; still, the essential similarity invited comparison of the two men – the one a chivalric lover and 'hero', the other a simple man close to nature with simple appetites for a drink of wine and a wife. Add to this duo a Monostatos wearing black (and seemingly feathered) trousers and one has the invitation to make distinctions between an idealist (Tamino), a figure whose humanity is fully in touch with its animal dimensions (Papageno) and a 'beast' (Monostatos) whose humanity has been usurped by his bestial desires. Such details were characteristic of a very intelligent production, in which the director's intelligence seemed never designed to draw attention to itself, and always intent on enhancing words and music, articulating the vision of Schikaneder and Mozart for a modern audience (without absurd gimmicks).
All in all, a delightful evening which makes one have high anticipations for the company's future work. Do go and see them if you get the chance. (In November they will be touring a production of Walton's The Bear to a variety of small stages).
Glyn Pursglove
For more about Mid Wales Opera visit http://www.midwalesopera.co.uk/.