James Ehnes in conversation with Geoffrey Newman
There are few more celebrated musicians in the world right now than Manitoba-born violinist James Ehnes; and few listeners have failed to succumb to his tonal luster, silken lyrical lines and insightful virtuosity. After initial training with Francis Chaplin, the violinist made his solo debut at age 13 with the Orchestre Symphonique de Montréal, followed by studies with Sally Thomas at Meadowmount and Juilliard (1993-97). Ehnes won the Peter Mennin Prize upon his Juilliard graduation, and subsequently received the first-ever Ivan Galamian Memorial Award and an Avery Fisher Career Grant, in addition to the highest Canadian honours. A turning point in Ehnes' recording career came in 2006-2007 when his 'homegrown' recording of the Barber, Korngold and Walton concertos with the Vancouver Symphony Orchestra (under Bramwell Tovey) won both Juno and Grammy awards. This was followed by the widely-praised Onyx recording of the Elgar Violin Concerto with Sir Andrew Davis.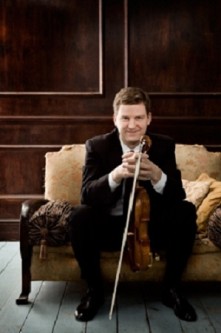 The past decade has seen a remarkable number of recordings: the Complete Works for Violin of both Bartók and Prokofiev for Chandos, and the Tchaikovsky, Khachaturian, Shostakovich and Britten concertos, plus a number of violin sonatas and the Paganini Caprices for Onyx. The Beethoven Violin Concerto with conductor Andrew Manze is forthcoming. Besides the many duo recordings with long-time partner Andrew Armstrong, new releases come from the Seattle Chamber Music Society and the Ehnes Quartet, bringing the total to almost 50 recordings as he approaches his 41st year. On the occasion of the 2017 Vancouver Symphony Spring Festival (when this interview took place), the adventures continued: Ehnes appeared as conductor and violinist in one concert and the violist in the Walton Viola Concerto in another. With such a bewildering array of talents and accomplishments, one can hardly run out of things to talk about! In May 2017, Ehnes was named the 'Instrumentalist of the Year' by the Royal Philharmonic Society. He was awarded the Order of Canada in 2010.
GN: Let's start with the conducting. How did it all begin?
JE: I studied conducting in my school days at Juilliard, but my first opportunity to conduct a professional orchestra came almost by accident. About 15 years ago, I was doing a tour with the Scottish Chamber Orchestra, and one presenter had a very strange request for repertoire: they wanted the first half of the concert to feature the Webern string quartet pieces played by a string orchestra to go with a second half of Vivaldi's Four Seasons. I was to give the concert as a play/direct, but it became abundantly clear at the first rehearsal that we would need twice the allotted time to prepare the Webern and, even then, we would need a conductor. So that was me, and that's how I first conducted. I've done a couple of projects with the Manitoba Chamber Orchestra, and also in Australia and New Zealand. And I am opening the 2017 Vancouver Symphony Spring Festival with a full concert of English string works.
GN: What's your approach to the works you are directing at the VSO Festival?
JE: There are a few pieces that I'm directing from the violin, but there are others that really cannot come off without formal conducting. It's a challenge to lead Elgar's Introduction and Allegro from the first violin in the string quartet, but I've done it before – so I know that it can be done. It's not easy work and probably shouldn't be attempted with other than a first-class ensemble: everyone must be really aware of how it all fits together. On the other hand, with something like the Vaughan Williams Tallis Fantasia, this is not possible: one must fully conduct. I like the play/direct programs and I think they can be good for an orchestra because the musicians are forced to take on a more active role. As the rehearsal process goes along, you get to know different people's tendencies and who the natural leaders are, and you eventually find a dynamic that works. Obviously, you must work closely with the orchestra's concertmaster, and it is very rewarding if you have played with them before. I did the Elgar in Melbourne recently, and it was terrific to work with Dale Barltrop (the VSO's former concertmaster) who is a strong leader: he led the violins in the orchestra while I played first violin in the quartet.
GN: Do you want to move to larger works?
JE: I would enjoy conducting pieces with winds or percussion, but I haven't done that much of it yet. I've mainly concentrated on string pieces like the Tchaikovsky and Dvořák Serenades and the Tallis Fantasia. It's probably natural for someone who doesn't conduct that much to do pieces involving their own instrument: I know what it speaks about and what I want to achieve.
GN: So, on to the viola. You have been playing that for some time now?
JE: It actually started early in my association with Seattle Chamber Music Society. Around 1996-1997, Artistic Director Toby Sacks said she needed someone to play second viola in the Brahms F-major String Quintet. I was asked if I played the viola, to which I innocently replied, 'I've never really tried: I don't have a viola'. It turned out that I really enjoyed it; it was with a wonderful group of friends and Marcus Thompson, the first viola, was absolutely inspiring to sit beside. So I got to love playing the instrument, though I didn't do much of it in the first few years. As my career progressed, I got more opportunities to set my own schedule – the best part of building a career! – and this gave me more chances to play. A breakthrough was in May 2004, when I played the viola in a Chandos recording of Hummel's Potpourri as part of an all-Hummel CD. It was a really fun project, a beautiful piece, and that brought some attention to the fact that I did play the instrument. That was a long time ago, yet people invariably think of you as they have experienced you. I played viola in this past Winter Festival in Seattle, yet there were still many people who came up to me and said, 'So you do play the viola'. They've never seen it, so it was new.
GN: Do you think that the viola is more difficult to play than the violin in terms of getting the sound you want?
JE: No, it's just different and has different challenges. I admit that there's something indulgent about playing the viola: there's a depth and warmth of sound that surrounds you immediately. But for me the whole appeal is the repertoire: the Bartók and Walton concertos, Berlioz's Harold in Italy and countless chamber pieces. And that music was written for the instrument – you can't separate the music from the sound of the instrument. For Chandos, I have recorded the Bartók, the Berlioz with Sir Andrew Davis two years ago, and am recording the Walton in a few months with Ed Gardner and BBC Symphony. One thing that has always intrigued me is that some players that can switch back and forth between the violin and viola without a lot of trouble, but others can't. It may have a lot to do with the artist's physical build, but the fact remains that one can often think of violinists who play the viola, but not the other way round.
GN: You have now capped your long association with the Seattle Chamber Music Society by becoming its Artistic Director.
JE: Yes, everything started from when Toby Sacks first contacted me for the festival in the summer of 1995. I came for a week, and I haven't missed a summer since. When she was thinking of winding down her time as Director, she appointed me the Associate Director, making for a very smooth transition when I took over 2011. She was a great inspiration, and regretfully died in 2013. Of course, it's a much more challenging role: all I used to have to think about was just playing my pieces; now I have to make the big decisions. This mainly involves planning two festivals: a two-week festival in January and then a four-week summer festival in July. But there are other events throughout the year and a lot of outreach work, and we sponsor a young artist's competition. We have a wonderful staff that oversees the outreach activities, so my main job is preparing for the two festivals. The festivals are really a full-time thing since I organize everything and also play in them. And when I'm performing in one, I'm thinking about the design of the next. Then, there's reaching out to musicians who I'd like to come and play, designing programs, the whole thing… I think it's a lot of fun – this organization has been a big part of my life. Thanks to many years of devoted work by Toby, we have a very accepting audience that trusts our performances to be first-class and the music to be worth hearing. It doesn't mean that they will like every work we present, but my goal is having them always learn something from what they hear, and be glad to be familiar with it.
GN: You also formed the Ehnes Quartet in 2011, and have already made some recordings. How was the ensemble originally inspired?
JE: I have known my colleagues, violinist Amy Schwartz Moretti, violist Richard O'Neill and cellist Edward Arron, for a very long time: I was actually in a quartet with Edward in my Juilliard days. Just like playing the viola, my biggest motivation for the ensemble was repertoire – to be able to explore the vast quartet literature with three of my closest friends. Playing in a string quartet is actually quite a different experience than the kind of chamber music I have previously done. It seems one can put together a piano quintet or a piano trio and have a rewarding outcome even when the ensemble is formed very quickly. That's not the case with a string quartet: there's an incredible perfection and beauty to string quartet writing, but also an inherent awkwardness to it. Musicians always joke that putting three or five people together is just easier than the number '4', and I know that one can put together a respectable performance of a Beethoven trio or the string quintet in half the time that's needed for one of his quartets. Now why is that? A good part of it is that the voice leading is different and, of course, the tonal blend is unique. The string quartet has to be thicker than a string trio, which has to be clean and benefits from the bareness of the writing, while the string quintet has strength in numbers. The string quartet lies in the middle – a wonderfully inspiring medium but an elusive one to get right.
We've now recorded a variety of things: the Shostakovich 7 and 8, the Barber Quartet, and our most recent recording – combining the Sibelius and Schubert's 'Death and the Maiden' – came out about a year ago. Before we put the group together, I worried that I wouldn't ever really know the Bartók or Beethoven quartets. I knew them only as a listener, but not from the inside.
GN: I think it is extraordinary that you could bring the quartet to a recording level so quickly.
JE: Well, I suppose that nobody's forcing us to make a recording, so we only make a recording when we feel that we have actually achieved something special. It was very gratifying to get some nice reviews, but that was probably incidental to our own awareness of musical development. Perhaps this reflects one upside to the recording business these days: we can do pieces that are important to us and that we really want to do. (The same goes for my own recordings.)  As a general rule, I think that recent recordings which are made properly and released by reputable companies are usually better reflections of what the artists care about and what they want to say. That wasn't always the case in the era when recording was more automatic. For example, some of the early concerto releases were outright 'duds' because they were born to be duds: the violinist had never played the piece before, had never met the conductor, and the maestro had never directed the orchestra either.
GN: You have recorded a vast repertoire for both Chandos and Onyx.  Do you have long term contracts with both?
JE: My very first recording experience was with Telarc in 1995, and I signed a long-term exclusive contract. Unfortunately, that was right around the time when the entire business was changing, and I ended up making only that single CD. So I simply decided to not to sign any more long-term contracts. I now sign only recording-to-recording contracts: this allows me to be involved with a number of companies on the best of terms. For example, I'm doing the Walton Viola Concerto in June with Chandos, but I have other plans with Onyx. Both companies are complementary: Onyx is much more artist-driven while Chandos is more repertoire-driven. I love working with both of them, and I've had great experiences. For Chandos, I was able to record all of the Bartók violin pieces (four CDs) – more Bartók than most would ever think he wrote for the violin – and a complete Prokofiev too. Projects like those are dreams come true, and they could only happen with a label like Chandos that is repertoire-driven. The way they've documented these catalogues is such a gift to the musical community.
GN: And what about Onyx?
JE: Onyx focusses much more on the artist and on special collaborations involving more mainline repertoire. For example, my early Elgar concerto recording was a special 'live' collaboration with Sir Andrew Davis. I have a great relationship with Chandos, but it would be difficult to come to them and ask if I could record the Beethoven and Mendelssohn concertos, since their aim is to expand repertoire. Just like in an earlier era when everyone awaited the interpretations of the great concertos by the greatest current soloists, Onyx is interested in satisfying the music lovers who really cherish particular artists and probably wish to own most of their recordings. So I get to record the core concerto repertoire with them; Andrew Armstrong and I have done several discs of violin sonatas as well. Of course, catalogues are much heavier now, and I often read reviews of such releases that suggest, 'Who needs this? There are 100 recordings already!' But when a violinist makes a recording of the Tchaikovsky concerto, that's not only for a reviewer from Gramophone to add to their collection of 100 other recordings, it's also for those average concertgoers who say, 'I want that because the work is great and I adore the soloist'. That's why CD sales at concerts are so high: people want an enduring artefact of the artist they just saw. Onyx certainly issues high-class releases that will interest the discerning listener, but they want to hit the other markets strongly too.
GN: Yet you would be unhappy if all you could record was the standard repertoire and that was it?
JE: Absolutely – and it is wonderful that we can still maintain a focus on both the mainline and more obscure. I would not be happy without the sense of discovery offered by Chandos. For example, I recorded the reconstructed Janáček Violin Concerto recently. When you look at the printed editions of this long-forgotten score, they are exceptionally clean, but if you go back to the original sketches, they are almost undecipherable. To be Janáček's copyist must have been the worst job in the world. It makes even late Beethoven scores look really clean and legible!
GN: One thing for sure is that you have made an unprecedented number of recordings over the past decade. You are already reaching 50 releases. Can you give some insight into how you have done this?
JE: True, there are years where I put out so many CDs that people on the business side of things say, 'That's not smart – your own releases are cannibalizing each other, and we're not able to focus attention on each new release'. But I suppose the main factor is that I take advantage of new recording opportunities when they arise, and many can come together. Even when I recorded the Elgar concerto back in 2007 for Onyx, I was doing a run of eight performances with the Philharmonia Orchestra and Sir Andrew Davis, and the recording opportunity suddenly arose. I thought, 'This is the time that it has to happen. I'm never in my life going to have better opportunity'. It was an interesting experience: it had to be a live recording, and it was also the year that the Festival Hall was closed, and the Queen Elizabeth Hall had to be used. We drew on two of the concerts at the smaller venue, just in case extraneous noises intervened.
Another example is when Chandos got in touch, saying, 'We're in the middle of an ongoing Berlioz project with Andrew Davis. Do you want to do Harold in Italy?' The project was going to happen with me or without me, and if I had said that it doesn't work for my discography and this and that…then how many future chances would I have to record this wonderful viola piece? For me, it's very much about seizing the opportunity when it's there. Even my next big release – the Beethoven concerto with Andrew Manze and the Liverpool Philharmonic – just seemed to happen in the right way. I was the artist-in-residence with the Liverpool Philharmonic this past season, and the conductor has a really special relationship with the orchestra too. Circumstances made me to think 'now's the time to do it'. People asked me if I had consciously waited until I was 40 to record the Beethoven, but that really had nothing to do with it. It's nice to have a certain amount of control over your career, but there's a lot that happens when it happens.
GN: It is interesting that you mention the Elgar recording. That effort, plus the recording of the Walton, Barber and Korngold concertos with the Vancouver Symphony Orchestra under Bramwell Tovey – which won Grammy and Juno awards – really seemed to move your career forward.
JE: True, both recordings garnered a great deal of international attention, and it was great that Onyx perpetuated the life of the Vancouver Symphony CD. It was originally a CBC recording and was a very special Canadian collaboration for me. Winning the Grammy was so unusual and unexpected.
GN: Do you ever have the temptation to re-record some of your earlier CDs?
JE: I did record the Paganini Caprices again. They were originally done back in 1995 when I was 19. I liked that recording, but I wanted to do it differently now. I think of each recording as a unique point-in-time effort, but I have also learned from following my own favorite musicians that second attempts are not always improvements – at least from the perspective of the listener. When I re-recorded the Caprices, I definitely thought they were better than my first effort, though there are still those who might not agree. The only approach to recording is to aim for something that is closest to your ideals at the given moment. I think of my old recordings as old photographs of myself. I know who I was, I don't dislike the pictures, but I'm not necessarily the same person now.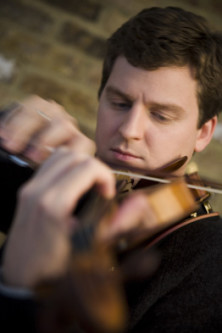 GN: We are all looking forward to your Beethoven recording, yet I cannot help but think what it would be like to be collaborating with such a famous, path-breaking period violinist as Andrew Manze. Did he ever gently suggest any period slides or ornaments to you?
JE: No, not at all: Manze has gone beyond his earlier specialization now, and is a very fine and perceptive conductor of later music. I love working with him. His just-released Vaughan Williams CD with the Liverpool Philharmonic is really amazing,
GN: But the reality is that you have never been attracted much to authentic style, selective vibrato and so on in performing Baroque composers, Mozart and the early romantics?
JE: The idea of authenticity can mean so many different things. It's also a funny term: for example, do you mean authenticity for the listener or the performer? I certainly share one thing in common with every other violinist who plays Mozart, which is that none of us have ever met Mozart and none of us have a definitive idea what performances of his music sounded like. We know what's on the page of a given edition of the score, and it all comes down to what we think that means. But then, there's personal taste, what style you have grown up with, whether you think the music really sounds better with little or a lot of vibrato, etc. It's undeniable that if Andrew Manze and I played the same Handel sonata, it would barely sound like the same piece. Nonetheless, I would like to think that what we're trying to say comes from the same place since we share the fundamental ideals of musical clarity and artistic integrity. We're both trying to express 'authenticity of feeling' in our own terms.
GN: You seem to have an amazing ability to pick up new repertoire quickly. Is that true?
JE: The amount of time that it takes to learn a piece is very much related to all the other activities going on at the time. At this stage of my career, there are plenty of things going on, so I am almost always in the position of playing one piece while learning another. It's very rare that I can take a block of time and just concentrate on learning a piece. If that were possible, yes, I can learn new pieces quickly. But remember that initial learning is not fine tuning, and the latter takes time too.
GN: So how exactly do you build up a concerto to performance level?
JE: There are real stages to the learning process. At first, it's just mechanical work, learning the notes and then getting a sense of the shape, pace and proportions of the piece. I will learn it up to 90% and, if I get the chance, it's then best for me to put it down and let it sort of sit and settle before coming back. I think it's critical that you know the entire orchestral score and, if you have any questions of why something is there, you must figure that out before you proceed. Even so, what's so tricky about playing a concerto for the first time is that you simply can't prepare for having the orchestra around you in three dimensions. That is one of the most fun parts of the experience, but it's also the most nerve-wracking, and you have to make a lot of adjustments. For a new piece, you really have to figure out how to make things work in a very short amount of time. You may have been learning the violin part for months, but all of a sudden you have the first rehearsal for an incredibly complex concerto, and the sound is all around you, and the performance is happening the next day. This is where you really have to dig in.
GN: Many observers are amazed at how you can make the most forbidding passages (e.g. the cadenza of the Elgar concerto) come off with so much apparent ease. Are there works that you find genuinely difficult to play?
JE: That's a perfectly-timed question. The most difficult challenge I have ever faced is the concerto by Aaron Jay Kernis, which I just premiered in Toronto a month ago and then played in Seattle as well. It's a wonderful piece, extremely demanding but worth it. Here's a work where there is the greatest difference between just seeing the score flat and actually hearing it in full dress.
GN: A few general questions to close. Undoubtedly, you produce a most beautiful sound from your 'Marsick' Strad. I have always wondered how arduous it was to find the instrument that was right for you.
JE: The search for the Marsick Strad was indeed arduous, as was the process of acquiring it for long term use. I won a competition for the use of the Canada Council Strad when I was 18, and played on that for five years – but I've been playing the 'Marsick' Strad ever since. Of course, I've had to play on a variety of borrowed instruments temporarily (for example, when I'm having a new fingerboard installed), and have done concerts with these. But in my professional career, I've just had the two main instruments, both Strads. Incidentally, my viola was made in 2013.
GN: I know artists dislike to be labeled, but a question that some colleagues have debated is whether you fit the tradition of a 'Juilliard violinist', citing some aspects of your technical precision and sound production. Do you ever think of yourself in those terms?
JE: Not really. Perhaps there was a time when the designation meant something, but I think one of the greatest virtues of Juilliard is that there's so much diversity in approach. It's funny that people who have never seen the school in action still come up with the idea that it's sort of a factory where everyone sounds and plays the same. This cannot be true. Even the incredible school of playing connected with Ivan Galamian and the related, but still different, school of Dorothy DeLay bred considerable diversity in the great violinists produced. Possibly one can identify different 'sounds' with different teachers, but there are so many different instructors there. My teacher, Sally Thomas, gave an enormous amount of freedom to her students, and that alone allowed them to sound more individual than students of other instructors who demanded stricter adherence to ascribed bowing, fingerings and the like.
GN: I also understand you used to be a fine pianist when you were younger. Do you still play?
JE: I don't perform much on the piano anymore. I haven't really played in public for about five years, since right before my daughter was born. But I love to play the piano.
GN: A slightly sentimental question: after all your international experiences and acclaim, how special is it to come back and perform in your own country?
JE: It's absolutely special. I have known so many people since almost my childhood, and they have always supported me to the fullest extent. I first met Maestro Bramwell Tovey when I was 11 years old.
Geoffrey Newman
I am grateful to Matthew Baird for recording assistance and Kelly Bao for the transcription.
Previously published in slightly different form on http://www.vanclassicalmusic.com.