United Kingdom Mozart, Schubert, Aitchison: Kokoro / Mark Forkgen (conductor), The Guildhall, Poole, 13.5.2017. (IL)
Mozart – Duo for Violin and Viola in G major K.423 (arr. Aitchison for harp and woodwinds)
Schubert – String Quintet in C major D956 (2nd movement)
Aitchison – Sea of Music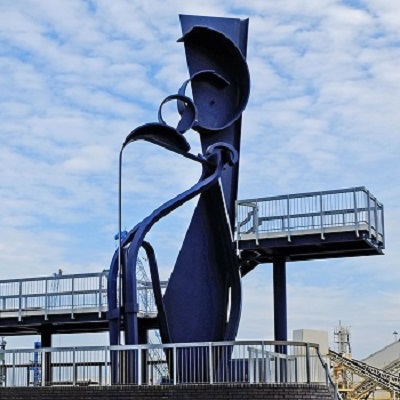 Kokoro is the new music ensemble of the Bournemouth Symphony Orchestra, committed to the performance of contemporary music. Kokoro ("heart" in Japanese) is involved in projects throughout England's South West region. Its intent is to showcase exhilarating modern works, commission composers and premiere new pieces. One of Kokoro's first commissions was to provide the music for a performance of Stephen Sondheim's Into the Woods in the Poole Lighthouse Theatre in April 2017.
The Bournemouth Symphony Orchestra and, by extension, Kokoro are keen to cement positive community relations. They were delighted to collaborate in the celebrations for the re-launch of Sir Anthony Caro's sculpture, a prominent feature on Poole Quay for 25 years. Exposure to the elements had taken its toll, and the sculpture had to be significantly repaired. Sir Anthony gave Sea Music to the town in 1991. It is his only site-specific monumental sculpture in the public realm, designed to evoke the sound and appearance of the cascading sea through interlocking rings and curves with central vertical plates recalling masts and sails of ships. Caro commented: "I sometimes think of sculpture like a concerto: there's the piano up above and the orchestra below". His Sea Music sculpture does resemble a treble clef, and it has a significant sense of rhythm and movement. Music has always been important to Caro.  Classical music has played daily in his studio.
Jim Aitchison, composer and visual artist, received a special commission to write music to mark the official celebrations of the refurbished sculpture on 13th May 2017. The Kokoro brass section performed his 'Fanfare' from Sea of Music at the site of the sculpture.
The concert opened with two items which Sir Anthony especially likes. First heard was Jim Aitchison's arrangement of Mozart's Duo for Violin and Viola, charmingly and sympathetically set for harp and woodwinds. The lyrical second movement of Schubert's String Quartet in C major that followed was affectingly delivered.
The layout of the ensemble was interesting. After the aforementioned works had been performed, and for Aitchison's Sea of Music, the three brass players — trumpet, trombone and horn — entered onto the gallery aloft above the woodwinds and harp placed, in turn, above the strings. In effect, the ensemble was located on three distinct levels.
Sea of Music is cast in three movements: 'Fanfare on Three Platforms', 'Vertical with Curves and Rings' and 'Sea of Music'. Befitting a modern abstract sculpture, the music was accordingly modern and abstract —only barely tonal, although at one point I felt that a trumpet tune nearly escaped out into the open. The brass proclaimed the 'Fanfare' imposingly, with some arrestingly long-held notes. Was a ship's horn intimated? In the rest of the music there were some intriguing moments, and one's imagination could fly: breezes, turbulence, arpeggios suggestive of water movements, flights of seagulls?
An intriguing evening of music presented by the BSO's Kokoro ensemble.
Ian Lace