United States Rimsky-Korsakov, Golden Cockerel: Soloists, Chorus & Orchestra, New Opera NYC / J. David Jackson (conductor), Sheen Center, Loreto Theater, New York, 18.5.2017. (RP)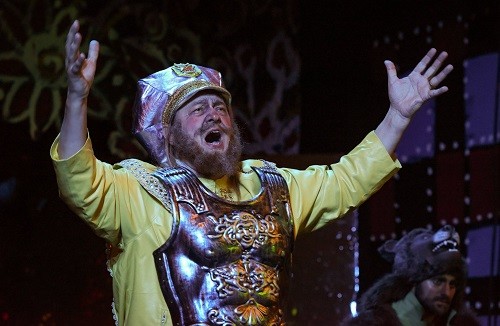 Cast:
King Dodon – Mikhail Svetlov
Prince Gvidon – Dmitry Gishpling-Chernov
Prince Afron – Antonio Watts
General Polkan – Gennadiy Visotsky
Amelfa – Ksenia Berestovskaya
Astrologer – John Villemaire
Queen of Shemakhan – Julia Lima
Golden Cockerel – Ksenia Antonova
Production:
Executive Producer – Nadia Artman
Production/Choreographer – Igor Konyukhov
Set & Props – Zachary Crane
Costumes – Olga Maslova
LED Technology – Oksana Ivashkevych
Lighting – Greg Mitchell
Make-up – Marina Konyukhova
Assistant Conductor/Chorus Master – Alexandre Tchaplinskiy
Golden Cockerel's Headpiece – Giaconda
The 270-seat Sheen Center's Loreto Theater, in the NoHo/East Village section of Manhattan, is far from a perfect venue for opera, but that did not inhibit the creative team that New Opera NYC assembled for Rimsky-Korsakov's Golden Cockerel. The opera is a razor-sharp satire of politics and war in the waning years of the Russian Empire masquerading as a fairy tale. The focus was on the fantastic, employing a color palette that ranged from Day-Glo to traditional Russian motifs, and the stage was crowded with all sorts of things, including the king's bed, the cockerel's watch tower and Amelfa's kitchen. Toss in the small chorus and it became incoherent. Wit, however, was never in short supply. The sight of the king astride an exercise ball bouncing off to battle was hysterical.
The king was Russian bass Mikhail Svetlov in a performance to be treasured. His King Dodon was world-weary, narcissistic and delusional, but full of humanity. His twinkling eyes telegraphed his emotions as effectively as his rich, resonant voice. It was a masterful characterization. The mysterious Queen of Shemakhan was Julia Lima, a statuesque, glow-in-the-dark, Siberian version of Xena the Warrior Princess with a voice to match. Her soprano glistened like the blade of a saber, which deftly dispatched the queen's fiery coloratura. Ksenia Berestovskaya has a spectacular, rich mezzo soprano. Also from Siberia, she was brassy and bold as Amelfa, the housekeeper, with a fantastic fascinator comprised of a pair of pink and red dahlias, a tiny pineapple and a shiny red apple atop her head.
Hands down the most spectacular headpiece was the kokoshnik worn by Ksenia Antonova as the Golden Cockerel. Perched on a tower, she scanned the horizon with binoculars, poised to warn of invading armies that threatened Dodon's kingdom and haunted his dreams. Antonova's youthful, vibrant soprano was ever ready to sound the alarm.
Antonio Watts and Dmitry Gishpling-Chernov preened and posed as Dodon's foppish, quarrelsome sons, so inept that they kill each other when their father sends them off to battle. The stratospheric high notes that Rimsky-Korsakov gave the Astronomer held no terrors for tenor John Villemaire. Unfortunately, he was cloaked in massive robes and burdened with a chintzy, fake white beard that obscured his face, so if he was acting, it was lost. Gennadiy Vysotskiy as General Polkan also left little impression. He possesses an attractive bass voice and acted up a storm, but it was just flat. Perhaps the fake bear skin, complete with head, weighed him down.
David Jackson has conducted Russian opera in major houses, including Prokofiev's War and Peace at the Met. He brought authority, energy and commitment to the performance. It was a herculean undertaking given that most roles were double cast (three mezzos shared the role of Amelfa) over four performances in as many days. There was no pit, and even an orchestra pared down to fit into the cramped space still needed its fair share of woodwinds, brass and percussion to do justice to Rimsky-Korsakov's colorful score. Jackson kept them in check, and balance between the singers on stage and the players in the pit was never an issue.
The orchestra was split down the middle, literally, in terms of quality; professional, polished playing from the woodwinds, brass and percussion on the left versus a slipshod violin string section on the other side of the pit. Alexandre Tchaplinskiy's prompting of the chorus from the keyboard was distracting and seemed to serve no real purpose. Denis Savelyev's elegant, beautiful flute playing was one of the delights of the evening. At such close quarters, little goes unnoticed.
New Opera NYC's production of Golden Cockerel is one of 30 events by 20 companies around the city as part of Opera Fest 2017. Now in its second year, the festival showcases the breadth and diversity of opera in New York City through events ranging from virtual reality to improv opera, with productions in theaters, gardens, garages, bars, playgrounds and more. It is an exciting world of opera out there.
Rick Perdian