Switzerland Prokofiev, The Fiery Angel: Philharmonia Zurich / Gianandrea Noseda (conductor), Zurich Opera, 7.5.2017. (JR)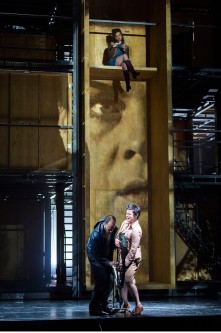 Cast:
Renata – Ausrine Stundyte
Ruprecht – Leigh Melrose
Innkeeper – Liliana Nikiteanu
Mephistopheles/Agrippa von Nettesheim – Dmitry Golovnin
Fortune-teller/Abbess – Agnieska Rehlis
Inquisitor – Pavel Daniluk
Faust – Stanislav Vorobyov
Jakob Glock/Doctor – Iain Milne
Mathias Wissmann/Innkeeper – Andrzej Filonczyk
Knecht – Dimitri Pkhaladze
Two nuns – Soyoung Lee, Deniz Uzun
Count Heinrich/Father/Neighbour – Ernst Alisch
Production:
Director – Calixto Bieito
Set – Rebecca Ringst
Costumes – Ingo Krügler
Lighting – Franck Evin
Video Design – Sarah Derendinger
Chorus-master – Jürg Hämmerli
Dramaturgy – Beate Breidenbach
Prokofiev never saw the The Fiery Angel, based on a novel by the Russian poet Valery Bryusov, performed during his lifetime. In 1918 he emigrated to the United States, to return (via Paris and rural Bavaria) to the Soviet Union in 1936, so he wrote the opera in exile in the 1920s. His efforts to have his Fiery Angel staged were all fruitless and it remained a source of regret for the rest of his life; he was simply not destined to be a famous opera composer. The opera was first staged in Venice in 1955, in Italian; Russian audiences were introduced to it only in the 1990s.
The work is going through a very belated period of (re-)discovery by a number of opera houses, and now Zurich has joined the list. Barrie Kosky's production for the Bavarian State Opera House in Munich two years ago focused on the sexual topics raised by the opera. To my great surprise, Calixto Bieito, known for his ability to shock, steered almost entirely clear of those, and highlighted other issues, such as mental illness, insecurity and child abuse: it's a merry little opera.
The whole piece, in Bieito's profound production, plays in the mind of the central character Renata. The time is supposed to be the Middle Ages, but Bieito moves it to the 1950s, and the place is central Germany. The opera opens with Renata playing with her bicycle and its lamp. Renata, whilst still a very young girl, believes she sees a glowing or fiery (male) angel and calls it Madiel. She obsesses about the angel on a daily basis until she reaches sexual maturity. At this point, she asks the angel to return in human form so she can love him "properly". The angel is angry and disappears, but Renata starts a life-long search for humans who must be Madiel in disguise. She targets a German Count, Heinrich, who has a non-singing non-speaking role in the opera and who wanders round the stage in a long black coat. To Renata's aid comes a young rather insignificant man, Ruprecht who falls in love with Renata. The opera deals with this doomed love affair and the treatment by the village-folk and fellow nuns of the obsessed Renata.
Bieito and his designer Rebecca Ringst have set the opera in a huge revolving cubist apartment block, which is supposed to resemble the rooms in our brains, our memories, our hopes and fears; there are also empty rooms (which however I thought were only in male brains). One room shows Renata's nursery, with her father slumped in a chair, and at other times Count Heinrich/Madiel. Another room is the magician Agrippa's lair, in the shape of a gynecologist's surgery. A living room with TV and well-behaved dogs becomes the inn in which Renata meets the taunting Mephistopheles and Faust. At the very end of the opera, the set comes apart – death is near. 1950s costumes are a colourful mix; only Renata and Ruprecht are dressed drably.
Bieito leaves the shocking elements of the story to the supreme acting skills of the chief protagonists and to the monumental score. He only verges on the shocking when Ruprecht visits the magician for assistance; the magician (wonderfully sung by Dmitry Golovnin) in this production is a gynecologist who sings his "aria" with his hand doing what gynecologists are, I believe, prone to do. I was expecting a rabbit to be pulled out of the "hat", but he emerged with bloody fingers, at which point two beautifully coiffed ladies of a certain age got up and left. They might also have been upset at the exorcism scene, with which the opera ends, and in which Renata, by now in a convent, is held down and tortured by her fellow sisters and exorcised by the Inquisitor, whose intonations were superbly sung by Pavel Daniluk. Finally Renata is burnt at the stake, in this production attached to her bicycle which bursts into flames.
Which brings me to the singers. Head and shoulders over the rest, Latvian soprano Ausrine Stundyte, as Renata. Stundyte manages to sing the difficult phrases with beauty and with intensity, and with agonizing shrillness when mentally disturbed. Her acting skills are formidable. British baritone Leigh Melrose (carving out a reputation for modern works), as Ruprecht, rather pales next to her, somewhat lacking in tonal variety, but that is possibly deliberate, and he puts in an equally fine performance; Prokofiev grants him no favours, no melodic lines to sing. Of the other characters, Iain Milne gave us a solid Jakob Glock (and Doctor), but it was the gang of Eastern European basses who thrilled me most with their diction and sonority – Golovnin, Daniluk, Vorobyov and Pkhaladze.
The score is not easy Prokofiev, this is not Romeo and Juliet or his first or fifth symphony. It is grim and powerful, but also rhythmic and tonal, with hardly a discord.  There are many passages of searing intensity and great beauty, almost supernatural, especially when Renata sings of her angel; the final scene in the convent is an orchestral onslaught, which leaves one shattered. Noseda in the pit looked suitably washed out when he emerged onto the stage, to great acclaim: the high-voltage orchestra had done him proud. Bieito looked nervous as he came onto the stage, expecting some boos, but I heard not one: the audience knew what to expect and you just cannot prettify this opera.
The Fiery Angel is an opera you should definitely see – but once will probably suffice. It is hard to like, and its two-hour-length (without a break) can drag on. You will be fortunate if it comes to an opera house near you, as it is certainly no box office favourite. But don't take grandma or the kiddies.
John Rhodes