United Kingdom Puccini, Tosca: Soloists, Ensemble and Orchestra of English Touring Opera / Michael Rosewell (conductor). Grand Theatre, Blackpool, Lancashire. 10.6.2017. (MC)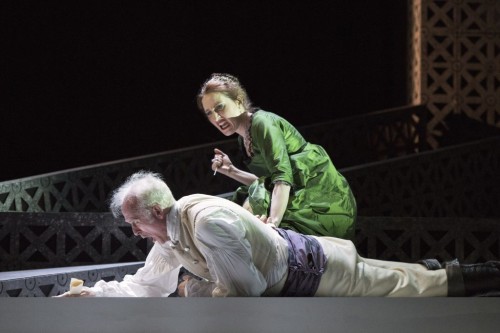 Cast:
Tosca – Paula Sides
Cavaradossi – Alexander James Edwards
Scarpia – Craig Smith
Angelotti – Timothy Connor
Spoletta – Aled Hall
Sacristan – Matthew Stiff
Sciarrone – Maciek O'Shea
Shepherd – Vanessa Bowers
Jailer – Felix Kemp
Production:
Director – Blanche McIntyre
Designs – Florence de Maré
Lighting design – Mark Howland
Such a perennially popular opera and I must have attended around a dozen performances of Puccini's masterpiece Tosca over the same number of years. With its turbulent love affair, attempted rape, betrayal and fatal conclusion all set against a backdrop of political intrigue and menace it can be a thrilling experience.
It was only nine months ago that I reported from Tosca performed by the Staatsoper im Schiller Theater Berlin in Alvis Hermanis' staging. With celebrated performers soprano Angela Gheorghiu in the title role and Michael Volle as Scarpia it was a stunning production that sticks firmly in the memory.
In spite of the Blackpool Grand Theatre stage having far more basic facilities and a smaller stage than many opera houses where I have seen Tosca Blanche McIntyre's new production (her first opera staging) made a reasonably strong impression. In response to the libretto's political manoeuvring and sexual lust McIntyre's staging successfully drew me into the stifling environment of unease and fear. Designer Florence de Maré has created a relatively simple set with a mainly black and grey theme that with one or two different props served well for each of the three acts the inside the church of Sant'Andrea della Valle, Scarpia's apartment and the Castel Sant'Angelo. De Maré's few essential props and effective clothing designs easily conveyed a period feel of Puccini's intended setting of the year eighteen hundred in Rome.
As the heroine Tosca I don't intend to compare Paula Sides directly with Angela Gheorghiu performing one of her signature roles yet the most significant difference was undoubtedly stagecraft by which I mean stage-presence and character interpretation. I'm not sure the Tennessee-born Sides looked old enough in years to be my idea of Tosca (a celebrated prima donna) but vocally she was soon into her stride. Projecting her attractive and resilient voice well through the orchestra the soprano was able to express the contrasting qualities of vulnerability and strength. Tosca's killing of Scarpia was fierce giving him three vicious knife stabs full of pent-up emotion but the knife was so small it could have been a pen-knife; I could barely see it from my seat. As the painter Cavaradossi, Alexander James Edwards' bright tenor took some time to develop. With such a major aria 'Recondita armonia' so early in the work Edwards found it challenging but wasn't perturbed even if his voice was almost drowned out by the orchestra in the louder passages. Certainly Edwards' acting requires work but overall he managed the difficult role satisfactorily.
Formidably dressed in a striking uniform as Scarpia, Craig Smith made a menacing and haughty chief of police; scheming, depraved and violently lustful. Smith looked as if he was old enough be the youthful Tosca's father which in a way added to the lecherous aspect of the character. Using all his experience Smith sang most effectively, but the role would have benefited from additional vocal heft. Such a splendid actor Matthew Stiff sang the role of Sacristan with real aplomb displaying his attractive bass-baritone voice that projected well through the house. Noticeable too Aled Hall made a suitably menacing presence as Spoletta, Scarpia's henchman. One aspect of the staging that did rankle slightly was how the three principals sang mainly looking out into the auditorium rather than looking at each other.
Under the assured baton of Michael Rosewell it was hard to fault the English Touring Opera orchestra, some twenty-five strong, who played with unity, commitment and considerable proficiency. The principal clarinet, oboist and pair of horns gave some especially lovely solos and the percussionist stood out for a really sterling performance. I mustn't forget the first-class orchestral reduction prepared by Tony Burke. The choirs did all that was asked of them giving an effective Te Deum that was both rousing and moving too.
At the conclusion of the opera I have seen several disappointing scenes where Tosca falls lamely to her death from the ramparts of Castel Sant'Angelo not the case here as Paula Sides launched herself thrillingly from the parapet.
Michael Cookson
For more information about English Touring Opera's forthcoming performances visit: http://englishtouringopera.org.uk/.