United Kingdom Strauss, Die Fledermaus: Soloists, Chorus and Orchestra of Welsh National Opera / Tomáš Hanus (conductor), Wales Millennium Centre, Cardiff, 20.5.2017. (GPu)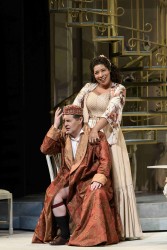 Cast:
Rosalinde – Mary-Elizabeth Williams
Eisenstein – Mark Stone
Adele – Rhian Lois
Alfred – Paul Charles Clarke
Falke – Ben McAteer
Dr. Blind – Joe Roche
Colonel Frank – Alan Opie
Prince Orlofsky – Emma Carrington
Ida – Angharad Morgan
Ivan – George Newton-Fitzgerald
Frosch – Steve Speirs
Production:
Director – John Copley
Revival Director – Sarah Crisp
Designer -Tim Reed
Costume Designer – Deirdre Clancey
Lighting Designer – Howard Harrison
Choreographer – Stuart Hopps
Fight Director – Kevin McCurdy
Chorus Master – Stephen Harris
John Copley, in my experience of his work, is a director more concerned to articulate things unarguably present in a given work (if not always obviously so to someone less discerning than Copley) than to impose his own 'vision' on a work in the manner of more radical directors (who seem often to be busy making the opera into something they would have preferred it to be, rather than responding to what is 'there' in music and libretto. The results are not usually 'challenging' (which can often be a description little short of euphemistic avoidance of critical judgement) or 'startling' (ditto). But the results are often richly rewarding, as in this revived production of Die Fledermaus (first seen in February 2011).
I wouldn't vouch for the historical accuracy of either Deirdre Clancey's costumes or Tim Reed's set. But, more important than precise historical accuracy, both are fully consistent with the spirit of Copley's approach to the work, giving a persuasive inner coherence to the whole, something that is always important, but never more so than in comedy/farce. Farce demands an audience's suspension of disbelief, its acceptance of absurd coincidences, implausible disguises and much else, and such suspension of disbelief is more readily given when there aren't any internal inconsistencies to jar or disrupt the experience.
Dierdre Clancey's costumes, especially for the women, are glamorous and stylish, with the just the right minor touches of vulgarity to embody the ambition of the bourgeois characters to be accepted in the aristocratic world, where they become objects of amusement for Prince Orlovsky. Die Fledermaus is a work riddled with the humour (and cruelty) of class divisions, though Copley, I am glad to say, was largely willing to let his audience see this for itself, rather than presenting these issues in overemphatic or exaggerated fashion. Of course disguise and mistaken identity as well as adultery (actual or in unfulfilled desire) have been staples of the comic tradition, as have class differences, for many centuries. Strauss and his librettists (Richard Genée and Karl Haffner) were, in most respects, doing nothing new, even if they toned down the more explicit lusts of the French original, Le Révillion by Henri Meilhac and Ludovic Halévy, that they were largely working from.
The sets were perfectly functional, allowing for the neatly timed exits and entrances that farce requires, while also being elegant and evocative of a bygone Vienna, even if it was one that couldn't have been dated precisely.
Musically speaking, the work of Tomáš Hanus (the new Musical Director of Welsh National Opera and here conducting his first opera for the company) was exemplary. He encouraged some excellent orchestral playing and supported the soloists well-nigh perfectly (save for passing moments when the accompaniment seemed to speed up a little and take a singer by surprise). On the whole, however, Hanus' control of tempo and dynamics was thoroughly impressive and he maintained the balance between orchestra and voices to something like perfection.
Amongst the singers, Mary-Elizabeth Williams made a strong impression as Rosalinde, though there were moments when her voice (a powerful instrument) was in danger of overpowering some of her colleagues. Ms. Williams certainly fixes one's attention as a stage presence, even if, having heard her sing both Tosca and Lady Macbeth, I suspect that such roles come to her more natural than the musical froth of operetta does. Still, her feistiness made for an interesting characterization of Rosalinde. As her maid Adele, Welsh soprano Rhian Lois was pert and charming, in both person and voice. Like Emma Carrington as Orlovsky, Lois was also very competent in her delivery of the spoken dialogue. Carrington brought an aristocratic ennui, a sense of innate superiority to the social climbers at their villa, to all that they did and said/sang.
Among the men, Mark Stone gave us a 'wise fool' of an Eisenstein and sang with pleasing clarity of line, phrase and diction. Alan Opie's Colonel Frank was rewardingly comic. As Falke Ben McAteer wasn't entirely convincing in terms of characterization, and it was hard to believe (even within the conventions of farce) in his desire for revenge – though he was vocally impressive. Paul Charles Clark was an excellent Alfred, full of parodic energy and delightful silliness.
It is a pleasure to be able to report on a performance of this opera in which the spoken contribution of Frosch the gaoler was a genuine pleasure, rather than a time-consuming penance. Welsh actor and writer Steve Speirs (and he must surely have some experience of stand-up, on the evidence of his timing) brought greater vivacity and produced more genuine laughter than most interpretations of this role do. He teased orchestra and conductor with great humour and took a few effective swipes at the easy targets which opera's inherent contradictions provide.
All in all, this was an entertaining evening of operatic 'champagne', more charming and bubbly than WNO's season title 'Vienna Vice' (unfortunately printed as 'Venice Vice' on the spine of the substantial programme) might suggest.
Glyn Pursglove