United Kingdom Handel, Semele: Soloists, Garsington Opera Orchestra & Chorus / Jonathan Cohen (conductor), Garsington Opera at Wormsley, Buckinghamshire, 3.6.2017. (CR)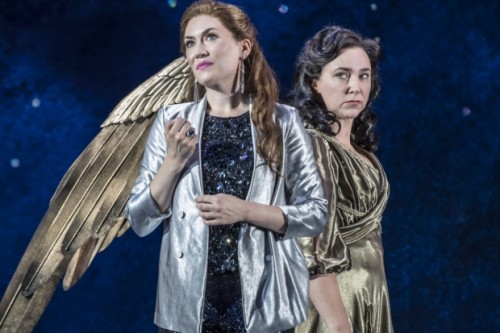 Cast:
Semele – Heidi Stober
Jupiter – Robert Murray
Juno – Christine Rice
Cadmus / Somnus – David Soar
Athamas – Christopher Ainslie
Iris – Llio Evans
Ino – Jurgita Adamonytė
Apollo – Mikael Onelius
High Priest – Christian Valle
Silent cast in addition to Handel's score:
Semele's other self – Patricia Loveland
Bacchus – Henry Pauly
Vision of the nymph Pasithea – Lara Müller
Juno's daughters – Bonnie Hodson, Mollie Horsley, Lara Murray, Freya Randall, Maddie Small, Ivy Tomkinson, Martha-Scout Willcocks
Production:
Annilese Miskimmon – Director
Nicky Shaw – Designer
Mark Jonathan – Lighting Designer
Sarah Fahie – Movement Director
Handel's cautionary tale about the figure of Semele who overreaches herself through epicurean excess could almost be turned against the opera-going audiences who come to the sublime Wormsley estate amidst the Chilterns on a summer's evening to appreciate the ravishing music of one of Baroque music's finest exponents. Certainly one might think that the director has the last laugh in this production which neatly juxtaposes the worlds of the humans and the gods by placing the long interval between those two (namely between Acts I and II) such that the audience leave the auditorium to dine with the strains of Semele's hubristic 'Endless pleasure, endless love' in their ears, before returning to sit out the two-hour second half.
That is perhaps the cleverest idea in Annilese Miskimmon's interpretation of Handel's setting of this tragic Greek myth which at least ends, consolingly for the bibulous audience, with the birth of the god of wine, Bacchus, into the world from the ashes of Semele who has dared to insist on seeing her divine lover, Jupiter, in his ineffable, fiery state. The production tends to turn the serious moral purpose of Handel's work (originally unstaged by him and conceived 'in the manner of an oratorio', but opera in all but name nevertheless) into little more than a concatenation of soap opera-like sensational episodes. Act I centres on the proposed wedding between Semele and Athamas (instigated by her father, Cadmus) which is predictably disrupted – first by her unwillingness to be led to the altar, and then the hysterical actions of her sister, Ino, unsettled by the inconvenient fact of her affection for Athamas. To cap all that, the volatile presence of Jupiter is implied with the crackling electrics of the chandeliers in the temple, foreshadowing the incendiary fate which befalls Semele.
It is odd, then, that Jupiter makes for such a low-key, even lacklustre, presence on stage when he does appear in Act II, presumably the conceit of this production rather than owing to any lack of acting ability on Robert Murray's part who, musically speaking, was otherwise both lyrically and dramatically persuasive. Similarly Christine Rice was not hampered by the contortions she had to perform as a pregnant Juno in labour, which made little sense in view of her part among the deities. Her entourage of seven young daughters also seemed explicable only as a sentimental counterpoint to the divine child whom Semele produces. Dramatic and narrative fertility remains more consistently focused, then, in Handel's score which astutely depicts the characters' motivations and emotional worlds.
In fairness, there are points of theatrical and visual beauty paralleling that of the music such as the empyrean realm of the gods to which Semele is whisked away, suggested by a backdrop of moon-like planets out of which Jupiter appears from time to time, and the flutter of glittering leaves descending upon her (even if something of a cliché) during the god's celebrated eulogy 'Where'er you walk'. The more or less constant blue background for the production is of a shade which is presumably meant to put one, ironically, in mind of the Virgin Mary, as she is portrayed in that colour in much religious art, pointing up the very contrasting responses of her and Semele in their encounters with the divine.
Despite having recently sustained a foot injury, Heidi Stober gave a lively performance in the title part, initially singing with fresh-voiced charm, but dispatching the vocal pyrotechnics effortlessly later on as she becomes more outrageously confident in pursuing her aspirations to "endless pleasure" and immortality. It is a striking idea that Patricia Loveland stands in as a charred, wizened Semele when Jupiter acquiesces with her request that he appear to her in his fully divine nature which must lead to the death of a mortal.
Jurgita Adamonytė as Ino was more humanly affecting in expressing her feelings for Athamas in Act I with yearning ardour. Christopher Ainslie in the latter part sang with fluent, graceful ease but cool emotion, and so the duet with Ino 'You've undone me' was fairly passionless. David Soar straddled the two worlds of the human and the divine: first as a firm-voiced Cadmus, who anxiously urges Semele towards marriage with Athamas; and then as the more sonorous and idiosyncratic figure of Somnus whom Juno enlists to exact her revenge upon the mortal, providing some of the subtler wit which this production tends to lack, as it lunges between the absurd and the surreal on the one hand, and the tragic on the other.
Jonathan Cohen's direction of the Garsington Opera Orchestra provided a gloriously consistent and seamless strand to the overall conception of this composition, with a reasonably-sized orchestra of modern instruments offering both gravitas and nuance in the Baroque variety of Handel's sumptuous score. Cohen secured grandeur in the choruses by conducting with a vigour and precision which was exactly met by the superb chorus, and also more intimate detail when leading from the harpsichord in less extensively scored numbers. It is testament to the contribution of the musicians and the invention of Handel's score that they filled in and underlined the emotional and dramatic gaps left in between some of the oddities of this production.
Curtis Rogers
Further performances on June 9, 11, 15, 24 & 30 and July 4 and free screenings on July 1 (Skegness & Oxford), July 22 (Ramsgate), July 29 (Bridgwater) & October 15 (Grimsby) – visit www.garsingtonopera.org.