Canada Weber, Bartók, Ran, Brahms: Israeli Chamber Project (Tibi Cziger, clarinet; Yehonatan Berick and Carmit Zori, violins; Vitai Zori, viola; Michal Korman, cello; and Assaff Weisman, piano), Pollack Hall, McGill University, Montréal, 13.6.2017. (LV)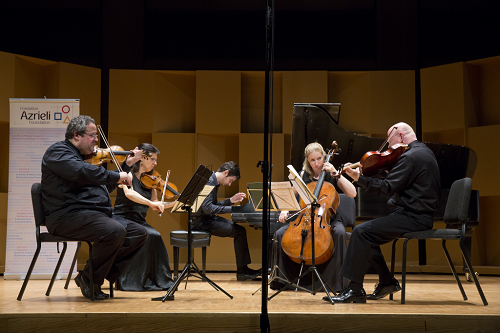 Weber – Clarinet Quintet in B flat major Op.34
Ran – Private Game
Bartók – Contrasts Sz.111
Brahms – Piano Quintet in F minor Op.34
Bookended by a pair of very different Op.34 quintets by Carl Maria von Weber and Johannes Brahms, the Israeli Chamber Project showcased the difference-making talent that the Montréal Chamber Music Festival has specialized in for 21 years. (Alone among the concerts during a festival themed "Beethoven: Passion romantique," there was no Beethoven in the house.) Generous to a fault, however, the ICP crew included the Quebec premiere of an aperitif called Private Game for clarinet and cello by Shulamit Ran, and Bela Bartók's Contrasts for clarinet, violin and piano.
Weber's quintet is an endearing cross between a miniature clarinet concerto and the light, romantic strains in Der Freischütz. Tibi Cziger's happy tootling – closer to rusticated than sophisticated – plus the quartet's ability to lay down an engaged musical background paid off handsomely. The musicians didn't quite resolve one unconventional aspect, Weber's odd tempo marking for the third movement Menuetto-Capriccio presto, which causes a transitioning dilemma to a Trio preceded by two bars of rest – presumably to allow for a more different expressive mode but with no change of tempo. Maintaining speed through the Trio risks having it sound like a throwaway, albeit an exceedingly pleasant one. On the other hand, those who try to lend the Trio a little extra love with at least a slightly slower tempo and more expressive playing risk sounding sentimental or, as was the case Tuesday night, gently jarring but definitely worth the try.
Introduced from the stage by Cziger as "a five-minute gem," Ran's Private Game turned out to be busy for both instruments and moderately adventurous for the cello in what seemed like its last, calmer section. The composer's program notes, however, told a more complex story.
Composed in 1979 at the invitation of the Da Capo Chamber Players celebrating their tenth anniversary, and with a requirement that the ensemble's name be included, the music is organized as "three brief da capo sections interlaced into the piece in a 1-2-1-3-2-3 sequence". Ran's notes also talked about repetition – implicit in the group's name – and how the resulting perceptions, or non-perceptions, are her "private game." Before I could understand the notes fully the music was over. Game, set, and match.
Bartók's Contrasts was played with kaleidoscopic brilliance. Thanks to violinist Yehonatan Berick's dazzling fiddling in the opening bars of "Verbunkos" (the military recruiting dance), he briefly evoked Stravinsky's A Soldier's Tale before entering Bartók's own unique soundscapes.
For the evening's piece de resistance, Brahms' Piano Quintet Op.34 received a muscular, commanding, and passionate reading. Signaling the seriousness of their intentions, the players took the first-movement repeat, which not only gave the music a larger base from which to expand but also seemed to overcome some initial uncertainty, and the sailing was smooth from then on. Speeds were moderate, the emotional temperature was suitably broad and noble, the blending was magical, and the quality of the sound was pure gold.
Aside from their nonpareil technical chops, each of the musicians had distinct onstage personalities, which made watching as delightful as listening. Yohonatan Berick, for example, currently Professor of Violin at the University of Ottawa and Visiting Professor at the University of Toronto, offered audience-pleasing charm, high spirits, and virtuoso playing. By contrast, Michal Korman rarely let anything close to a smile crease her marble visage. But while her playing was equally chaste and immaculate, it was infused with both warmth and unusually excellent projection, especially through the two quintets' dense romantic textures.
Laurence Vittes