United Kingdom Kentish Opera 2017 – Verdi, La traviata (In English): Soloists, Kentish Opera Chorus and Orchestra / Robyn Sevastos (conductor), The Stag Theatre, Sevenoaks, Kent, 27.5.2017. (MH)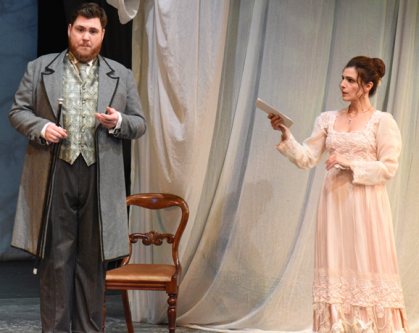 Cast:
Violetta Valéry – Stefanie Kemball-Read
Flora Bervoix – Ayaka Tanimoto
Annina – Katy Bingham-Best
Alfredo Germont – Tristan Stocks
Giorgio Germont – Aaron McAuley
Baron Douphol – Timothy Holden
Marquis d'Obigny – Philip Newton
Dr. Grenvil – Richard Broadley
Gastone de Letorières – Georg Tormann
Giuseppe – Edmund Henderson
Messenger – Mark Edwards
Production:
Director – Sally Langford
Conductor – Robyn Sevastos
Choreographer – Pauline Flanagan
Set Designer – Enid Strutt
Costume Designer – Carol Stevenson
Lighting Designer – Colin Martin, Edward Palmer – assistant
English Translation – Joseph Machlis
Many of our provincial, professional Opera Companies are unable to get the review coverage of our larger, well supported, national enterprises. Kentish Opera is one of these vital out-of-city groups which fosters young talent, giving invaluable experience in major roles and opportunities for community chorus involvement in Grand Opera. La traviata was presented fully staged over four nights at The 450 seat Stag theatre, Sevenoaks, double casting the major principal roles and involving 42 members of the chorus with orchestra – not an inexpensive enterprise in today's world of restrictive Arts funding. Under the Artistic Directorship of Sally Langford – an established opera performer herself – this company is a shining example of what can be achieved.
The staging was essentially simple but effective, on one level using furniture, drapes, basic lighting and a backlit cyc. The ensemble action was functionally blocked and choreography sufficient to allow for accurate vocal work on the part of the chorus. The words in English translation were pleasingly clear – no surtitles required, although for me at times, the action did not match the libretto. Costumes were colourful and showed off the extravagance of the era. I do question some of the gentlemen's footwear and whether ladies in glamorous evening gowns would be seated on the floor! Additionally, some levels could have been used to break up the serried ranks and more effective use of side lighting to enhance the ambience. However, this is being nit picky in the entirety.
Stefanie Kemble-Read's Violetta was an elegant, believable courtesan, whose slightness of stature made her consumptive state all the more convincing. However, there was no feebleness of voice, as she displayed both the bravura and the mezza voce singing required for this role, particularly in the favourite 'Follie! gioir' section of 'Sempre libera'. Doomed from the start, her journey to the final notes of the last act was well paced and emotionally convincing.
Tristan Stock's Alfredo – a light lyric tenor, well experienced in Gilbert and Sullivan – didn't quite match up to the power of his beloved vocally or dramatically. He had all the notes, including a sustained top C at the end of 'O mio rimorso', but was tiring by 'Questa donna conoscete' at the end of Act 2. Nevertheless, a steady workmanlike performance and getting invaluable experience both here and at Glyndebourne.
Baron Douphol strongly played by Timothy Holden gave Violetta every reason to be nervous of him.
As Germont père, Aaron McAuley, a young and expressive baritone, displayed a commanding presence from his very first Act 2 appearance, with vocal colour to match when required. His 'Di Provenza il mar' did not disappoint and he coped well with the difficult tessitura this aria presents. A role he has performed before, he clearly displayed the torment of the Act 3 finale both physically and vocally. A singer to be followed in the future and already in good hands, also at Glyndebourne.
Katy Bingham-Best sang the role of devoted servant Annina convincingly. An experienced performer, her every gesture and facial expression showed just how a Comprimario part can add so much to a performance.
Ayaka Tanimoto's Flora was a playful companion for Violetta and imbued this small role with charm.
Dr. Grenvil was sung and acted sympathetically by Richard Broadley. A long time member of Kentish Opera, his warm bass baritone balanced well in the Finale ensemble. It was pleasing to see members of the chorus singing several Comprimario roles with panache. The chorus work was secure and every member on stage was clearly enjoying their active involvement in the plot.
Finally, Robyn Sevastos as musical director is to be commended for her control of the twenty-four piece, professional orchestra and the singers. A slightly shaky tuning of strings for the opening Adagio – possibly due to a warm 30 minute wait for a member of cast to arrive – was rectified in the similar Andante at the opening of Act III with a fine balance of sound. Sevastos was a singer's conductor giving helpful, clear cues and ever vigilant. The orchestra in a partly covered pit maintained a pleasing balance between players and stage.
Small scale maybe, but big on production values, Kentish Opera should go on from strength to strength.
Martyn Harrison
For more about Kentish Opera visit http://kentishopera.com/.