United Kingdom Schnyder, Yardbird: Soloists, Members of the Orchestra of English National Opera / Clark Rundell. Hackney Empire, London, 9.6.2017. (CC)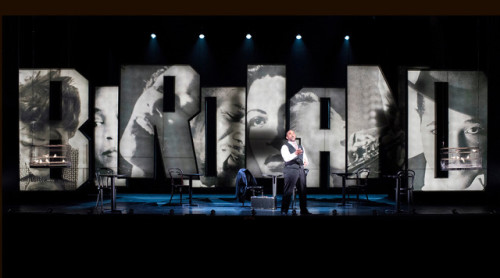 Cast:
Charlie Parker – Lawrence Brownlee
Addie Parker – Angela Brown
Chan Parker – Rachel Sterrenberg
Doris Parker – Elena Perroni
Dizzy Gillespie – Will Liverman
Baroness Nica – Julie Miller
Production:
Director – Ron Daniels
Revival Director – Amanda Consol
Scenery – Riccardo Hernandez
Costume Director – Emily Rebholz
Lighting – Scott Zielinski
Revival Lighting – Heather Sparling
The story of Charlie Parker is a sad one, and actually this opera begins postmortemly: as we enter the theatre, we see a dead body on a stage, immobile under a sheet on a trolley with only the feet showing. And indeed, Charlie Parker has just died, his body in the Bellevue mortuary. Panels behind show great jazz figures: Billie Holiday, Chet Baker and Clifford Brown.
Of course the principal musical "other" here is actually portrayed: Dizzy Gillespie. The two, Gillespie and Parker, first played alongside each other in Earl Hines' Grand Terrace Band in 1943 and together they were crucial in the emergence of bebop. Another dynamic here is an unfinished orchestral work and Parker's ambition to expand into symphonic music. Parker liked Bartók and Stravinsky and actually wanted to study with Varèse in Paris. Unfulfilled dreams, unfulfilled potentialities suffuse the opera.
Over the course of the uninterrupted evening of approximately 90 minutes duration, Bird's descent into heroin addiction and his final incarceration in Camarillo State Hospital after a breakdown which leads to him indecently exposing himself is tracked and his relationships to his wives explored. The piece was actually written for Lawrence Brownlee, a singer best known for his work in bel canto. His ability to deliver notes at speed was only occasionally utilised in homage to Parker, when he wordlessly doubled the orchestra. The part is relentless: he is rarely off stage, most often on stage and exploring his various relationships. No wonder Brownlee was awarded best Male Singer of the 2017 International Opera Awards. Almost matching Brownlee was soprano Angela Brown, who sang the role of his mother, Addie. Brown's persona dominated the stage, while her huge voice filled every inch of the Hackney Empire. Touching, eloquent and powerful, her assumption of the role was beyond reproach.
The musical language used by Swiss-American Daniel Schnyder, a composer whose works encompass both jazz and classical, exudes this sense of not quite one thing or the other. The music heads towards swing now and then, at others we hear aspects of those composers Parker so admired: Bartók and Stravinsky. Not too much is musically memorable, though, and certainly, sadly, not enough to generate a place in the repertory. The libretto, by the poet Bridgette A. Wimberly, is finely sculpted.
The staging is imaginative, nowhere more so than in the idea of caged birds (the final panel of the work is called, after the final line, "I know why the caged bird sings") and of course the idea of Parker in an institution is the perfect reflection of the line.  Ron Daniels proves an expert director. Brownlee was unstoppable in his portrayal, never running out of juice and always giving 100%. He was surrounded by a cast of distinction. American baritone Will Liverman, an alumnus of the Ryan Opera Centre, Chicago, was a brilliant Dizzy Gillespie while soprano Rachel Sterrenberg, an Emerging Artist from Opera Philadelphia, was a powerful Chan Parker. As mother of Parker's two children, the scene in which they reminisce ("Love Sick") marked one of the most powerful moments in the evening. Mezzo Chrystal E. Williams was a confident Rebecca Parker while Elena Peroni fully embraced the role of Doris Parker.
As the Baroness Nica, mezzo Julie Miller, another alumnus of the Ryan Opera Center, emerged as a dignified personality. Conductor Clark Rundell, a conductor I only know through an excellent disc of wind band music on Chandos, directed his chamber ensemble well. Speaking of "ensemble," there was a palpable feel of ensemble throughout the evening, of a combined effort to make this piece work.
Great to see that this piece marks the beginning of a four-year partnership between the Hackney Empire, Opera Philadelphia and the Apollo Theatre, Harlem. Several other new operas are scheduled to receive their European premieres in Hackney, in itself a cause for some rejoicing.
Colin Clarke
For more about ENO's performances visit https://www.eno.org/.