Angela Brownridge in Conversation with Robert Beattie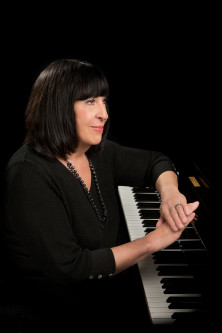 Angela Brownridge is one of the UK's leading concert pianists.  She has won rave reviews for her interpretations, being compared to giants of the piano such as Solomon, Cherkassky and Bolet.  She was a child prodigy giving her first public recital at the age of 6 and her first concerto performance when she was 10 years old. She has performed with many of the world's leading conductors and orchestras and she has an impressive and varied discography which includes the complete piano works of Barber and Gershwin.  I spoke to her about her musical background and training, the pianists and artists whom she most admires, her love of jazz and improvisation, her view of piano competitions and her recording plans for the future.
Robert Beattie: I very much enjoyed your recent recital at Cadogan Hall (review).  A number of the works which you performed then feature on the Beethoven and Chopin discs you released fairly recently (review).  I understand you are planning to release a Debussy disc later this year.  Can you tell us which pieces will feature on that disc?
Angela Brownridge:  It will feature all of the Debussy Préludes and L'Isle Joyeuse.
RB:  You obviously have an affinity for Debussy's music.  Who are your favourite interpreters?
 AB:  I love Kocsis and Livia Rev – the latter's recordings of Debussy were released in the 1980's but she has faded from view in recent years.  I also love Perlemuter's performances of Debussy.
RB:  Perlemuter studied with Ravel of course and he was really immersed in early 20th Century French music.
AB:  I remember listening to him giving a recital of music by Beethoven, Schubert and Ravel.  The Ravel was absolutely wonderful – I never forgot it.  One of my teachers, Guido Agosti, also studied with Ravel.
RB:  Who were your teachers and how did they help shape and influence your development as a musician?
AB:  I started learning to play the piano from a very young age and first went on to the concert platform at the age of 6.  I had very little technical training in my early years but I studied with a teacher called Dorothy Hesse in my teens who helped build my technique.  I won a scholarship to Edinburgh University where I studied with a number of eminent professors including Hans Gál and Kenneth Leighton, the latter teaching me as part of a group of four in harmony, counterpoint and composition.  I studied the piano with Colin Kingsley and I then won a further scholarship to study with Guido Agosti in Rome.
RB:  I gather your time studying with Agosti was not entirely successful.
AB:  He was always singing whilst playing himself and when I played to shape the phrasing it became what turned out to be a very bad habit with me.  It was wonderful at times because you felt you were creating miraculous interpretations, but it was only masking the sound. You never really listened to yourself, and the vast amount of repertoire I was pushed to learn, and diligently did so, went without any technical help.  Passages which proved difficult and sometimes insurmountable because of the lack of time to conquer them were glossed over with the words "Signorina, if you think how you should play you will find a way." The result of this was that I became more and more tense and after two years with Agosti I had become appallingly stiff in my fingers, arms and upper body, and had no idea how to put this right.
When I returned to London, to newly-married life I was fortunate to be told of Maria Curcio, who turned out to be everything that Agosti was not.  She was one of the world's greatest teachers who knew everything about technique or the creation of sound as she called it, and was willing to share it in every detail. She saved me and it took several years of sporadic lessons since I had very little money.  I eventually won an Arts Council International piano competition in London which gave me money and a series of dates in important venues and I was able to study with Maria consistently for six months.
RB:  I understand you briefly fell out with Maria.
AB:  Maria had a tendency to want to hang on to students and things got a little awkward when I told her I wanted to stop having lessons.  She would occasionally phone me and say, "Darling, I've just received a massive phone bill – are you sure I can't persuade you to come for a lesson?"  When I dug my heels in we stopped communicating for a while.  Many years later I met Maria at one of her masterclasses and she embraced me warmly, saying "Darling, you were my best pupil". I cried all the way home in the car.
RB:  That's quite a compliment considering she has reputed to have taught Argerich, Lupu and numerous other competition winners.
AB:  I don't know if she formally taught Argerich and Lupu – I think they played for her and she would talk to them about the pieces they were playing.
RB:  You said you have enormous respect for Argerich.
AB:  I do – her performance of Ravel's Gaspard de la Nuit is amazing.  She is obviously brilliant at playing virtuoso repertoire but I also love her playing of Bach – it is so musical and spellbinding.
RB:  It would be good if we could hear her play more solo piano repertoire.  I also love her recording of Gaspard although I'm less convinced by some of the other recordings.  Some of the tempi she adopts in Schumann, for example, are too fast and the playing sometimes comes across as wayward.
AB:  I disagree.  I really love her Schumann playing.
RB:  I remember watching her play Prokofiev's Third Piano Concerto in my teens and I was completely bowled over by her.  There's no doubt she's a terrific pianist.  Which other pianists do you admire?
AB:  I admire Thibaudet because of his versatility and his ability to play jazz for example.  I have also enjoyed some of Richard Goode's playing.  Yuja Wang has a sensational technique but I am not always convinced by her interpretations.  I also feel she ought to engage with the audience a little more.  I also love some of the pianists from the golden age such as Gilels, Cortot and Lipatti.
RB:  Lipatti studied with Cortot of course although their style of playing is very different.  I sometimes feel Cortot receives bad press because of the number of inaccuracies which feature in his later recordings.  He was in his 70's when he recorded some of those pieces and the level of musical insight is extraordinary, notwithstanding the errors.
AB:  That's no excuse – there are too many inaccuracies in the later recordings although some of the earlier playing is wonderful, for example. his recording of Schumann's Carnival.
RB:  You have gained an enviable reputation for improvisation, including some jazz improvisations.  Can you tell us a little bit about that?
AB:  I really enjoy listening to jazz and I started to play jazz professionally when I was first married.  In the 1970's I needed to earn some money so I had a job working in the Cavendish Hotel in central London in the evenings.  People asked me to improvise on various tunes and I sometimes managed to land myself a Lobster Thermidor and a bottle of Champagne from appreciative audience members – although we had to give the Champagne back in those days!  I also played in a jazz club when I was in Rome and I've created improvisations on themes from various composers including Mendelssohn, Beethoven and Chopin.  I've never been able to improvise on music by Bach or Mozart but they are the exception rather than the rule.
RB:  You won the Arts Council International Piano Competition and a number of major scholarships.  What view do you take of piano competitions?
AB:  I have had some success in international piano competitions but I was not successful in the Leeds Piano Competition. I had been performing regularly on concert platforms at the time of the Leeds so I was rather surprised not to be allowed to enter the competition. My application was rejected and I never got to play a note in any of the rounds.  For various reasons I began to have serious reservations about competitions and decided never to enter another. I did relent when nearing thirty and when time was running out by entering and winning the Arts Council competition and one run by the BBC. I have since been on the jury of a number of international competitions and witnessed decisions having been made before the competition started. I hate the power competitions have in giving winners an instant top career, of which some are not worthy
RB:  You have an extensive discography and have recorded a number of award winning discs including recordings of piano music by Tchaikovsky and Satie and the complete piano concertos of Saint-Saëns (review) and Leighton.  You have also released a distinguished recording of Barber's piano music and performed the complete works.  Some of these works are very demanding so it must have taken you some time to learn them?
AB:  I had to learn Barber's complete piano works for Hyperion in six weeks. All of the works are very complex in texture but wonderfully musical and the Sonata is a triumph of huge power and brilliance, but with that agonizingly beautiful slow movement.
RB:  I have a fondness for Terence Judd's recording of the Barber Sonata.
AB:  Terence was a student around the same time as me and he did play the Barber Sonata well.  His suicide was a tragic loss to the musical world.
RB:  You have also recorded a number of works by Kenneth Leighton who was your teacher at Edinburgh University.  Can you tell us about these works?
AB:  Kenneth taught me harmony, counterpoint and composition and he was an inspired teacher.  He was also an extremely good pianist and had an excellent understanding of the capabilities of the instrument.  He wrote a number of superb works for the piano including three sonatas, a set of Study Variations, pieces for his daughter Angela and a number of preludes.  I recorded his complete works for piano (review). His widow was there for the recording sessions which took place in the concert hall of Edinburgh University.  Kenneth had frequently played to us, his students and where I had given recitals and concerto performances, so it was very poignant and emotional, particularly at the end.  Kenneth's works are wonderfully crafted and even the twelve-tone pieces, which I thought I would hate, have a musical flow to them. He found an individual voice where melody and passion are inextricably entangled with older forms such as counterpoint and fugue. I also recorded his First Piano Concerto which sounds a lot like Prokofiev (review).  The music is well worth investigating further.
RB:  Angela, it has been a pleasure talking to you.  May I wish you every success with the Debussy recording.