The National Gilbert & Sullivan Opera Company & Harrogate Festival,  4-20 August 2017 (RJW)
The National Gilbert and Sullivan Opera Company has assembled its 2017 season of G & S delights. We first heard of this unique company at the now world-famous International Gilbert & Sullivan Festival with an original professional line-up of ex-D'Oyly Carte principals that included Kenneth Sandford, John Ayldon, Alistair Donkin, Geoffrey Shovelton, Patricia Leonard and Lorraine Daniels when first staging The Yeomen of the Guard. It has developed over the decades to become one of the world's finest professional Gilbert and Sullivan touring groups. This year it will be performing Mikado, Pirates of Penzance, HMS Pinafore and Princess Ida at Windsor, Buxton, Harrogate Festival, Malvern, Norwich and Newcastle-on-Tyne between 20 July and 30 September.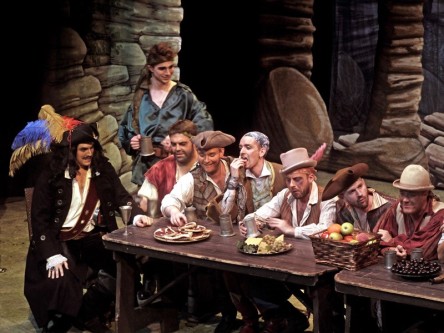 The 2017 Festival has a line-up of new faces, and others making a welcome return. Vivian Coates, founder and artistic director of Lyric Opera in Ireland, will direct two new productions – Princess Ida and The Pirates of Penzance. The President of Italy decorated him for his services in promoting Italian opera in Ireland.
Michael McCaffery (Old Vic Company, National Theatre, Glyndebourne and the Bayreuth Festival) directs a new production of The Mikado at Harrogate in August and Donald Maxwell returns to direct HMS Pinafore and star in Princess Ida. Andrew Nicklin takes over the Musical Direction for three of the four shows and Aidan Faughey conducts Princess Ida.
Other frontline newcomers include Anthony Flaum who made his mainstage debut with the English National Opera this year (Nanki Poo and Frederic); Mae Heydorn the Swedish/German mezzo soprano (Glyndebourne, Grange Park Opera) takes Katisha, Buttercup, and Ruth; Emma Walsh (Lyric Opera, Nevill Holt Opera, Winslow Hall Opera) will play Princess Ida, Josephine and Mabel; Natalie Montakhab, a rising star with Welsh National Opera, Scottish Opera and English National Opera will play Yum Yum.
Toby Stafford-Allen is known to us as one of Britain's leading baritones with English National Opera and will play Pirate King, Pish Tush and Captain Corcoran. Simon Wilding, a member of the Bayreuth Festival Chorus, has also starred with English National Opera, Opera Holland Park, and Royal Opera and will play the Sergeant of Police, Pooh Bah and Dick Deadeye. When you add well-known singers like Richard Gauntlett (Major General, Sir Joseph and Ko-Ko); James Elliott (Ralph Rackstraw and Hilarion), Richard Suart (King Gama); Nicholas Sales (Cyril); James Cleverton (Arac) and Gaynor Keeble (Lady Blanche) you can understand why the production teams are excited at laying these new foundations of talent.
The Festival venues are the Royal Hall and Savoy theatres in Harrogate. A busy fringe programme complements the stage performances between August 4rd and 20th August 2017. The brochure can be seen at the Gilbert and Sullivan Festival website.
 Raymond J Walker