United States Verdi, Rigoletto: Soloists, orchestra and chorus of San Francisco Opera / Nicola Luisotti (conductor), War Memorial Opera House, San Francisco. 6.6.2017. (HS)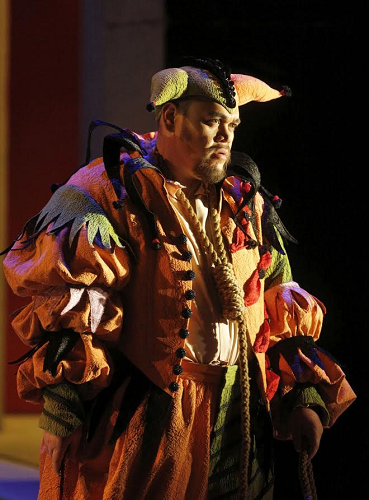 Cast:
Rigoletto – Quinn Kelsey
Gilda – Nino Machaidze
The Duke of Mantua – Pene Pati
Maddalena – Zanda Švēde
Sparafucile – Andrea Silvestrelli
Count Monterone – Reginald Smith, Jr.
Marullo – Andrew G. Manea
Borsa – Amitai Pati
Count Ceprano – Anthony Reed
Countess Ceprano – Amina Edris
Production:
Director – Rob Kearley
Set Designer – Michael Yeargan
Costume Designer – Constance Hoffman
Lighting Designer – Gary Marder
Chorus Director – Ian Robertson
Choreographer – Lawrence Pech
Fight Director – Dave Maier
San Francisco Opera is dipping into the "greatest hits" bag for its three late spring/early summer operas this year. Young talent in starring roles paid dividends in Verdi's Rigoletto (Mozart's Don Giovanni and Puccini's La bohème are the others).
Homegrown singers excelled in three of the key roles in Tuesday's second performance of this Rigoletto run at the War Memorial Opera House. Baritone Quinn Kelsey came through the company's Adler Fellow program. Tenor Pene Pati and mezzo-soprano Zanda Švēde are both completing their two years as Fellows. Though the Fellows often fill out comprimario assignments, it's rare for several to take on starring roles on the big stage, and these three carried the vocal load admirably.
The star, appropriately enough, was Kelsey as the malformed jester, Rigoletto. Verdi's heroic melodic range presented no great challenges for his resonant baritone, and his stage presence created a character free of histrionics. His Rigoletto was a weary man worn down by the stress of entertaining a malicious, philandering duke and his cynical court, while keeping secret the presence of a daughter coming of age, all the while struggling to maintain some dignity.
As the Duke of Mantua, Pati hit all the right notes in the big arias ("Questa e quella," "La donna è mobile") with purity and clarity, even if he missed some of the character's swagger. Švēde's Maddalena, who lures the duke into a trap only to beg her brother to spare him, had all the sultry qualities one could want in voice, attitude and body language. These three, plus soprano Nino Machaidze as Gilda, combined for a superb Act III quartet, "Bella figlia dell'amore," their voices intertwining with precision and sinuousness.
From the opening prelude, conductor Nicola Luisotti, completing his penultimate season as the company's music director, whipped up a vivid orchestral presence. The ensemble was the engine that drove the momentum, even if it took the cast a while to catch up.
Things got off to a somewhat tentative start. In Act I all the notes were in place and everything felt correct, but the excitement level didn't get into gear until Act II, when the intensity of the emotional punches landed with more specificity and musical effectiveness.
This was the fifth time around for Michael Yeargan's production, inspired by the metaphysical art of Giorgio di Chirico, all angles and shadows, first seen in 1997. And for the first act it all seemed just a bit too static. Part of the problem was Rob Kearly's direction, which kept the individual characters in their own worlds rather than interacting. Kearly's handling of the crowded ball scene in Act I was exemplary in clarifying the individual moments that so often go past in a blur. But the short scene in which Rigoletto is alternately tempted and revolted by the sword-for-hire Sparafucile (resonantly voiced by bass Andrea Silvestrelli)—offering his services to rid him of his nemesis, the Duke—went by without much impact.
Even "Caro nome," Gilda's crowd-pleasing coloratura aria near the end of Act I, could not stir audience enthusiasm. Machaidze's creamy-textured voice did not quite achieve the necessary youthful brightness. She sang better in Act II, but Kearly staged the emotionally gripping Rigoletto-Gilda duet, one of Verdi's great father-daughter scenes, with Rigoletto sitting on the floor while he sang of comforting Gilda, several paces away. This was one of several staging moments that seemed intentionally designed to separate characters rather than bring them together.
At the same time the musical benefits were paying off. Kelsey's singing in Act II brought color and power to his interactions with the courtiers ("Cortigiani, vil razza") and ultimate decision to get payback on the Duke ("Si, vendetta"), amped up by vital work in the pit from Luisotti and the orchestra.
Things came together with even more oomph in Act III. In more spinto-oriented music Machaidze effortlessly fit her rich sound over ensembles, Kelsey could play the avenging father, Pati could swan into Sparafucile's inn, and Švēde could complete the quartet at the center of the act. Machaidze died artfully in Kelsey's arms in an affecting finish.
Among the smaller roles, of special note was Reginald Smith Jr. as Count Monterone, whose curse haunts the jester through the entire opera. The winner of the 2015 Metropolitan Opera auditions and a recent graduate of Houston Grand Opera's studio, Smith deployed a generous bass-baritone in his brief moments, marking him as a voice worth noting for future reference in larger roles.
Harvey Steiman