Canada Tovey, Korngold, Mahler: Marion Newman (mezzo-soprano), Baiba Skride (violin), Vancouver Symphony Orchestra / Bramwell Tovey (conductor), Vancouver, 10.6.2017. (GN)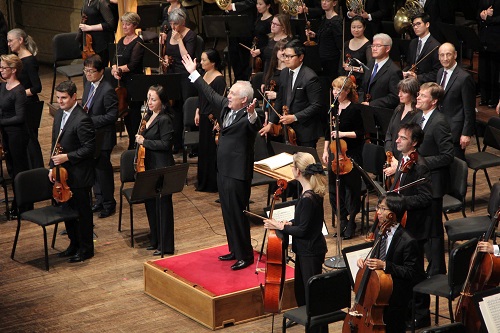 Tovey – Ancestral Voices
Korngold – Violin Concerto in D major Op.35
Mahler – Symphony No.1 in D major
Saving the best for last is an old adage but it certainly fit the VSO's season finale, which was a cornucopia of riches from beginning to end. Estimable Latvian violinist Baiba Skride gave a wonderfully penetrating performance of the Korngold Violin Concerto while Bramwell Tovey contributed a sensitive and deeply-felt reading of Mahler's First Symphony – in many respects, his best Mahler performance to date. But that was not all: the premiere of the maestro's own song cycle, Ancestral Voices, inspired by the historical plight of First Nations peoples and the search for reconciliation, started the evening. This added a particular gravity to the occasion, the more so as the songs fostered a Mahlerian spirit and the First Nations soloist, mezzo-soprano Marion Newman, conveyed such feeling throughout.
Few have failed to respond to the tonal beauty of Baiba Skride's playing. Her tone is relatively lean but her lines are so pure and firmly etched, and she is never short of radiant feeling or virtuosity when she needs them. These virtues have been amply exhibited in her Orfeo recordings that span Mozart to Szymanowski. Korngold's Violin Concerto (1945) was dedicated to Alma Mahler and premiered by Heifetz, and is well known to pay a debt to his celebrated status as a film music composer. While the work has invited both luxuriant and sentimental treatments, what I liked about Skride's performance is that it took aim at the structural integrity of the work and the objective of eliciting it in the most uncertain terms. The lyrical line was always exposed in beautifully sculpted paragraphs but it was never excessively padded or overly romantic. This was especially true of the opening Moderato, which had a tremendous sense of simplicity and natural motion. Her playing was always structurally anchored, with an ease and refinement at the top of the register, yet consistently finding moments of tenderness and nobility, and of intimacy and wonder, without veering into lusher postures. The Romance was perhaps even more striking: Skride courted a great variety of refined inward expression to start, only pushing out to a disarming beauty and feeling in the middle of the movement. I was impressed that she waited until that point to introduce a fuller emotional response, and the effect was entrancing. The motion-packed finale displayed a strong Slavic (sometimes almost gypsy) pull in her rhythms, but remarkable flexibility and lyricism too. The sense of anticipation in her playing was virtually perfect, and she built to the exciting ending with the greatest sense of structural resolution.
This was such a clean, natural reading of the work, and Bramwell Tovey's conducting fit her approach every step of the way: never overstated and always reinforcing musical values. Their balance was impeccable. Skride brought out all the integrity and natural beauty in this concerto without any effort to soften it or provide extra beautification. I am convinced this approach makes the concerto stronger in musical terms.
It is probably true that less can go wrong in Mahler's First Symphony than in any of the later and longer ones, yet even this symphony can fail if one does not get the Mahlerian feeling right. Bramwell Tovey has now conducted all nine symphonies at least once, and I think this return to No.1 demonstrated the greatest sense of internalized Mahlerian feeling thus far, allowing a fuller delineation of structure and a broader range of lyrical penetration. At the opening, the high strings set exactly the right degree of expectancy, and the pungent winds added a strong foreboding on top of the music's naturalism. The movement into the 'wayfarer' song was judged perfectly, enticingly gentle and aware of the capricious jig-jog in the rhythms. I liked the way the conductor avoided any boldness and smoothness in this delivery. And then something we do not often hear: a repeat of the exposition, which was largely successful since it heightened the subsequent full climax without affecting continuity. And the full climax emerged in masterly fashion, building up kaleidoscopically, mixing subtle rhythmic hesitations and surges of feeling within the participation of the contrasting orchestral choirs. This was very Mahlerian: I recall something like it in Jascha Horenstein's readings of years ago, and likely evidenced the attention paid to Mahler's copious markings in the score.
The following Ländler was broad and strong but it was the treatment of the Trio that was the next highlight: so beautifully felt and absolutely idiomatic in exposing its sensuality and the teasing rubato of café music. The Adagio proceeded at a nicely settled tempo, with a good sense of inexorability and refined dynamics from the orchestra, again finding many instances of Mahlerian magic in the klezmer sections later on. Maestro Tovey has previously demonstrated an ability to weld together Mahler's long finales with an iron hand, and this was no exception. While I might have liked slightly more lingering here and there, this traversal did not really miss a beat, incorporating the references to previous material fluently, finding an underlying tenderness in the strings, and building both the middle and closing marches with both balance and overarching power. There was a lovely sense of wholeness to it all. Moreover, the orchestra played superlatively – a monument to Bramwell Tovey's Mahlerian explorations.
As a composer, Maestro Tovey has recently been concerned with the painful inequities in Canadian history; the premiere of Ancestral Voices on this occasion follows upon his Fugitive Voices of a few months ago. It was written to commemorate Canada's 150th birthday this 1 July (the VSO actually reaches its own centenary next year). With the rich and darkly-hued vocal fabric and searching legato line of First Nations mezzo Marion Newman guiding the way, these four songs impressed by their depth of feeling, leading us into the hopes and despair of the indigenous peoples with immediacy. The lyrics drew on heterogeneous sources (including archival documents) but did not use First Nations texts as such.
There was a fine mix of the rustic past and Mahlerian textures in the first and last songs, in particular emulating Mahler's love of Hans Bethge's Die chinesische Flöte, an inspiration for Das Lied von der Erde, as well as exploring vocal contours in the vein of Kindertotenlieder. The last song in fact drew on 'The Song of the Last Bison' by Charles Mair, a Canadian of Scottish descent. The middle songs involved richer orchestration, the second having some of the sweep and projection of Rachmaninoff and the American moderns while fleetingly paying homage to Britten's Serenade. While there were a few moments where I did not feel the texts fully integrated with the lyrical line of the voice, and others where I might have liked softer volumes, this effort constituted a unique and remarkably sincere collaboration of Marion Newman and Bramwell Tovey, one that will be remembered for its consummate involvement.
Everything was a 'highlight' at this closing concert, and one cannot ask for more.
Geoffrey Newman
Previously published in a slightly different form on http://www.vanclassicalmusic.com.