Angels in America at the National Theatre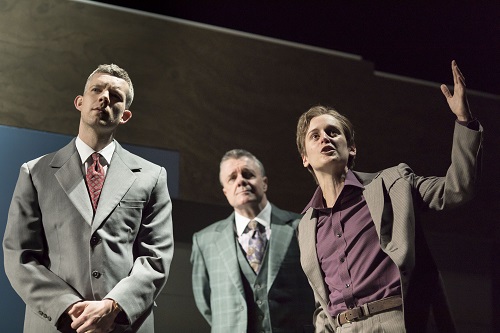 It must now be over half a century that the love which dare not speak its name has been shouting itself hoarse from the rooftops.
Around the time the National Theatre opened Angels in America, the British Library opened a smallish exhibition Gay UK: Love Law and Liberty. The contrast between the two events could hardly be greater. The British Library's exhibition is an invitation to consider the effects of gay literature on the Law and the Public, while sitting on the fence on any judgement as to which was "right" at any time between Wilde – or more precisely, Wilde's trial – and today's people. Angels in America, while predominantly fiction, is strenuously partisan, challenging its audience to identify with any or all of the experiences portrayed.
Angels in America is in two parts. The New York Observer says, 'it ranks as nothing less than one of the greatest plays of the twentieth century' with Part One: Millennium Approaches (three and a half hours running time with two short intervals)) and Part Two: Perestroika (four hours and fifteen minutes with two short intervals). I went to the marathon, with both parts on the same day, 28 June 2017.
These Wagnerian demands are not coincidental. Wittingly or not, every scene is polished with Wagnerian aplomb.  Author, Tony Kushner, seems to take the view –it's not what you can give to an audience, so much as what you can get out of them. His demands are great. But I shall argue that they are justified. I confess that like Nietzsche, (at the end of Tristan) I did come out gasping for air.
The action takes place between October 1985 and January 1990, mostly in Manhattan, centring on the AIDS crisis during the Reagan administration.
On the surface, Götterdämmerung (The Twilight of the Gods) may appear to have little to do with Perestroika. But experiencing them in the theatre is frighteningly similar: they both use the ancient device of in my beginning is my end. This profoundly disturbs as well as offering an unusual kind of reassurance. You don't have to go to the extreme of Anna Russell's brilliant parodied guide to the Ring in New York Town-hall: 'You're exactly where you started three and a half nights ago'. Wagner does this with an E flat chord rolling across a big orchestra; Kushner with the HIV virus spreading itself through Manhattan's Jewish, gay community. Mercifully, Kushner is not above parody either: the Jewish gay community were frequently Camp, and their author knows that this lightens the audience's load, not to mention the actors'. Their self-deprecation becomes their art, you might almost say.
Wagner was the unique orchestrator of all time. The orchestra of the Ring is arguably its most important character. He was not content to understand oboe-ness or violin-ness or timpani-ness. More profoundly he went behind those ideas and asked what produced all instrumental sound. The answer is, of course, by rubbing, blowing or hitting. This exploration of the physicality of music-making, puts the focus on different values. The three values are also sexual values. Hence the sensuality of Wagner. And while we are here, it is useful to note too that Wagner also revolutionised vocal sound (spoken or sung) by understanding that that too was dependent on the sexual trinity of rubbing, blowing, hitting. As every schoolgirl knows, the Wagnerian vocal sound was a different kind of vocal sound. The rest is history.
Or not quite. The art is alive and well, as well as developing, with the National Theatre's writers, stage-directors, actors and composer. It will be useful to take these persons in turn, to understand their unequivocal contribution to the Wagner art.
Tony Kushner is a hands-on writer for the theatre, rewriting his script for the talent available. Both parts of Angels were first seen at the National Theatre in November 1993, by the Cheek by Jowl duo of Declan Donnellan (director) and Nick Ormerod (sets and costumes) with music by Paddy Cunneen. Anyone who has seen a Cheek by Jowl show will need no reminder of the overwhelming physicality of their theatre.
In 2017 the National's physicality status is arguably even greater. I sadly regret that I did not see the 1993 show. The 2017 director is Marianne Elliott (who won an Olivier Award for her staging of the National's The Curious Incident of the Dog at Midnight) Ms Elliott's demands on her actors are more than should be reasonably expected from these dedicated people. I fancy she has had a big say in the casting. But not only. Her movements of the angels as well as the main angel (choreographer, Robby Graham) perfectly delivers on Kushner's production notes that the angels are neither heavenly nor earthly, but messengers of the in-between, and for that reason, ultimately powerless. Nicky Gillibrand's costumes help here as does Paule Constable's lighting. The message of hopeful but powerless comes across perfectly. Prior Walter's plea to them at the end of the evening, 'Bless me, anyway', comes across as heart-wrenching. Played by Andrew Garfield and also finely choreographed, as you might expect of ex-Spiderman.
But for me, the most astonishing choreographed performance of the evening came from Russell Tovey (who started out as an Alan Bennett History Boy) who plays Joseph (Jo) Pitt, a Mormon lawyer in the services of a monster high-powered legal "institution" by the name of Roy M Cohn, who cares nothing for justice, but everything for winning, which he did in every case he took on. Cohn (1927 -1986) was a real-life person, personal friend and lawyer to Ronald Reagan, and a closet-queen who died of AIDS, but hated gays and always insisted he was dying of liver malfunction. He prosecuted Ethel Rosenberg on spying charges and led to her execution, even though he knew she was innocent. Ethel's ghost makes appearances in the plays, though just like any other character, except that Cohn is the only person in the room who can see her. Some ghosts are too real to need special ghost effects. Real-life (at least there are those who believe he is real-life) Donald Trump was a Cohn client, not surprisingly in view of the trajectory of lie all you like, but don't take your eye off the winning goal.  We are spared a Trump appearance in this play. Nathan Lane makes his National Theatre debut as Roy Cohn, a role he plays with authority.
We see Cohn manipulating Jo like putty, rather like Jo's mother too, Hannah Pitt (Susan Brown) and to a lesser degree, his wife, Harper Pitt (Denise Gough). As fine an actress as Ms Gough is, I found that she alternately underplayed or overplayed the role, but in some ways, that is how it is written. Jo very slowly begins to realise his homosexual urges, and here, (Tovey is himself openly gay) the doubts begin to express themselves in slowly-developing spasms: Tovey is frighteningly good in this. The audience were increasingly trembling with him, praying he would stop and/or relax.
Kushner is dedicated to split-scene staging, where two or more actions are taking place at the same time but in different locations. One hugely effective use of this technique was lifted directly from the final quartet of Rigoletto. Downstage left, Jo is on an isolated beach, phoning his mother, who is downstage right; their relationship becomes more estranged by the minute. Centre stage, Louis (a court recorder and lover of Prior) is having a row with Harper Pitt; both of them, each to the surprise of the other, have become emotionally entangled. You will remember that in the Verdi melodrama, we see the inside and outside of a tavern; outside, Rigoletto is concluding business with the assassin, Sparafucile, to murder the Duke, who, blissfully unaware, sings in an upstairs room of his love for Gilda, while below, Maddalena, mistress of the tavern, prepares Gilda to meet the Duke. Verdi keeps all four in perfect characterisation throughout the quartet; his ensemble masterpiece! Kushner does the same with the same devastating effect in the Angels scene. Both Verdi and Kushner have a perfectionist feel for rhythms as well as pitches.
This brings me to Angels composer, Adrian Sutton, who describes himself as a physicist interested in the world of music; hence his physicality of sound. He has already won an Olivier award for his music in The Curious Incident of the Dog at Midnight. His music mixes instrumental (both chamber and orchestral) with electronic music. There are four revolving discs on the Littleton stage which turn noiselessly to change scene(s), as well as sets which rise through the boards or lower from the tower: quite a choreography of sets-changing. Sutton also knows when silence is the best music. Has he been studying Cage? This is sometimes effective if in an alarming way. I heard appropriately misquoted references to Stravinsky's Rite of Spring as well as Verdi's Aida trumpets. The misquotes are always placed with masterly precision, sometimes chilling, sometimes thrilling.
Jack Buckley
Angels in America will soon be showing at a cinema near you in the National Theatre's Live Programme: Part 1 on Thursday 20 July and Part 2 on Thursday 27 July, both at 7pm (click here).