United Kingdom Mendelssohn, César Franck, Liszt: Soloists and artists of the Royal Ballet, Royal Opera House Orchestra / Emmanuel Plasson (conductor). Live cinema relay directed for the screen by Ross MacGibbon and introduced by Darcey Bussell and Ore Oduba. Broadcast to Cineworld Basildon, Essex. 7.6.2017. (JPr)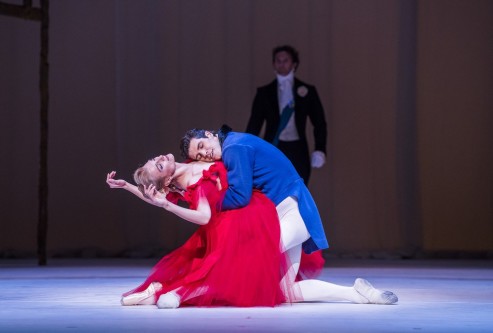 The Dream
Choreography – Frederick Ashton
Music – Felix Mendelssohn (musical arrangement – John Lanchbery)
London Oratory Junior Choir
Designer – David Walker
Lighting designer -John B. Read
Dancers included – Steven McRae (Oberon), Akane Takada (Titania), Valentino Zucchetti (Puck) and Bennet Gartside (Bottom)
Symphonic Variations
Choreography – Frederick Ashton
Music – César Franck
Piano -Paul Stobart
Designer – Sophie Fedorovitch
Lighting designer -John B. Read
Dancers – Marianela Nuñez, Vadim Muntagirov, Yuhui Choe, James Hay, Yasmine Naghdi and Tristan Dyer
Marguerite and Armand
Choreography – Frederick Ashton
Music – Franz Liszt (orchestration – Dudley Simpson)
Piano – Robert Clark
Designer – Cecil Beaton
Lighting designer -John B. Read
Dancers included – Zenaida Yanowsky (Marguerite) and Roberto Bolle (Armand)
There was so much goodwill on stage for this celebration of the choreography of Sir Frederick Ashton because this was the last performance of Zenaida Yanowsky as permanent principal dancer with The Royal Ballet. The word permanent is important as the director of The Royal Ballet, Kevin O'Hare, was keen to stress how he hoped he could to do some future projects with Yanowsky, who he praised for her 'unique artistry' as she was surrounded in floral tributes from a number of colleagues and friends. After 23 years this wonderful stalwart of the company has reached what seems to be its unofficial retiring age for ballerinas. It was interesting to note that Roberto Bolle – guesting as her young lover in Marguerite and Armand – is also in his early 40s and a few months older than Yanowsky.
For me this was far from the best ballet evening I have seen at Covent Garden -either in person or at the cinema – but I suspect those new to these works, either in the cinema or watching on the BP Big Screens, will have enjoyed it much more than I did. There was much fine dancing to admire, but overall it was clear that it was near the end of a long season and there is the thorny issue of the paucity of truly exceptional dancers in the current company. In the right role such as The Queen of Hearts (click here) Yanowsky was a remarkable performer but Marguerite and Armand was created in 1963 for Fonteyn and Nureyev who I saw dance this for a final time in 1977. Set to Liszt's B minor piano sonata – and in Cecil Beaton's designs – there is a montage of scenes and it is based on Dumas the younger's La Dame aux Camélias (think La traviata).
This is already a partly autobiographical story of a doomed courtesan and her love, whilst Ashton used it to also explore the partnership of Fonteyn and Nureyev. For Fonteyn the trials and tribulations her character goes through – because of the conflicts of love and duty – were particular significant. Yanowsky was a passionate Marguerite who is somewhat melancholic throughout as she accepts her fate and elicits our sympathy at her demise. There was not the fragility from her that Fonteyn showed and certainly the rather self-absorbed Roberto Bolle did not prowl the stage like Nureyev. I never felt any chemistry between him and Yanowsky that must be there if Marguerite and Armand is to truly allay the ghosts of the past.
One of the highlights of the backstage chat or the films – apart from Darcey Bussell asking Kevin O'Hara how it was performing for Fred Astaire instead of Frederick Ashton! – was watching 98-years-young Henry Danton talking about creating a role in the first performance of Symphonic Variations in 1946. He recalled rehearsing at the National Gallery when most of the paintings were still in storage and how hard the floor was. Their health was a concern because of the lack of food during the war years and the dancers were constantly checked and found to work harder than any manual labourer. It was the first work Ashton created for the reopening of Covent Garden and is an abstract piece – celebrating the beauty of pure movement – for three men and three women all clad in white dancing on an uncluttered stage to César Franck's Symphonic Variations. Its placid calm belies some technical terrors and – though all three pairs acquitted themselves well – eyes were drawn to the authority and limpid grace of two of the few real stars The Royal Ballet currently has, Marianela Nuñez and Vadim Muntagirov. At least these two dancers are the equal of those of the past they are trying to emulate in this short ballet.
The longest work The Dream had opened this celebration: Ashton has reduced my favourite Shakespeare play to a little over 50 minutes. It has all the classic Ashton tropes of nimble feet and supple use of torso and not just arms and legs. Using Mendelssohn's familiar music, he presents a microcosm of the play's original magic, romance and broad comedy. The aphrodisiacal flower's daftness was wonderfully played by the quartet of Itziar Mendizabal (Helena), Tomas Mock (Demetrius), Claire Clavert (Hermia) and Matthew Ball (Lysander) as the confused lovers. Bennet Gartside, dancing en pointe, was a suitably enchanted and unaware Bottom. I had trouble with Puck being – however marginally – taller than Oberon and certainly Valentino Zucchetti looks as if he has 'outgrown' Puck, however spirited his dancing or how winningly he smiled through all his character's mischief. (I saw Wayne Sleep dance this role and his performance is the benchmark for me.) Steven McRae's phenomenal fey athleticism, as expected, makes short work of Oberon's mercurial solos, but he remains a dancer who I feel would be more suited to Puck than the King of the Fairies. Both McRae and his Titania, Akane Takada, lack the facial expression to bring their characters to life regardless of how well they recreate Ashton's steps. Takane also lacked a certain ethereal quality and sensuousness and once again there was a lack of chemistry between her and Oberon which undermined Ashton's romantic reconciliation duet.
The London Oratory Junior Choir made a gossamer-like contribution to The Dream and – as heard through the cinema loudspeakers – the Orchestra of the Royal Opera House played the Mendelssohn, Franck and Liszt spiritedly under the watchful and supportive baton of Emmanuel Plasson. Paul Stobart and Robert Clark were the valiant soloists for, respectively, the music of Franck and Liszt.
Jim Pritchard
To view the full list of forthcoming broadcasts and to find a cinema near you visit http://www.roh.org.uk/cinemas.