United Kingdom Jule Styne and Bob Merrill, Funny Girl – The Musical: Cliffs Pavilion, Southend, Essex, 20.6.2017. (JPr)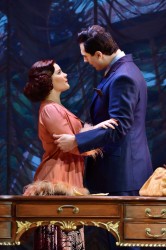 Production:
Music – Jule Styne
Lyrics – Bob Merrill
Book – Isobel Lennart (revised by Harvey Fierstein)
Director – Michael Mayer
Choreography – Lynne Page
Set Designer – Michael Pavelka
Costume Designer – Matthew Wright
Lighting Designer – Mark Henderson
Musical Director – Ben van Tienen
Cast included:
Fanny Brice – Natasha J Barnes
Nick Arnstein – Darius Campbell
Eddie Ryan – Joshua Lay
Mrs Brice – Rachel Izen
Mrs Strakosh – Myra Sands
Mrs Meeker – Zoë Ann Bown
Mr Keeney – Martin Callaghan
Florenz Ziegfeld – Nigel Barber
Well I thought the cast of 42nd Street (review here) were the hardest working I had ever seen in a musical … or anything on stage for that matter! They numbered more than 50 whilst this Funny Girl involved only about two dozen performers and are now the hardest working I have seen. Currently touring until mid-August (click here) it arrived at Southend's Cliffs Pavilion to prove all the plaudits this revival has received since being put on at London's Menier Chocolate Factory in 2015 and Savoy Theatre last year are well merited.
I must begin by explaining that despite having seen Barbra Streisand live in concert and watched many of her films I have never seen Funny Girl either on film or stage before. Before the 1969 film Streisand had made her name in the role of Fanny Brice on Broadway and London's West End. Though any comparisons would be odious I feel it is important to write this as the tour's website mentions Streisand on the first page.
Funny Girl is a bio-musical and a rom-com of sorts. Unlike the traditional rom-com; despite the two characters meeting, then parting ways due to an argument or – as here – other obstacle, instead of ultimately reuniting and living happily ever after, they decide to go their separate ways.
Fanny Brice was born as Fania Borach in 1891 and the daughter of Hungarian immigrants. They were part of the great nineteenth-century Jewish Diaspora which saw as many as five million people on the move in Europe many ending up – as Fanny's parents – in a New York Lower East Side tenement.  Despite not being an 'American beauty', she had a meteoric rise from burlesque and musical revues to become part of the Ziegfeld Follies starting in 1910. As stated in the programme: 'She stayed through six editions of the show until 1923, winning over audiences with her ungainly walk, catalogue of funny faces and the ability to sing serious and silly songs with equal commitment'. The Broadway star also was a great success in Hollywood and on radio, but beneath the makeup and behind the smile her personal life was fraught with complications. In a more innocent TV and social media-less age the public was captivated as much by Fanny and her celebrity lifestyle as her second marriage to Julius W 'Nicky' Arnstein 'a con man with a fondness for "the cards, the dice and the horses" '. Shortly after his release from two years in prison for some dodgy dealings Fanny and Nicky – he is Nick in the show – divorced. It is Fanny's life to this point that Funny Girl concentrates on, though she was a star to the end of a too short life and died in 1951 when 59.
My favourite Streisand film is 'A Star is Born' and it is well known that a new star was indeed born as soon as Natasha J Barnes took the stage at the Savoy Theatre replacing an ailing Sheridan Smith who had created Fanny Brice in this revival. Smith was back performing on this tour – and alternating with Barnes – but having succumbed recently to mumps, Barnes now replaced her for this week at Southend's resplendent Cliffs Pavilion. The standing ovation she deservedly received at the end of the evening visibly brought tears to her eyes. 'I'm the greatest star, I am by far, but no one knows it' claims Fanny early on as much to convince herself as any doubters. Everyone knows by now that Natasha J Barnes is a great talent and she clearly proved that once again.
Within Michael Pavelka's off-kilter proscenium arch-shaped set we witness the rise and rise of Fanny Brice – from precocious child to the main attraction. But as with all fame, it comes at a cost. Barnes splendidly captures the awkward dichotomy of being adored when on stage by thousands, but later sitting alone in her dressing room. She moves believably – the most difficult thing in musicals of the golden age – from the gawky wannabee with steely determination, a big, bright, smile and an impressive ability for pulling funny faces, to laying bare her private fragility during the introspective 'People'. Off the leash for the barn-storming Act I closer 'Don't Rain On My Parade' we feel as much joy listening to her as Barnes seems to have performing it. On top of this she is extremely funny as Fanny Brice the performer. Even the moments of 'corpsing' when sitting on Nick's lap and perhaps feeling something she shouldn't, or her fun with the comedy moustache in 'Rat-Tat-Tat-Tat', Barnes shows impeccable comic timing. Despite an element of spontaneity, I suspect these delightful moments were well-rehearsed and seen every night.
You are not going to get a psychoanalytical dissection of a doomed relationship from Isobel Lennart's book and Bob Merrill's lyrics and it is all still a feel-good musical despite a downbeat ending, with all the stirring songs and the glamour and glitz of 1920s Broadway. Like its heroine Michael Mayer's staging never takes itself too seriously. The remarkable ensemble works hard to show us the relentless whirlwind of show business, and there are some genuinely funny routines recreated from the heyday of the musical halls. I must give a special mention to Brice's mother and her friends who comment on events throughout Fanny's life from her humble beginnings onwards. It is great to see such accomplished performers of a slightly older generation – Rachel Izen (Mrs Brice), Myra Sands (Mrs Strakosh) and Zoë Ann Bown (Mrs Meeker) – centre-stage so often. Also loyal to Fanny throughout is Eddie (played by the talented Joshua Lay). Fanny sees him as her 'friend' and he puts up with this when clearly wanting a more meaningful relationship.
Nick Arnstein remains something of a cypher in Funny Girl. When he first meets Fanny he is the 'big deal', the man with money, contacts, endless charm and an innate ability to schmooze. Like most inveterate gamblers he loses more than he wins and with a dramatic change in his fortunes the balance shifts as Fanny's fame eclipses his and he eventually resents her success. Darius Campbell is ideal as the tall, lanky, Arnstein and clearly has all the charisma necessary to justify Fanny's weak-at-the-knees adoration. Impressively tall and handsome he has the chiselled features of a 'matinée idol' from days of classic Hollywood. Like many of them he is a bit wooden which is not Campbell's fault and more the book. In Act I he has little to do but ooze charm and smugness in equal measure and does that very well. Later as his life spirals out of control and he begins to feel smothered, Campbell gets more to work with and he does illicit some sympathy for his plight especially during the duet 'Who Are You Now?'. I was fascinated throughout by his impeccable accent. Maybe it was my ears but there seemed something of the American South to it and part Rock Hudson (who Campbell most closely resembles), Randolph Scott and Fess Parker (TV's Davy Crockett and Daniel Boone).
A final word for the valiant small orchestra of 11 spiritedly led by Ben van Tienen which through Phij Adams's 'music technology' sounded a band at least four times the size!
Jim Pritchard
For more about forthcoming events at the Cliffs Pavilion click here.