United States Ives, Tilson Thomas, Harrison, Antheil: Measha Brueggergosman (soprano), Mikaela Bennett, Kara Dugan (vocalists), Nadya Tichman (violin), Peter Dugan (piano), San Francisco Symphony / Michael Tilson Thomas (conductor), Davies Symphony Hall, San Francisco. 23.6.2017. (HS)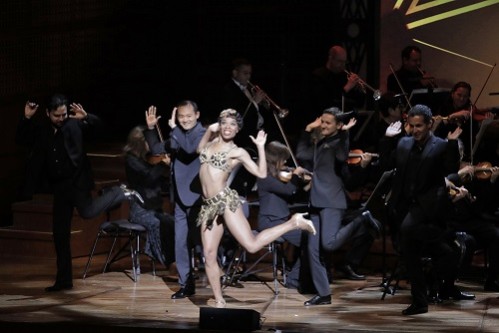 Ives – From the Steeples and the Mountains; The Unanswered Question
Michael Tilson Thomas – Four Preludes on Playthings of the Wind (West Coast Premiere)
Harrison – Selections from Suite for Violin with American Gamelan
Antheil – A Jazz Symphony
Director – James Darrah (Four Preludes on Playthings of the Wind)
Director and choreographer – Patricia Birch (A Jazz Symphony)
Dancers – Kiva Dawson, Erin Moore
Video design – Adam Larsen, Clyde Scott
Lighting design – Luke Kritzeck
Sound design – Mark Grey
Costume design – Dona Granata
It's become a June tradition for music director Michael Tilson Thomas to collect "American mavericks" – composers who pushed the envelope – into one program near the end of the every San Francisco Symphony season. "Music for a Modern Age," seen and heard Friday, the most theatrical of them all, added costumed dancers to George Antheil's cheeky 1925 A Jazz Symphony. There was also the west coast premiere of Tilson Thomas' own Four Preludes on Playthings of the Wind, a tour-de-force for South African soprano Measha Brueggergosman and competing instrumental ensembles.
Tilson Thomas' piece was the most highly anticipated work. The buzz preceded it from its 2016 Miami premiere with the New World Symphony, the conductor's other directorship. Based on a set of evocative poems by Carl Sandburg about the end of a once-vigorous civilization, the 32-minute piece's music mashes up bebop jazz, rhythm-and-blues with passages of mid-century dissonance, all handled with panache by a chamber-sized orchestra and a "bar ensemble" of saxophones and brass, nicely seasoned by principal percussionist Jacob Nissly on a jazz drum set.
As the same musical material shifted from one ensemble to the other, with fascinating contrasts, Brueggergosman and her two backup singers, all clad in tight-fitting, silvery-sparkly gowns, roamed around and through the orchestra. They brought plenty of energy and musical expression to soaring melodic lines. Theatrical lighting and an impressionistic mix of colors and shapes, projected on five blank screens surrounding the stage, enhanced the effects (rather than intruding upon them).
Except in the quietest sections, Davies' live acoustics obscured the sung words, unfortunately. Reverberations present a challenge with amplifed music, and Mark Grey's sound design could not cope. Sandburg's turns of phrase—and there are plenty of them—did not come through the revolving styles as they should have. The presentation tried to address this issue by first playing a recording of Tilson Thomas reading poem over the projected words. Supertitles would have helped more. But Brueggergosman's sense of jazz inflection and gorgeous sound came through unmistakably.
Echoes of this theatrical visual content and freewheeling jazz elements also beautifully informed Antheil's work, a 12-minute piece for piano and orchestra, written in 1925 as a sort of response to Gershwin's Rhapsody in Blue. Bursting with rhythm and piano fireworks (nicely etched by Peter Dugan), it finishes with a broad, naïve "big tune," all with a sharper harmonic and rhythmic edge than Gershwin's smooth textures. Two down-and-dirty trumpet solos from Mark Inouye created moments of honest jazz.
Director and choreographer Patricia Birch, a multiple Tony award nominee and longtime collaborator with Tilson Thomas' previous semi-staged evenings, added witty work by two scantily clad dancers to Antheil's edginess. Kiva Dawson, costumed by Dona Granata as a Zelda Fitzgerald flapper, enacted a charming flirtation with Dugan, the pianist. Erin Moore, done up as Josephine Baker, changed costumes behind a backlit screen and entranced four members of the violin section. She got them dancing with her and led them around saucily, getting belly laughs from a responsive audience.
Video projections by Clyde Scott nicely reflected the music, beginning with black-and-white clips of the 1920s and including color treatments reminiscent of Georges Braque and Marcel Duchamp.
The concert began with a stage of full of empty chairs, musicians positioned around the edges of the 2,743-seat Davies Symphony Hall for two short pieces by the original American maverick composer, Charles Ives. From the Steeples and the Mountains started quietly with two percussionists in the loge flanking the stage conjuring the sound of church bells, answered by a sextet of brass that had filed onto the stage. The Unanswered Question followed without pause, with principal trumpet Mark Inouye stationed in the second tier to intone the question while a group of strings floated serene harmonies from an anteroom at the back of the hall.
Though written shortly after the turn of the 20th century, well before the other works on the program, these proved the most challenging. Both have increasing dissonance, a woodwind quintet adding increasing pungent interjections. The musicians caught the sense of calm that brackets both works, particularly in Steeples, despite the strings suffering moments of indecisive intonation. (Also, Inouye has previously played the "question" with more attention to dynamics and diversity.)
Much better was a generous set of excerpts from Lou Harrison's Suite for Violin With American Gamelan (1974)—free of theatricality, unless you count the composer's collection of homemade marimba-like instruments, the "American gamelan" he constructed with his partner, Bill Colvig. The violinist Richard Dee collaborated on the pastoral, meandering melodies that wander through the hauntingly mellow sound world.
The selection used four of the seven movements (omitting the three long "Jhalas"). Associate concertmaster Nadya Tichman unfurled Harrison's long trains of thought with sincerity, warmth and welcome precision. Most enthralling was the final Chaconne, a set of smokestack-like tubes enhancing the resonance of the big marimba in a repeating bass line, completing an evening of impressive range and underlying connections.
Harvey Steiman