Spain Verdi, Il trovatore: Liceu Orchestra and Chorus / Daniele Callegari (conductor), Gran Teatre del Liceu, Barcelona, 18 & 20.7.2017. (JMI)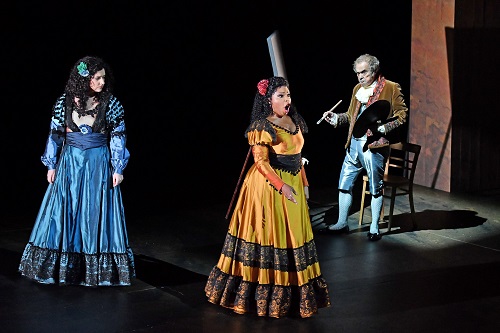 Casts:
Manrico – Marco Berti/Piero Pretti
Leonora – Kristin Lewis/Tamara Wilson
Azucena – Marianne Cornetti/Larisa Kostyuk
Conte di Luna – Artur Ruciński/George Petean
Ferrando – Carlo Colombara/Marco Spotti
Ruiz – Albert Casals
Ines – María Miró
Production: Liceu and Ópera de Oviedo
Director – Joan Anton Rechi
Stage concept – Joan Anton Rechi
Costumes – Mercè Paloma
Lighting – Albert Faura
This new production is not an especially convincing one. The action takes place at the start of the nineteenth century, and Goya's engravings on the horrors of war become the main protagonist of the staging. It is a minimalist work with barely any sets beyond the side walls; the Goya engravings are projected on the rear of the stage. The only colorful costumes are those of Leonora and Ines dressed as majas and of Ferrando and the Count of Luna as rich nobles.
Minimalist productions require an outstanding stage direction, but Joan Anton Rechi does not provide it here. His work with the main actors is quite prosaic, and the direction of group scenes is insufficient. Possibly the greatest meri of the production is its low cost: it almost looks like a concert version with costumes.
The conductor, Daniele Callegari, has returned to the Liceu after a four-year absence. His reading has been as efficient as so many others by him, but it takes more than efficiency to conduct Verdi. The Liceu orchestra fell below the level set on previous occasions this season, and the chorus was not particularly brilliant.
Manrico was sung by tenor Marco Berti; he also played the role the last time this opera was done at the Liceu. He has an attractive voice, one that is nicely suited to the character, but his singing can be monotonous, with little nuance and invariably in forte. He did well with 'La Pira' but was disappointing in 'Ah si, ben mio'.
In the second cast, Manrico was initially programmed for Korean tenor Yonghoon Lee, who cancelled due to illness. He was replaced by Piero Pretti who has an appealing and well-handled voice, but it is not big enough for this role and fell somewhat short in the more dramatic moments. I expected more from him in his aria.
I was struck by the performance of Kristin Lewis as Leonora. Eight years ago I saw her in this same role, and she seemed to me a promising soprano. Unfortunately, her voice has lost some of that quality and her pitch was more than doubtful at times. The two cabalettas did not go well. Soprano Tamara Wilson was a better Leonora with a pleasing voice that suits this character, but her acting skills need improvement.
Mezzo-soprano Ekaterina Gubanova cancelled as Azucena, apparently for personal reasons. Marianne Cornetti played all the Azucenas except one, and her performance was disappointing. She has an annoying vibrato and her high notes are uncontrolled. Larissa Kostyuk fell short in her one performance as Azucena.
The best from either cast was the Count Luna of baritone Artur Ruciński. He has a beautiful voice and sang 'Il balen' with gusto. George Petean as Conte di Lune in the second cast was not of great interest.
Carlo Colombara was a correct Ferrando; his voice was attractive in the middle and, as always, tight at the top. Marco Spotti was also correct as Ferrando. Albert Casals did fine as Ruiz, and so did Maria Miró as Ines.
José M. Irurzun