United States Mozart, The Magic Flute: Soloists, Cincinnati Opera. Aronoff Centre, Cincinnati, OH. 15.7.2017. (RDA)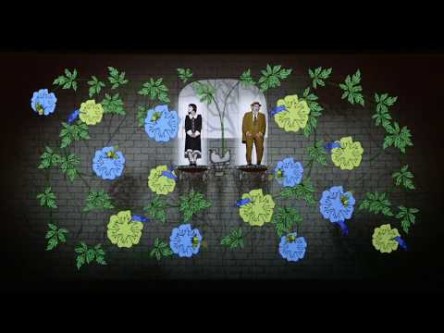 Cast:
Kim-Lillian Strebel – Pamina
Jeni Houser – Queen of the Night
Aaron Blake – Tamino
Rodion Pogossov – Papageno
Tom McNichols – Sarastro/Speaker
Production:
Conductor – Christopher Allen
Stage Director – Daniel Ellis
Production Designers – Suzanne Andrade and Barrie Kosky
Animations – Paul Barritt
Set and Costume Designer – Esther Bialas
Lighting Designer – Thomas C. Hase
Wigs and Make-up Designer: James Geier
Mozart wrote The Magic Flute for his friend, comedian and theatre producer Emmanuel Schikaneder, who wrote its libretto and a good part for himself. He then put it on on the rickety stage of his ramshackle theatre in a suburb of Vienna. There the common folks could come and enjoy a show for little money with one of their favorite stage stars.
While Schikaneder, a genius of comic invention, went mostly for laughs, Mozart combined the antics of Papageno's search for his ideal mate on the same stage with Tamino's search for Pamina. In Barrie Kosky's feverish dream of a production for the Cincinnati Opera, the serious and the comical are perfectly combined, producing sheer enchantment for both the conservative opera fan and the newbie.
The story is both preposterously complex and funny. Tamino encounters a giant snake in the woods, is swallowed whole, but is saved from its digestive tract by three ladies who are employed by The Queen of the Night, mother of Pamina, who has been kidnapped for her own good by Sarastro, spiritual leader of the Masonic Temple of Wisdom, here comically dressed in a black frogcoat and stovepipe hat.
Tamino is shown a picture of Pamina and is instantly smitten by her beauty. At the behest of the Queen of the Night, the young Prince sets off on a quest to rescue the young Princess, armed with a magic flute. Accompanying him, the bird catcher Papageno, who has magic bells.
In the end, everyone gets what they deserve: Papageno finds his Papagena, Tamino and Pamina are finally united, and the Queen of the Night, her attending ladies, and her Nosferatu look-alike, Monostatos, are engulfed in flames.
Jeni Houser, as the Queen of the Night and Kim-Lillian Strebel as Pamina provided several of the evening's highlights with their arias. Houser sang with accuracy, fearlesly checking off the abundance of dreaded high F's above the staff.
Strebel sang sumptuously in her aria and in her suicide scene, and looked every inch a Princess. Aaron Blake was an ideal Tamino, cutting a handsome figure and excelling in the Bildniss aria. Rodion Pogossov was comical, fleet-footed, and vocally and musically satisfying as Papageno. Tom McNichols, doing double-duty as the Speaker and Sarastro was effective, though lighter of voice than the profundo basses who usually sing this role.
Christopher Allen crafted a note-perfect performance that began with a superb overture. He worked well with the singers, and led the orchestra throughout with an attentive ear for the stage and a keen eye for the complex visuals – and the tricky cueing that goes along with them.
Saturday's capacity audience was elated at the end of this Flute. Both Mozart and his librettist would have been very pleased.
Rafael de Acha
The Cincinnati Opera production of The Magic Flute is a revival of Barrie Kosky's original staging for the Komische Oper Berlin, in a co-production with the Los Angeles Opera and the Minnesota Opera. It is on stage at the Aronoff Center now through July 23, with performances on July 15, 20, and 22 at 7:30pm and July 23 at 3:00pm