Germany Janáček, Jenůfa: Bayerische Staatsoper Orchestra and Chorus / Tomáš Hanus (conductor), Nationaltheater, Munich, 14.7.2017. (JMI)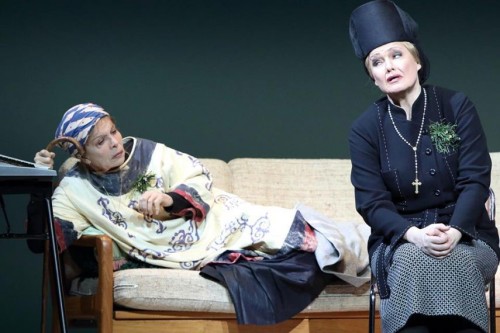 Cast:
Jenůfa – Eva-Maria Westbroek
Kostelnička – Karita Mattila
Laca – Stuart Skelton
Števa – Pavel Černoch
Grandmother Burya – Hanna Schwarz
Miller – Christian Rieger
Mayor – Kristof Klorek
His Wife – Heike Grötzinger
Karolka – Laura Tatulescu
Shepherd – Alyona Abramowa
Barena – Niamh O'Sullivan
Jano – Elsa Benoit
Production:
Director – Barbara Frey
Sets – Bettina Meyer
Costumes – Bettina Walter
Lighting – Michael Bauer
This was a superb performance of Jenůfa, one of the best I have ever seen. Everything worked beautifully, from a simple but satisfying stage production to the excellent musical direction to a strong cast with three compelling protagonists. Opera in Munich is truly unbeatable.
The stage production by Barbara Frey was premiered in April 2009. It brings the action to a rural community of the 1970s or 1980s and narrates the story well. On the stage are a few stone blocks for the first act; a house in the countryside, where Kostelnička and Jenůfa live, in Act II; and the same house, but now without walls and ceiling, in the last act. The costumes are appropriate, as is the lighting.
Tomáš Hanus is splendid in a theatre pit. I had seen him in Rusalka a few years ago and was impressed by the energy and passion he put into his conducting. A good Czech conductor is a bonus with any opera by Janáček, and Hanus has proven it here. Under his baton, both the orchestra and the chorus demonstrated how exceptional they are.
Jenůfa was sung by soprano Eva-Maria Westbroek, who also sang here in the production's premiere. Her performance was totally convincing: an exciting interpretation of the character and done with such intensity. While one might prefer a more lyrical Jenůfa than hers, the overall result was outstanding. The farewell to Kostelnička and the final scene with Laca were magnificent.
Karita Mattila was Kostelnička this time, and she was exceptional. A few years ago I had the opportunity to see her as Jenůfa in this same production, and I think she has done the right thing in changing characters. She is not at her peak in vocal terms, and that may be more of a handicap with Jenůfa than in the role of her stepmother. There are few artists capable of offering an interpretation as intense and exciting as hers.
The third great protagonist of the night was Australian tenor Stuart Skelton as Laca. No question he is one of the important tenors of the moment, with a powerful, well-handled voice. He was always completely credible in the part and gave a heartfelt performance.
Števa was played by Czech tenor Pavel Černoch, who did well in the role. The secondary characters are always intelligently cast in Munich, and this occasion was no exception. Hanna Schwarz as Grandma Burya and Christian Rieger as the Miller were both suitable in their parts. Kristof Klorek was correct as the Mayor, accompanied by Heike Grötzinger as his wife. Karolka was well served by Laura Tatulescu. Finally, Alyona Abramowa did nicely as the Shepherd, as did Niamh O'Sullivan as Barena and Elsa Benoit as Jano.
The house was almost full, and the audience was enthusiastic at the final bows, with resounding cheers for Westbroek, Mattila, Skelton and Tomáš Hanus,
José M. Irurzun