Sweden Rossini, A Turk in Italy (Sung in Swedish): Soloists and Chorus of Läckö Slottsopera, Läckö Opera Orchestra / Simon Phipps (conductor), Läckö Castle courtyard, 22.7.2017. (NS)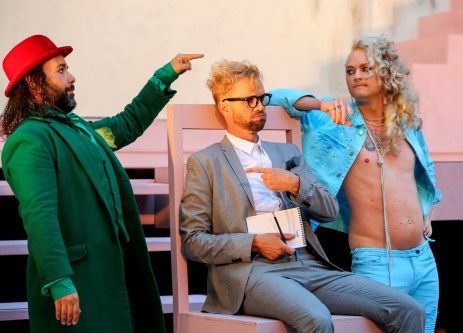 Cast:
The Poet – Carl Ackerfeldt
Fiorilla – Teresa Bokor
Geronio – Markus Schwartz
Selim – Nils Gustén
Zaida – Annie Fredriksson
Narciso – Wiktor Sundqvist
Albazar – William Davis Lind
Chorus – William Davis Lind, Mattias Gunnari, Anders Rimpi, Martin Lissel, Oscar Quiding, Per Hedlund, David Berggren, Linnéa Sjösvärd, Agnes Duvander
Production:
Production – Läckö Slottsopera
Director, choreography and set – Lars Bethke
Costume and set design – Lehna Edwall Velander
Makeup design – Therésia Frisk
Lighting design – Ronald Salas
Translation and adaptation of libretto – Catarina Gnosspelius
After a break of six years Läckö Castle Opera have returned to Rossini, choosing a rarely performed work – Il Turco in Italia has not been performed in Sweden since 1849! Lars Bethke was asked to direct this production after working as choreographer for last year's world premiere of Det går an at Läckö. This is Mr Bethke's first opera production as director, but after seeing it I am convinced that he will be offered more opportunities to direct opera.
The production is subtitled "In the head of a poet", and so the action takes place in the mind of Rossini's character Prosdocimo. Rather than observing and intervening in "real" action as in the original libretto, the Poet is dreaming up characters and plot for his story but finds that they can have a life of their own. This idea is brilliantly executed on a stage virtually devoid of props but gifted with Lehna Edwall Velander's colourful costumes that captured the essence of the characters. Mr Bethke's choreography makes superb use of the chorus to bring to life the different situations and people involved, and creates wonderful comedy (such as the bucket brigade of shoes being piled up on the stage as Fiorilla is kicked out of her marital home).
Of course this concept requires the Poet to engage the audience and act sensitively, both of which Carl Ackerfeldt did with ease. His voice was lyrical but focussed and projected, an excellent Rossini baritone. He had good chemistry with his characters in the ensembles, which were uniformly well balanced vocally and often very funny.
Annie Fredriksson as Zaida was an absolute treat. She had a warm voice with an attractive mezzo-timbre combined with excellent projection and clear diction, which could always be heard in ensembles even when she didn't have the top line. Moreover, Ms Fredriksson really expressed the feelings of her character both musically and through her acting.
Teresia Bokor entranced us with her superb coloratura technique and impressive stage presence as the faithless Fiorilla. She captured Fiorilla's egocentric character very well and had a great comic instinct in her interactions with her hapless husband Geronio and the handsome Selim. Though her voice was smaller than Ms Fredrikssons it was rich in overtone and so projected sufficiently.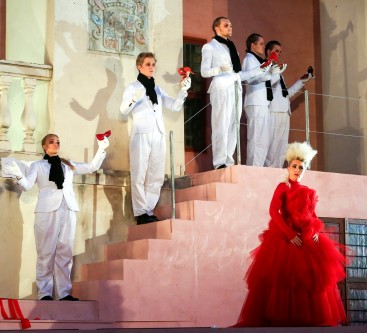 Markus Schwartz is a fantastic character actor (with many previous successes as Figaro, Papageno and Don Magnifico to give a few examples) and he proved this again as Geronio. His superb comic timing and gift of facial expression was matched with a sympathetic portrayal of his character's personality, meaning that Geronio was not merely the butt of all the jokes. His rich bass-baritone was not only beautiful, but impressively agile in the fast patter duet.
Selim in the person of Nils Gustén made the opera's greatest entrance, neatly popping the solemn atmosphere created by the Turkish chorus (a tune borrowed from Mozart's Don Giovanni) by gliding up the aisle on a unicycle! Mr Gustén neatly captured Selim's theatrical personality and had an entertaining stage presence. His voice did not quite match up to the exacting standard of Mr Schwartz in their duets, with some spreading in the lower register, but its amorous warmth was well suited to his flirtations with Fiorilla.
Narciso is described by the poet as the clown of the opera, and Wiktor Sundqvist's outlandish and hilarious costume certainly made him look the part. Impressively, he too managed to become more than a figure of fun, singing from the heart with an expressive but focussed tenor which made his big aria a big hit. Despite this he threw himself into the onstage clownery with a will.
William Davis Lind was only given a small solo part as Albazar (the adapted libretto appears to have cut some of his lines and his aria) but performed the lines he had well. Apart from that he and the rest of the chorus put in the sort of impressive song-and-dance performance that is becoming a hallmark of Läckö productions.
A final cheer should be raised to the small but perfectly formed Läckö Opera Orchestra and Simon Phipps' conducting, which scintillated with wit and lightness of touch from the beginning of the delectable overture to the end of this delightfully realised fantasy.
Niklas Smith