Germany Munich Opera Festival 2017 [5] – Donizetti, La Favorite: Bayerische Staatsoper Orchestra and Chorus / Karel Mark Chichon (conductor), Nationaltheater, Munich, 26.7.2017. (JMI)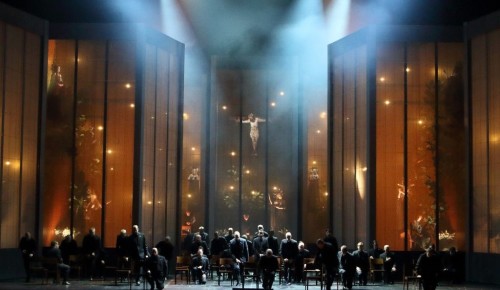 Cast:
Leonor – Elina Garanča
Fernand – Matthew Polenzani
Alphonse XI – Mariusz Kwiecień
Balthazar – Mika Kares
Inès – Elsa Benoit
Don Gaspard – Joshua Owen Mills
Production:
Director – Amélie Niermeyer
Sets – Alexander Müller-Elmau
Costumes – Kirsten Dephoff
Lighting – Michael Bauer
This Amélie Niermeyer production premiered last October; it sets the action in modern times, which does not serve the plot very well. The Mistress or 'favorite' scandal makes little sense in today's world, nor do the appeals to honour in Act III, much less the threatening intervention of the Church. For me, the only interesting part of the production was the ballet, with Alphonse and Leonor seated as if they were watching a movie and fine acting by the monarch.
The sets consist of moving metal modules, with changing positions for the different scenes. These modules, when illuminated, display a living Christ and Virgins, which are rather ridiculous. There are always chairs at the front of the stage, and they act as some sort of mute protagonists.
The orchestra performed at their usual high level under Karel Mark Chichon, and the same can be said of the chorus. There was an excess of orchestral volume on more than one occasion, which didn't seem to bother the singers but could have been avoided. In bel canto it's terribly important that the maestro help the vocalists and, overall, this was accomplished.
Elīna Garanča made her debut on stage in the part of Leonor de Guzmán last October (she had previously sung it in concert version). Her performance was irreproachable in vocal terms, with powerful high notes. She made this character completely credible, except in the final scene which is not her fault. This is a great time in her career, and everything indicates that her jump to the main Verdi repertoire is certain.
Matthew Polenzani as Fernand was a bit bland, and his voice is too light for some of the passages. There is no doubt that he is a good singer, but the palette of colours in his voice is not very rich, which gives a certain monotony to his interpretations.
Mariusz Kwiecień was an excellent Alphonse, in terms both of singing and acting. Here is another singer who is in top form. He perfectly recreated the vision of the character that the production demands: a young, immature and capricious king.
Mika Kares was an authoritarian and sonorous Balthazar, and soprano Elsa Benoit as Inès was impressive. Joshua Owens Mills as Don Gaspart has a somewhat light tenor but was convincing in the part.
José M. Irurzun