United Kingdom Buxton Festival 2017 [3] – Mozart, Lucio Silla: Soloists, The English Concert Orchestra / Laurence Cummings (conductor). Opera House, Buxton. 9.7.2017. (RJF)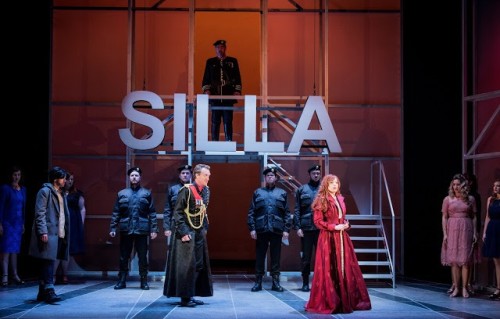 Cast:
Giunia – Rebecca Bottone
Lucio Silla – Joshua Ellicott
Cecilio – Madeleine Pierard.
Lucio Cinna – Karolína Picková
Aufidio – Ben Thapa
Celia – Fflur Wyn
Production:
Director – Harry Silverstein
Designer – Linda Buchanan
Lighting Designer – Mike Gunning
The third and final Italian journey made by the young Mozart began at the end of October 1772 with Wolfgang sixteen years of age. Again it was to fulfil a commission to open the Carnival Season at Milan's Teatro Regio Ducal on December 26th. The work, Lucio Silla, an opera seria in three acts, had the benefit of Metastasio's personal amendments to the original libretto and which included a new scene. However, luck was not on the composer's side. The original tenor scheduled for the title role withdrew due to illness. With no comparable singer available, a member of the choir took the role. This accounts for its limitations in both number of arias for the title role as well as the restricted vocal demands in those arias. The work does include an innovative trio and extended recitative and grand finale. This staging is a co-production of Buxton Festival with The English Concert.
Mozart lavished his young, but considerable skills, on the arias for Giunia, the heroine of the story who is loved by dictator Lucia Silla, but is herself in love with Cecilo, a rebel who has returned to Rome incognito. Those for those for Celia are somewhat featureless with even her 'Strider sento la procella', whose words speak of raging storms features cheerful music. Whilst there are many flaccid passages in the work it does, however, illustrate in its structure and use of the aria, a significant development of the pubescent Mozart's grasp of the amorous and dramatic situations as the eponymous harsh Roman ruler is redeemed by love.
The production duo of Harry Silverstein and Linda Buchanan was all American, he well known for his work in Mozart, she in her first UK assignment. In the pre-performance talk she evaded giving a clear answer as to the period she had set the opera in. The equivocation became clear from the opening curtain, and throughout the performance when the only visual reference to Rome was a rather luxurious chair used by Lucio Silla in one scene. Otherwise the staging was stark and looked more like the outside of a scaffolding of a contemporary building site with access by doors, one up a staircase. The costumes for Silla and his henchmen could have been suitable for a Mussolini dictator whilst those for the chorus looked as if they had been bought in the local charity shops, all being several inches above the knee. How far this was consequent on the shared production and the need for ease of movement I do not know, but often the words and references to Roman sites, such as The Colosseum, were of little relevance.
However, the evening was not all bad news with Harry Silverstein's direction leaving the participants in clear situations related to the emotion of their arias. Add quality singing from all the female participants, whether as males or females contributed to a successful evening and opportunity to hear Mozart's developing skills in composition, especially in the various arias, and the trio, all requiring bel canto skills of the highest order. First among female equals was Rebecca Bottone as Giunia, her long red hair giving her a startling beauty that obviously captivated Silla himself. She sang throughout with distinction, perhaps tiring a little in her final contribution as Guinia benefits from Silla's change of heart and unites her with her true love the exiled Cecilio, clad en travesti in scruffy jeans, securely sung by Madeleine Pierard. Karolina Plicková sang the other travesti role, of Cinna, with refulgent tone and excellent characterisation, costumed in a very smart suit, complete with matching waistcoat, and with the facial addition of a moustache.  Lucio Silla's change from dictator to benevolence, allowed him and his loved one portrayed excellently by Fflur Wyn to come together.
The two men in the cast included the eponymous role of Lucio. Portrayed by Joshua Ellicott whose committed acting, and bravura singing, made a convincing dictator. Although Silla's conversion to benevolence was sudden Elliot achieved both facets of the character with vocal aplomb and good characterization. Aufidio, his – at first – obsequious sidekick, created his character well, but had little opportunity for vocal characterization.
The chorus quality was evidenced throughout as it had been on the two previous nights.
There are further opportunities to hear this rarely performed Mozart opera on July 13th and 16th at 7.15pm and on Sunday July 20th at 2.30pm.
Robert J Farr