United Kingdom Paisiello, Il barbiere di Siviglia: Soloists, New Chamber Opera / Steven Devine (conductor/harpsichord), New College, Oxford, 5.7.2017. (CR)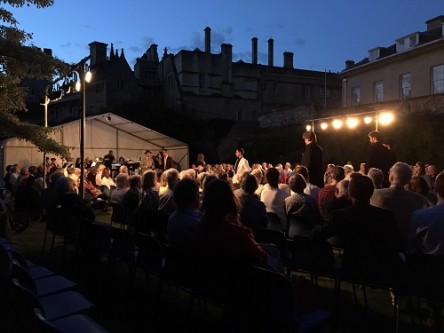 Cast:
Count Almaviva – Joseph Doody
Figaro – Trevor Eliot Bowes
Rosina – Kate Semmens
Doctor Bartolo – Giles Underwood
Don Basilio – Tom Kennedy
Mr Lightly/Notary – George Robarts
Mr Sprightly/The Watch – Alexander Gebhard
Production:
Director – Michael Burden
English Translation – Gilly French
New Chamber Opera is a commendable institution, based at New College in Oxford, which both nurtures young and emerging operatic talent, and revives rare and neglected repertoire deserving of an airing. The literary basis of this year's production will be widely familiar through Rossini's celebrated setting of Beaumarchais's comedy, but this particular musical version much less so. Paisiello's opera of 1782 was the first of several operatic treatments of that play, and remained the most popular until it was supplanted in public opinion and taste by Rossini's setting of 1816, although the latter's first audiences thought him unforgivably presumptuous in presenting his own alternative version to an established favourite. Such are the whims of fashion.
Paisiello's pioneering opera is also historically significant in that it inspired Mozart and Da Ponte to turn the next play of Beaumarchais's trilogy into an opera, and there is a similarity in style at certain points in terms of the music's responsiveness to the fast-unfolding dramatic pace, especially with its ensembles and vivid melodiousness, which raise a smile, even if falling short of the same level as Mozart. Although it does not play up or extend the elements of opera buffa latent in the literary source nearly as much as Rossini's setting does, it does pre-empt the later masterpiece in its ebullient music generally, and in the dramatically effective crescendo of Don Basilio's aria in particular, as he advises Bartolo to destroy his rival through gossip, a device which Rossini was to utilise to even more memorable and extensive effect in his opera's corresponding aria. 
The relative efficiency of Paisiello's setting, therefore, is something which the performers of New Chamber Opera were able to exploit to very good effect given the necessarily reduced resources of an al fresco performance in the delightful gardens of the Warden's lodgings in New College. Quite apart from the magic of being surrounded by the buildings of several of Oxford's timeless colleges, Michael Burden's production made imaginative use of the summer house at one of the garden as the dwelling in which Rosina is entrapped by her jealous guardian, with the lawn acting as the stage, stretching out like an aisle between the two halves of the audience seated antiphonally, as it were, and the orchestra at the other end.
That exposed the singers to close scrutiny, but they lived up to that convincingly and charismatically, especially Joseph Doody's Count Almaviva and Trevor Eliot Bowes's Figaro in playing off one another in their ultimately successful trick to rescue Rosina from Bartolo's clutches. Doody secured a consistently lyrical, soft-grained tone, winning sympathy for a character whose sincerity and charm in this opera is a considerable way off from the philandering Count of the Marriage of Figaro, whilst Bowes was indefatigably characterful and mischievous as the resourceful and quick-witted servant.
Kate Semmens started out a little shrill as Rosina, but her singing became more nuanced during the course of her performance, though remaining incisive, except for the deliberate coarsening of her delivery of the supposed song from a contemporary opera which she gives as part of her singing lesson with 'Alonso', the Count disguised as a music teacher. For that the orchestra became part of the production as Alonso sat at one of the harpsichords as though to contribute to the accompaniment. Giles Underwood successfully conveyed a suspicious and anxious Bartolo with solid musical presence (except one minor lapse in the delivery of recitative), without making the part a mere caricature, or quite the buffoon of Rossini's opera, and helping to make this version more dramatically coherent. No less comic relief was provided by George Robarts and Alexander Gebhard, each in two of the more minor parts, and in a more subdued and deadpan fashion by Tom Kennedy as Don Basilio.
Whether deliberate or not, the fairly prevalent use of black in the characters' costume had a somewhat funereal effect on what would otherwise have been a colourful and vivacious presentation. For a reason unclear, Don Basilio is made into a clergyman, and therefore appears entirely in black, as does 'Alonso' as a supposed confederate of his. Bartolo and his two servants are clad more or less entirely in the same colour, and Rosina is also given a black shirt
The resourceful playing, however, from the one-to-a-part instrumental ensemble (making nine players altogether), provided welcome fizz, not least from Steven Devine's authoritative and discreet direction at the harpsichord. Together their performance sustained an ideal pace throughout the score, necessary to maintain the tension of the narrative intricacies and to support the effervescent humour of the libretto, to which Paisiello's music responds directly. The English translation by Gilly French – created originally for a production of the work by Bampton Opera – is witty and does not disrupt the essentially sharp insight of the drama despite more up to date references and colloquialisms as well as, for example, an irresistible sideways glance to the most famous aria of Rossini's version with Bartolo's exasperated comment about Almaviva's servant as "Figaro here, Figaro there". The production brings to life a fascinating moment in operatic history, but no less important, it also provides riveting entertainment, which has always been the real business of the genre of opera in its four centuries of existence.
Further performances on 8, 11, 12, 14 & 15 July.
Curtis Rogers